When you open a library in AODocs, the library homepage opens if you're in:
a Team Folder or a Secured Folder with more than one view
a Document Management library
Notes:
– If you're in a Team Folder or a Secured Folder with only one view, the library opens on the view.
– To navigate to the homepage of your library, press the library name in the breadcrumb in the library header.
The library homepage contains: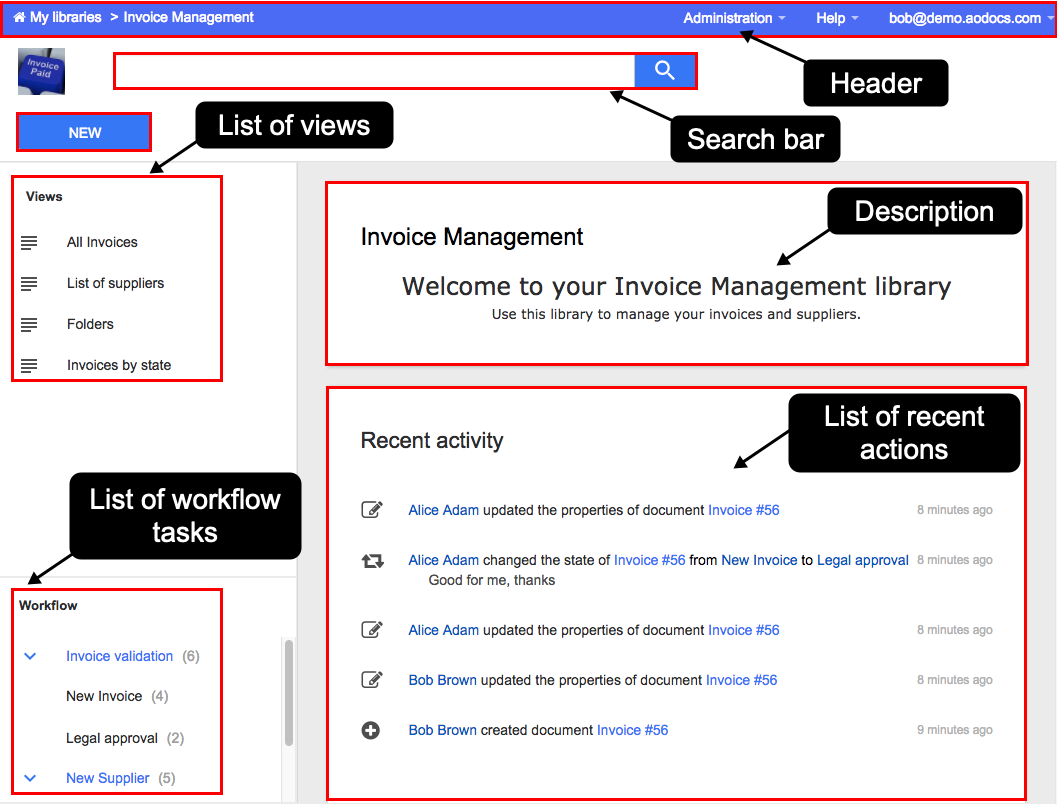 Top panel
The top panel has the following elements:
Header: this is always displayed when you navigate in the library. From left to right it contains:

Note: Only super administrators can access the Import Status menu.
---
Left panel
The left panel has the following elements:
List of views: the views of the library are configured by the library administrator. Learn more: What are views?
List of workflow tasks: displayed only when your library has been configured with a workflow. It displays the number of documents where you have a pending workflow action for each workflow state. Learn more: Browse the workflow tasks in your library.
---
Right panel
The right panel has the following elements:
Description: this can be customized by library administrators with text and images to describe your library. Learn more: Customize your library homepage.
Recent activity section: this displays an activity log of the library, such as creation and update of documents and workflow actions. A maximum of 10 activities are listed. When there are more activities than the listed ones, a link Show next events appears. You can view more activities from the audit log. Learn more: View the library audit log.
Notes:
– In the Recent activity section, users can see only the events on documents they have access to.
– If your library administrator has configured the Recent activity section to be displayed only for groups or roles of which you're not a member, it is not displayed.
Learn more: Configure your library's general settings