Dear Migrate for AODocs users,
We're happy to announce the release of Migrate for AODocs 9.0.
---
What's new?
You now have a dashboard allowing you to choose between:
Quick mode, available for all AODocs users
Advanced mode, only accessible for advanced Migrate for AODocs users on the domain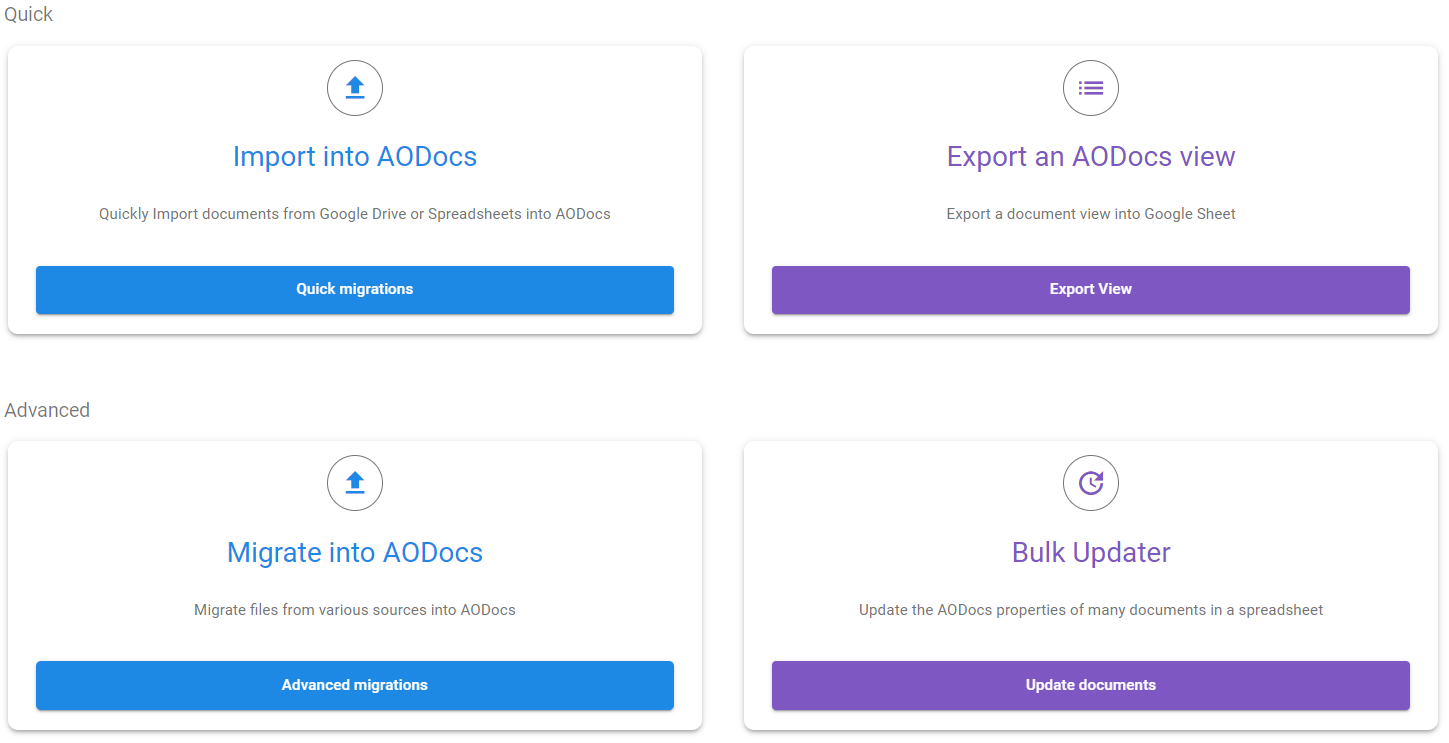 Let's clarify what "quick" means. We're talking about common use cases such as:
moving a Google Drive folder or a Shared Drive folder into any type of AODocs library
creating documents based on a spreadsheet containing document properties
Yes, Migrate for AODocs covers all your Bulk Uploader use cases!
We also published a new article in our Knowledge Base to help you troubleshoot your migration. 
---
Alice: Are you really saying that I can generate documents starting from an empty spreadsheet?
Yes! these are the only two requirements:
you can't use an existing spreadsheet; you have to create it using Migrate for AODocs
the data sheet must contain at least one column bound to the TITLE property type in the binding sheet

---
Bob: How many documents are supported in a single migration?
Using a spreadsheet, you're limited to 5 million items of data (by an item of data, we mean a cell in a spreadsheet, each cell containing a document property whether system or custom).
So you can generate up to ~5 million documents with only a title defined or ~100,000 documents with 50 properties each.
---
Henry: During my last training I heard that I had to choose a workspace and define uploaders. It seemed really complicated, just to move some files from Drive to AODocs.
Rest assured! We simplified the process for these types of migration. There's now no need for workspaces, uploaders or administrators. As long as your domain license for Migrate for AODocs is active, you can perform these migrations with minimal configuration.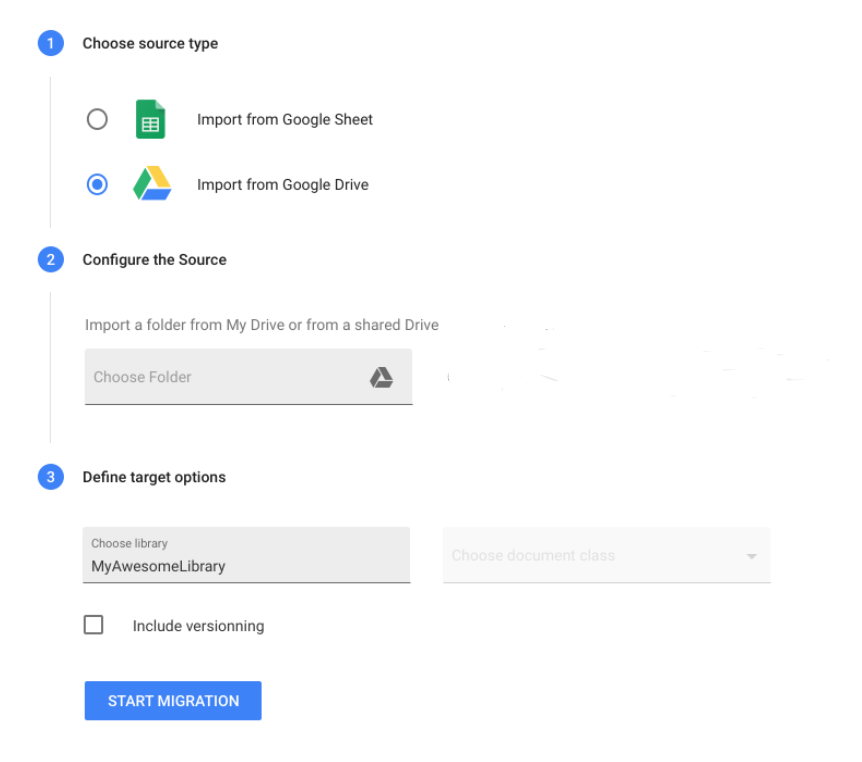 ---
Judy: OK, but I've been using Migrate for AODocs for months and don't understand why I still need the advanced mode.
The quick mode is easy to use and fully cloudified but comes with some limitations!
You can only add attachments from Google Drive because you don't use uploader accounts.
Sources other than Google Drive or Google Sheets (File Server, Lotus Notes, Sharepoint and local CSV) aren't supported in quick mode.
You can't store your attachments in Google Cloud Storage (GCS).
You can't save your migration content as CSV; only Google Sheets are supported.
---
Marc: I heard Google Cloud Storage (GCS) was now supported in AODocs, what does that mean?
You're right, until now, your attachments could only be stored in Google Drive.
By using GCS to store attachments, we're answering these specific use-cases:
When extracting data, there's no content indexation; only the titles and metadata are scanned (so Drive searches only valuable data).
The content is immutable. Learn more: Retention policies and retention policy locks.
There's cost reduction on files that are almost never accessed. Learn more: Cloud Storage pricing.
There's no limit on Google Drive subscription per storage account.
Specific region location is enforced.
Don't worry, you can still store your attachments in Drive, which allows you to have access to plain text search, versioning, collaboration, and so on.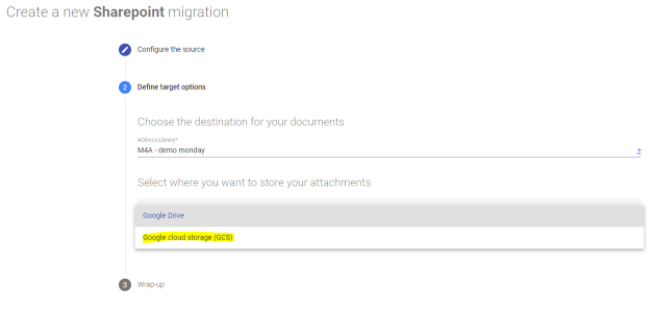 ---
Sophie: It can be annoying to fill in the form for each library, especially on a Sharepoint site, as the same Sharepoint connection information is repeated over and over again!
The advanced form has been revamped to help you pre-fill the migration creation form. If you copy the form URL in a new page, all the fields are automatically filled in with the information contained in the previous one. You can also build your own link to the migration creation form by filling the required information in the URL.
---
And there's more...

We also worked on lots of technical improvements:
Reduction of the time it takes to create folders and categories by up to 90%
There are many new checks during each migration stage to help you investigate what's wrong without having to contact the support team! But we're always available if you still need help!
Shared Drive migration is now supported!