Dear UFO users,
We're pleased to announce a new version (8.0) of the Universal File Opener (UFO)!
With this release we've improved the conflict resolution process.
---
A better way to resolve editing conflicts in Word files
Since its first version, one of the major features of UFO is to offer a lock system to avoid conflicts between changes made by different users. However, in some specific cases, conflicts can occur, and until now you had a choice between two options:
overwrite the Google Drive version
discard your local changes
With version 8.0, we improved this behaviour for Word files by proposing the comparison and merge of the two versions of the file, directly in the Microsoft Office interface!
In the Resolve conflict message, select the Compare and Merge option. Both files open in the Microsoft Office interface. You can compare your version with the remote one by reviewing the highlighted changes. If required, make changes to avoid losing modifications. Then save your Word file. The version is automatically uploaded with UFO!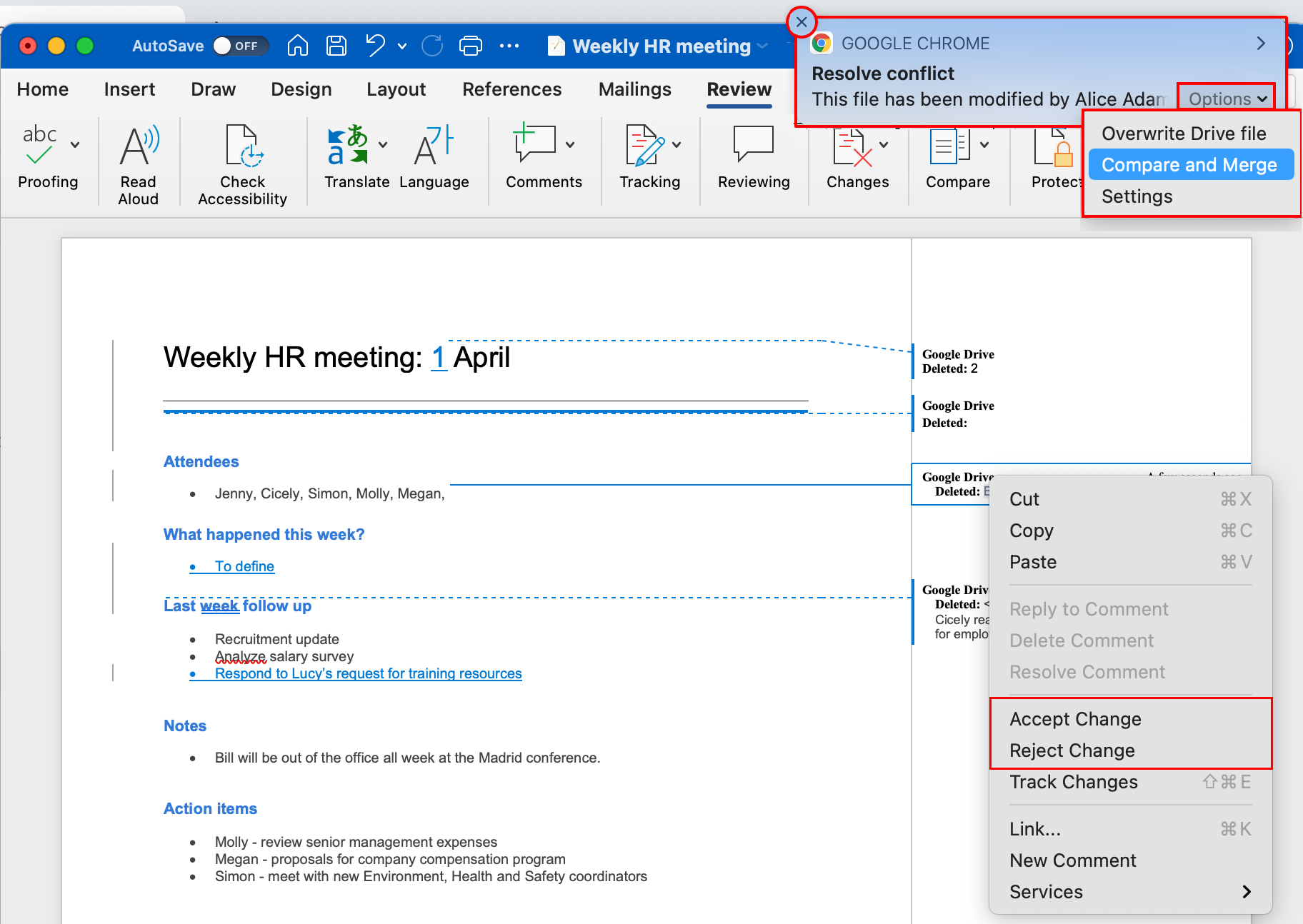 Note: MacOS users get an extra message – they have to grant UFO access to Microsoft Word. Depending on your macOS version, it may also be necessary to reinstall UFO to be able to use Word's Compare and Merge feature. These macOS messages only appear once, when you first use the Compare and Merge option.
Learn more:
---
Bug fixes
You can now use the UFO button from the file preview when it was opened from Quick access in Google Drive. Learn more: Find files in Google Drive.
The Open file with UFO button is no longer displayed in the Google Drive interface when Drive apps have been disabled by your domain administrator.
---
Launch details
Version 8.0 will be progressively rolling out in the middle of May 2021.
Have a new feature idea or request for UFO? Continue to share your ideas in our community or tell us how you use UFO and what you're expecting by filling in this short form!

Sincerely,
The AODocs Team