Dear UFO users,
We're pleased to announce a new version (1.2) of the Universal File Opener!
This version is a public beta. A stable version will be released in the next few weeks.
The Universal File Opener (UFO) will be available for free during the beta. After the public release, paying AODocs customers can continue to use all UFO features for as long as their AODocs subscription remains active. Other users can purchase UFO for a fee.
Below you will find the improvements in UFO Version 1.2.
---
Improved authorization process
UFO standalone - new authorization screen
To respect Google authorization recommendations and for greater transparency, a new pop-up opens when you use UFO for the first time. It gives more details about the required authorizations.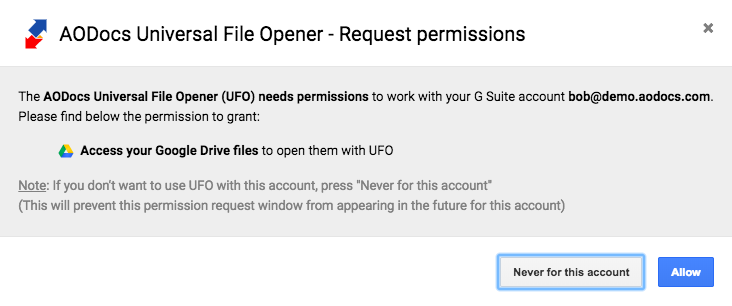 The Never for this account option is now available for this extension. If you're using several Google accounts in the same Chrome session and you don't want to give permissions to UFO for all of them, this button is for you!
UFO with the Smartbar
As announced last December, the Smartbar has a new authentication flow (see Smartbar V6.0 Release notes for more information). We're now using this flow to authorize the UFO extension. As a result, if the Smartbar is already installed and enabled, the UFO authorization will be transparent and you won't see any authorization screens.
This release will have no impact if you have already installed the UFO extension. You won't be asked to confirm the scopes again.
If you have any feedback or issues, you can submit a ticket on our support site.
Thank you in advance and enjoy this new version! We look forward to hearing what you think.