The Outlook add-in lets you save emails and their attachments to AODocs Document Management libraries using Google Cloud Storage or Azure Blob storage. You can also use the Outlook add-in to pick attachments from AODocs and add them to a draft email.
Learn more: Where is my content stored?
This article is for Microsoft 365 administrators. It explains how to install the Outlook add-in for all users on your domain. 
Learn more about installing the Outlook add-in individually.
Important: You can't install the Outlook add-in unless your organisation has specific licences. Contact your AODocs sales representative or send an email to sales@aodocs.com.
Automatically generated table of contents
---
Install the Outlook add-in
Follow the procedure in the Microsoft documentation: Deploy an Office Add-in using the admin center.
It describes how to install an add-on for:
a group of users
an organizational unit
the whole domain
In step 3:
Select Upload custom apps.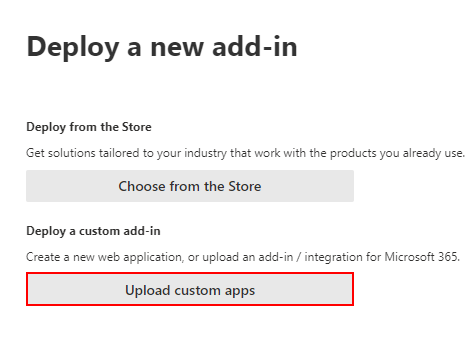 Select I have a URL for the manifest file.
Paste the URL corresponding to your AODocs instance:

https://outlook-addin.us.aodocs.app/assets/manifest.xml (US instance)

https://outlook-addin.eu.aodocs.app/assets/manifest.xml (EU instance)
Learn more: Find out which AODocs instance you're using.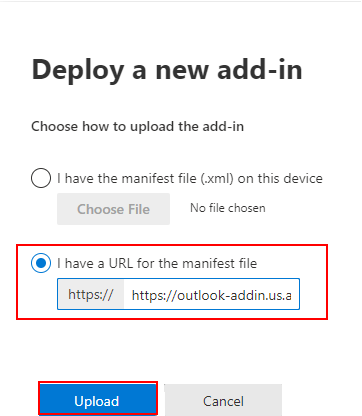 Skip step 4.
---
Grant administrator consent
If administrator consent is required for user add-ins on your tenant, you must:
1. Sign in to Outlook with a Microsoft 365 administrator account.
2. Open the add-in.
3. Give administrator consent in the dialog that appears.