Dear AODocs users,
We're happy to announce the release of version 53, a release which bolsters AODocs' position as an innovative and leading cloud-based Content Services Platform. The release offers easier administration, low code configuration, and document composition capabilities to make AODocs even more agile and versatile.
Please find below a list of the major new features and improvements in this release.
---
Launch details
Rollout pace: From 30 June to 2 July 2020
Impact: All end users
---
Video: AODocs R53 highlights
Check out the video highlighting the major changes we made: AODocs release 53 highlights.
---
Changes for super administrators
Domain administration: licensed users
As a domain administrator, you can now allocate multiple licenses in one go by pasting a list of email addresses in the Allocate a license to users pop-up. Learn more: Manage user licenses.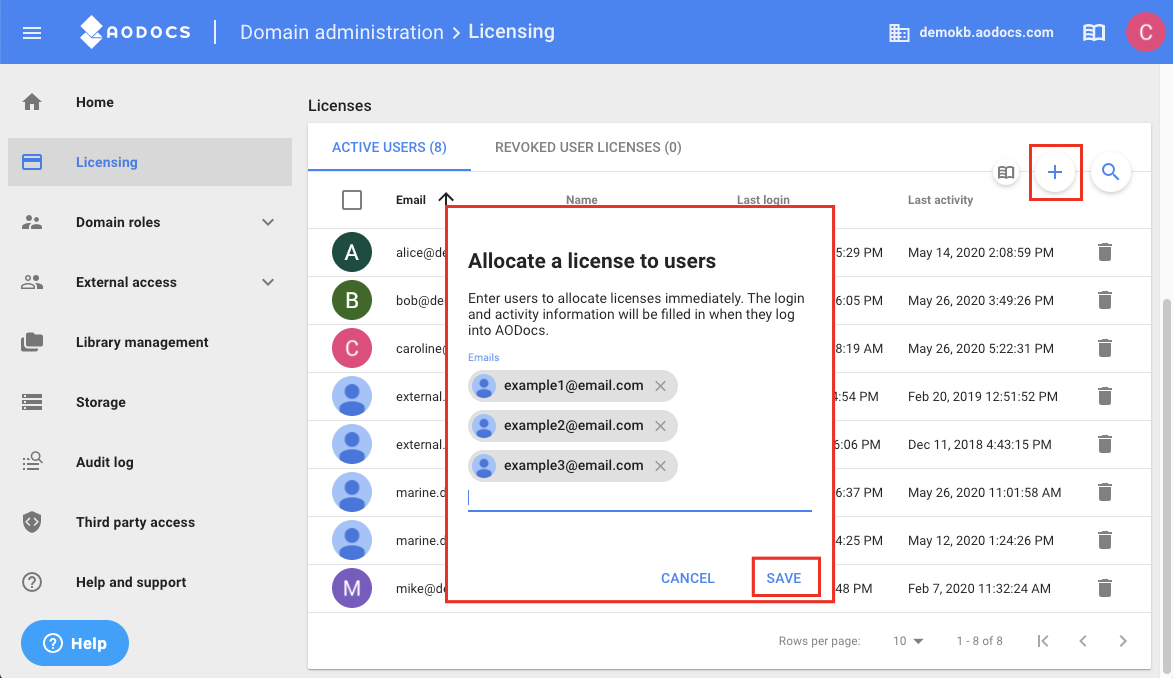 Technical improvements
We have achieved a major technical improvement: AODocs now supports up to 100,000 libraries per customer (previously it was a few thousand).Note: If you require more information about this feature contact your sales representative.
As requested by our customers, when AODocs support agents perform actions in customer domains they are now identified as "impersonators" in the audit log API. This allows you to identify actions performed by agents easily.
---
Changes for library administrators
Advanced permissions roles
In this release, we're introducing advanced permissions roles!
This feature gives library administrators the ability to delegate additional configuration and management rights to:
readers and contributors in Secured Folders and Document Management libraries
Google editors and viewers in Team Folders
As a library administrator, you can assign:
Category value managers: can add, modify and delete category values in existing categories and set (or cancel) category values as outdated.
Document managers: can view and edit hidden and read-only properties and force workflow actions
Maintenance managers: can view and release locked documents.
Notes:
– Advanced permissions roles are part of the AODocs pre-defined library roles.
– You can assign any number of advanced permissions roles to a given user.
Learn more: What are roles?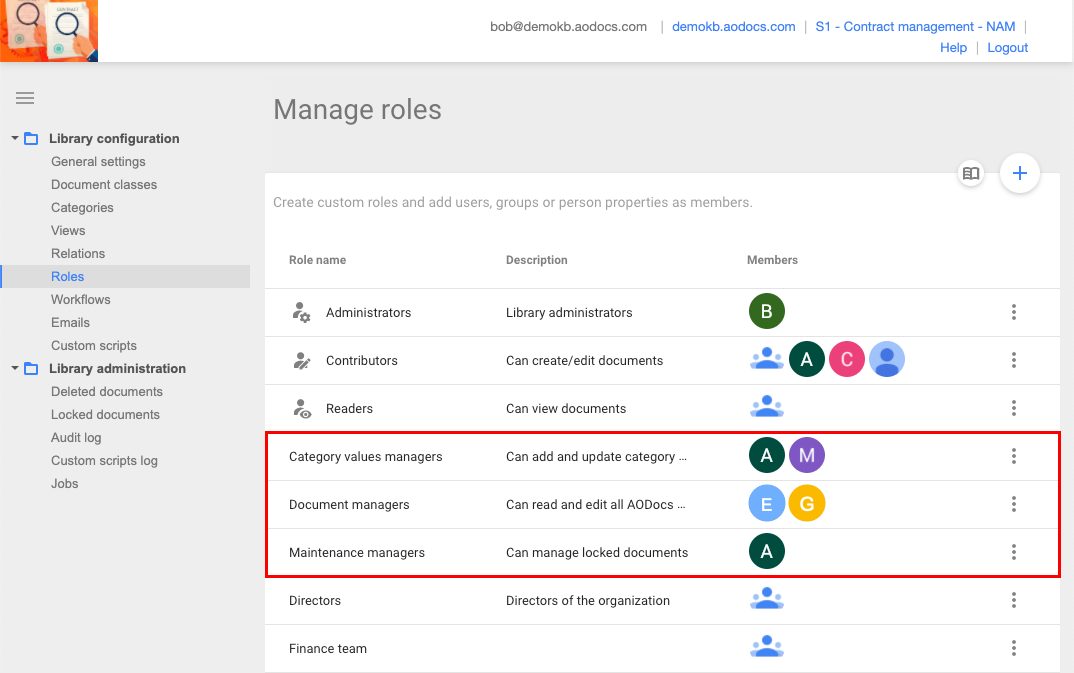 Inherited permissions: Read and comment
When document permissions are inherited from the document class, you can now give readers and contributors Read and comment permissions.
View configuration
We completely revamped the view configuration screen for release 53.
The aim of this revamp is to enhance your user experience and ability to create views that are relevant to specific users.
Below is a list of functional improvements to the view configuration:
You can define the document behaviour when users open documents from the view by selecting which interface documents will open in and how they open in the browser.
When defining which documents to display in your view, you have the following new options:


If the filtering criteria is based on a date, you can now use "Today" as a reference point.
If the filtering criteria is based on a person, you can choose to display only documents corresponding to the user who opens the view.
In Document Management libraries, you can now create a filter based on the number of document attachments.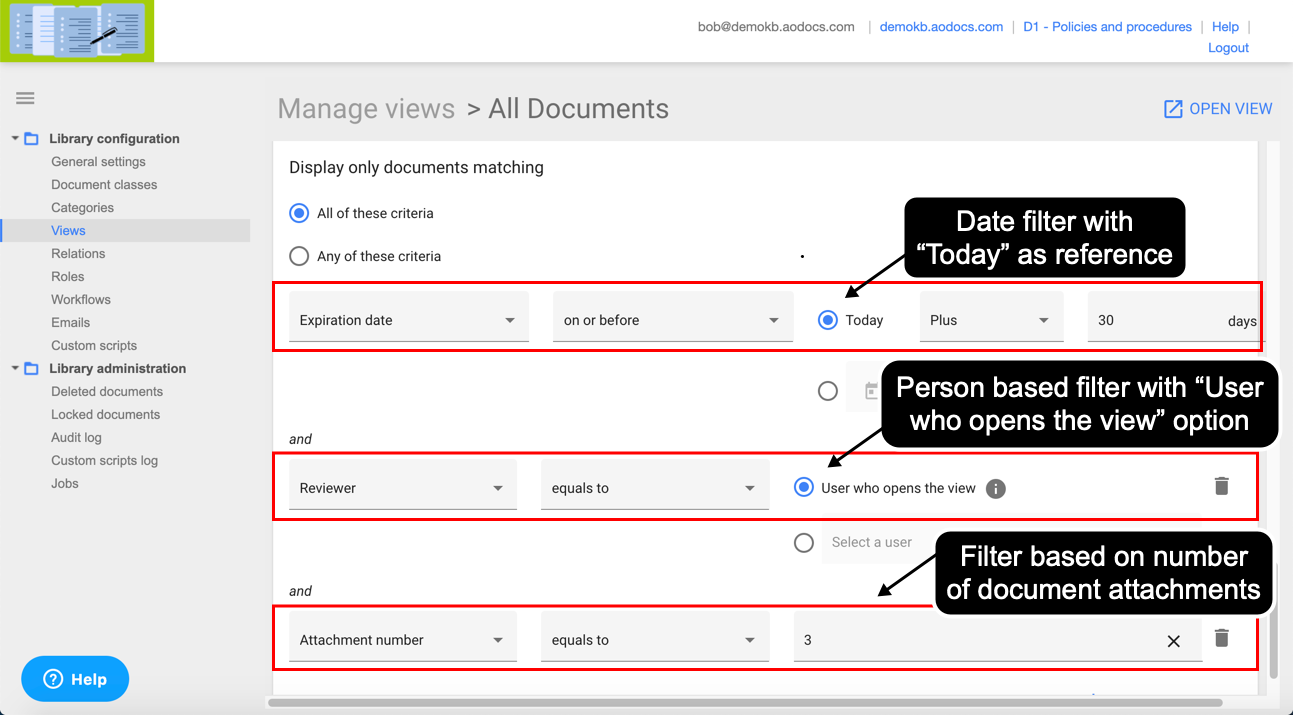 Here is a non-exhaustive list of improvements to the user experience in terms of design and accessibility:
In the views list:


the management options are now centralized in a More actions menu
there are new columns displaying more information about each view

In the view configuration: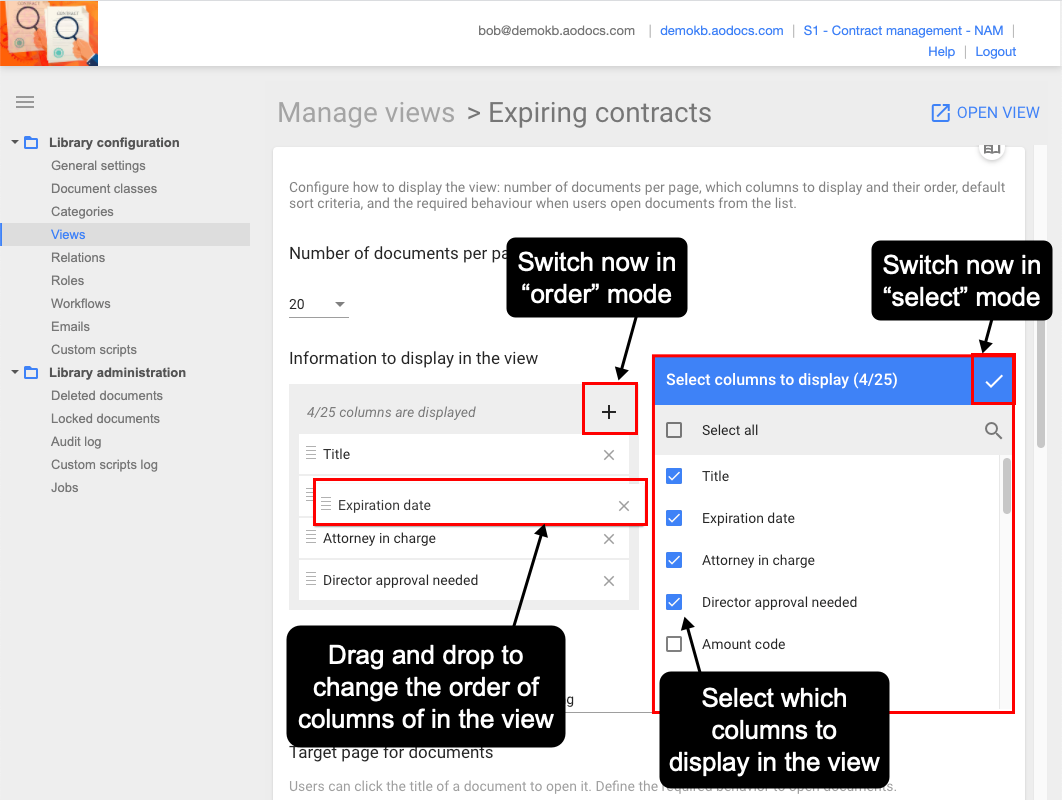 Calculated properties - beta
To help you meet compliance requirements or simply to speed up the data input process, we introduced calculated properties.
Calculated properties are custom properties whose values are calculated from a formula. You can use existing custom properties in your formulas for a wide variety of use cases. For example:
set a unique sequence ID for your procedures
determine the expiration date of a document
calculate the VAT price of your commercial proposals
Notes:
– This feature is currently available as a closed beta and will be available as an open beta at a later date.
– To request access to the closed beta, contact us: aodocs-beta@aodocs.com
File templating service
We introduced a new platform component: the file templating service.
This feature helps AODocs users build Google files by using existing properties in documents.
The file templating service is a service which replaces placeholders in Google files by specific property values.
Supported file formats:
Google docs
Google spreadsheets
Google slides
A typical use case is a Quality team that wants to push metadata (properties) into their Google files to avoid having to edit files manually and to prevent human errors. With the file templating service, the team can be sure the data is updated after each revision of the document.
As a library administrator, you can implement the file templating service on AODocs Google file attachments using a custom script.
Note: For more information about this feature contact your sales representatives.
Miscellaneous
Following customer feedback, we updated the wording and design of the document class configuration page.
We revamped the library security settings dialogs. Learn more:
For advanced users, we previously introduced the ability for you to add descriptions to the parameters of your custom scripts. These descriptions are now also shown in the parameter configuration, in the custom tab of the document class configuration.
Bug fixes
When document permissions are inherited from a workflow, the corresponding workflow can't be deleted.
The custom script "Document.removeAttachment()" is now more stable.
---
Changes for contributors
Document creation
We continued to improve the document creation flow following the initial revamp in release 51.
When a document class has no templates configured, you can now press the document class name to create a new document. This redesign frees up vertical space in the menu, which was previously used up by the Blank option.
Note: The Blank option is still displayed if the document class has templates configured and if a template is not defined as the default template. Learn more:
– Create documents in Team Folders and Secured Folders
– Create documents in Document Management libraries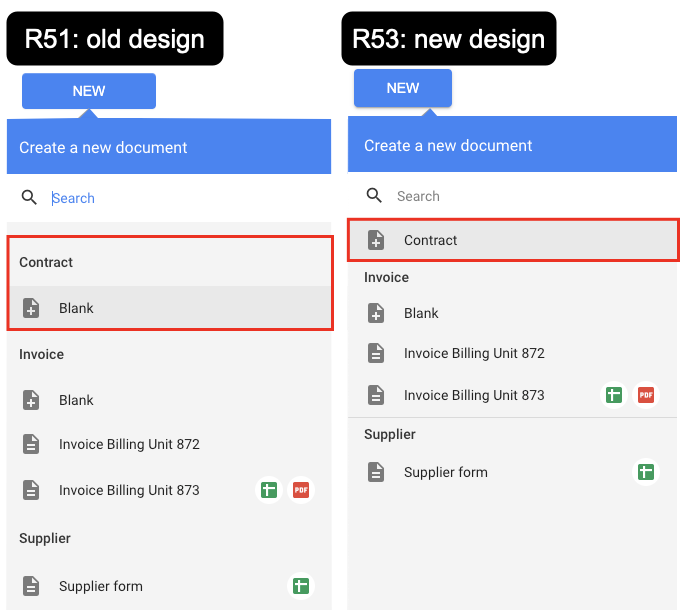 Document page
Workflow button and workflow state
In documents with a workflow, we revamped the workflow button and the display of the current workflow state on the document page.
The workflow button now shows the document's current workflow state and has been visually revamped to enhance its visibility. Learn more: Perform workflow actions.
On the Properties tab, the display of the document's current workflow state has been enhanced with a blue background.
Document permissions dialog
We visually revamped the Document permissions dialog as part of the visual improvements we've been making across the AODOcs interface.
UFO's locked file status
When you use the Universal File Opener to edit non-Google attachments in AODocs, you can now see more information in the UFO's locked file status dialog.
To provide a better collaborative experience, the dialog displays:
the name and email of the user who has locked the file
the date and time the lock will expire
---
Changes for end users
AODocs header
We revamped the header throughout the AODocs interface.
The header now displays some elements with buttons instead of text, notably the My libraries button in the breadcrumb, the Help menu and User menu.
Note: The library logo image is now displayed in the header on the library homepage and in views.

Based on your feedback, we reduced the space taken up by the header on some pages. Notably, on the AODocs homepage and in the end user interface the header is reduced, enhancing the visibility of the contents of the page.
Views
The views page has been visually revamped to enhance your user experience.
In libraries with multiple views, the view picker is now displayed next to the search bar.
In views with Browse by Folder configured, the Create new folder dialog has been visually revamped.
In the views page, dates are now displayed according to your local format:


in the columns of the view
in the filter box, when you filter documents by date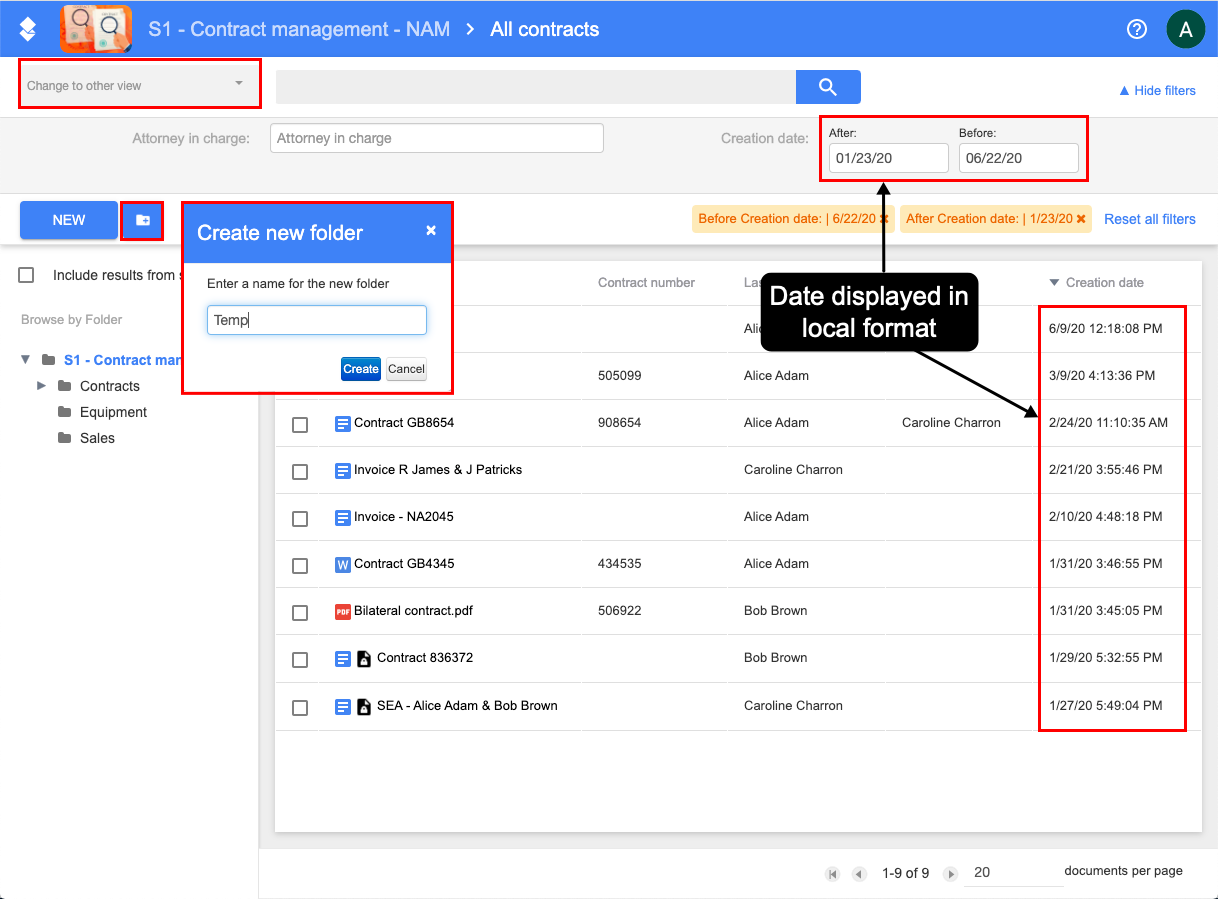 Learn more: Search for documents in your AODocs library.
And there's so much more brewing...
More new features are brewing!
We're making significant progress on:
the revamp of the library homepage, to modernize the page and improve user experience
the ability to store attachments either in Google Drive or Google Cloud Storage that supports additional settings such as localisation, immutability.