Dear Smartbar User,

We're pleased to announce a new version of the Smartbar extension (V6.0).
AODocs Smartbar release 6.0 focuses on improvements to the authorization flow and bug fixes.
---
Improved authorization process
With the improvement to the authorization process included in this release, we aim to:
make the authorization process easier at the domain level
present fewer pop-ups to your end-users to request permissions
prepare the ability to configure options at the domain level

Reminder: If you're using proxies you have to add the following URL to your whitelist: https://auth.aodocs.com
---
Easier AODocs Smartbar extension deployment on your domain
As announced few weeks ago, we have a new Smartbar Marketplace App.
Installing this Marketplace app in G Suite will grant domain wide authorization to your users, preventing them from seeing the permissions pop-up.
As administrator, you can now fully deploy the AODocs Smartbar on your domain:
1. Install the Smartbar Marketplace App to manage scopes and permissions.
2. Deploy the Smartbar extension for all your end-users in one go.
Your end-users will be able to use the Smartbar extension with no action on their side.
---
New authorization screens
If the Smartbar permissions aren't deployed domain-wide, end-users will see the new authorization screens: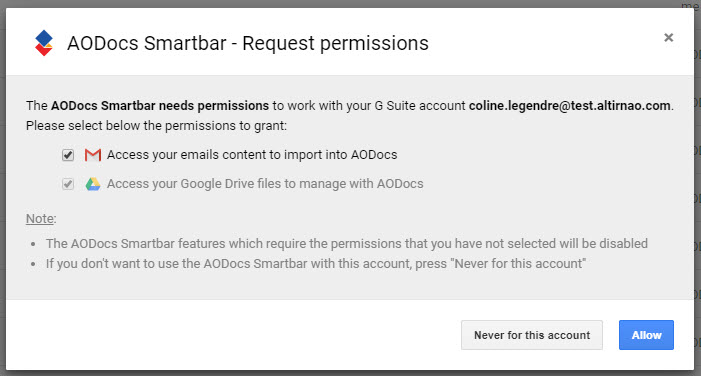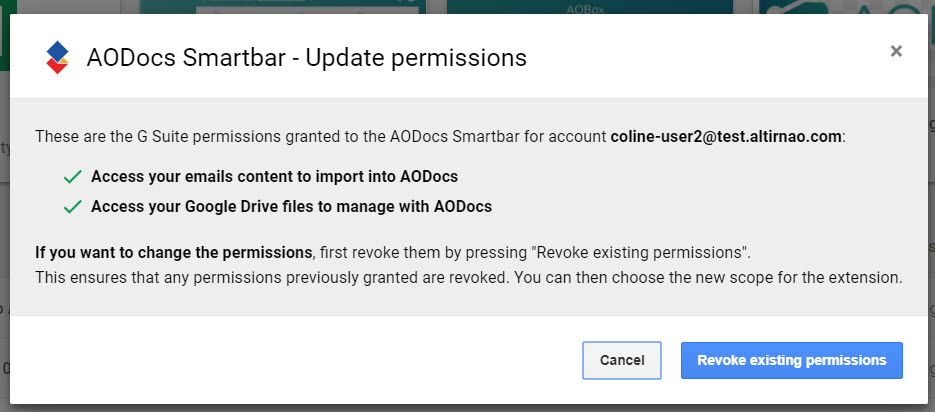 For more information, you can find in our Knowledge Base the Pre-Release Announcement:

---
Bug fixes
Email Cc field is always imported when creating a document into AODocs from Gmail.
The Smartbar no longer displays the warning icon by default on Chrome Os.
Breadcrumb appears again for all Google documents managed by AODocs.
You're now able to use UFO on Drive, if the Smartbar is disabled for the current account.
Have a new feature idea or request for AODocs? Continue to share your ideas in our community.