A custom property is an element of an AODocs document.
It is a field providing information for a specific document. Properties can be used to structure documents, to improve the search experience or to customize a workflow.
Properties are also called metadata.
Important:
- Only library administrators can create and configure properties.
- Custom Properties can be defined in all AODocs libraries.
In the AODocs library administration interface, the customs properties configuration can be found at:
Library configuration> Document Classes > Class > Parameters.
As a library administrator, you can:
---
Create a new custom property
1. In the library homepage, click on "Administration" and select "Library administration".

2. In the Library configuration menu, click on the "Document Classes" section.
3. Click on the name of the document class you want to configure.

4. In the Parameter tab, the properties list is displayed. Click on "<Add a new value>" and name your new custom property.
Note: In Team and Secured Folder libraries, "Tag" and "Folder" are default properties set for each new document class. The "Folder" property cannot be deleted.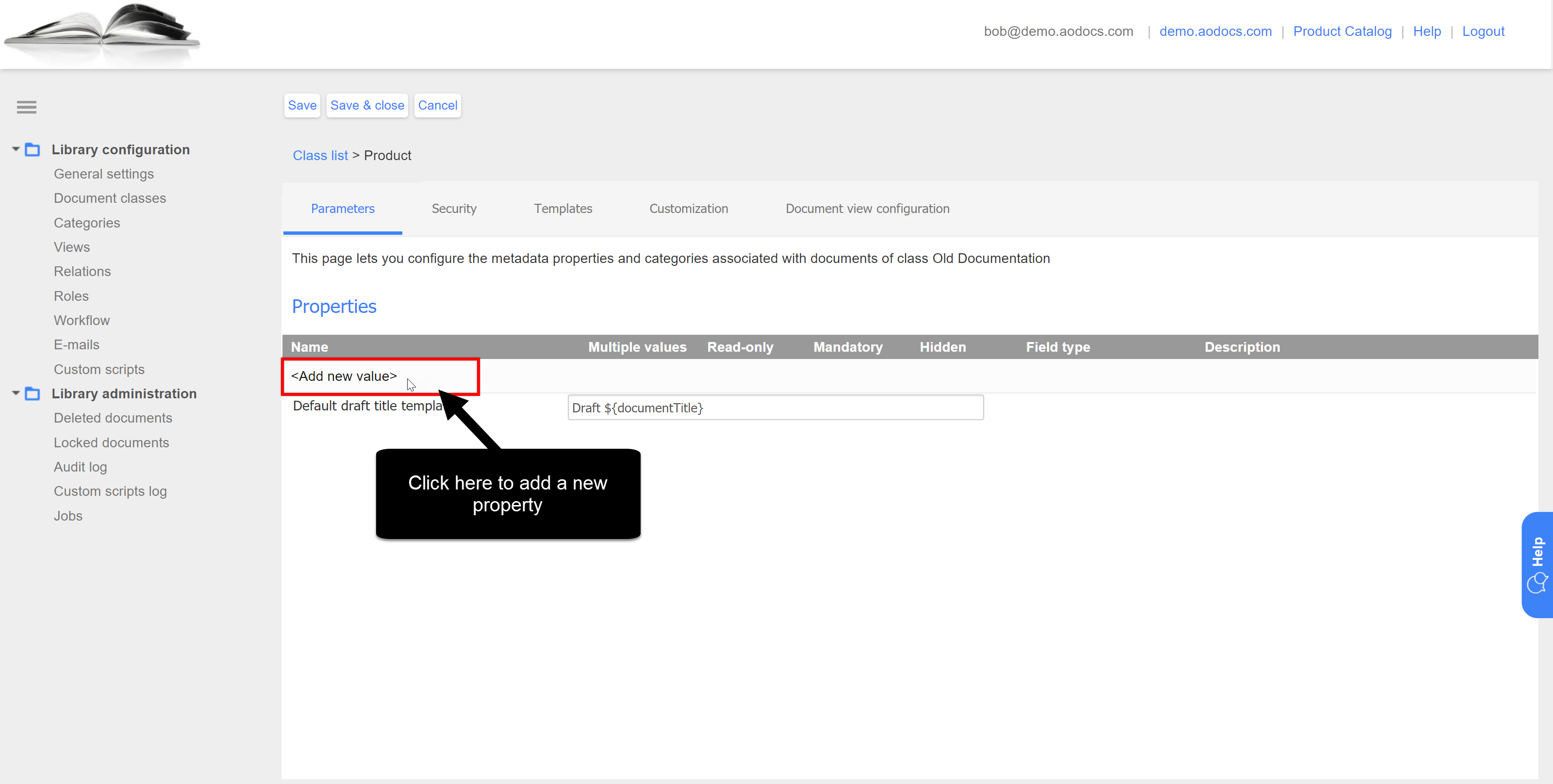 5. In the Field type column, choose the format of your custom property. You can choose among several field types:
Integer: for integer values (0, 1, 2, -1,..).
Decimal: for decimal values (0.1, -5.1, 1.655,..) with maximum 3 decimal digits.
Text: for a text field (where newline work).
Geopoint: to enter a location in latitudes and longitudes.
Date/Time/"Date & Time": for date and time fields.
String: for a string of alphabets, numbers and special characters limited to 400 characters.
Boolean: for a boolean field.
Person: to enter the name of a person or a Google Group (AODocs will autocomplete email addresses available in your G Suite domain global address list).
URL: to add a link to the document.
Custom categories: custom values defined by categories like "Company", "Country" in our example. End-users will be able to select values from a drop-down list in the end-user interface. Learn more: What are categories?
Note: If you create a property with the name of a category, the field type of your new property will auto populate with this category.
Tips:
- Custom properties values can be used to trigger or validate a workflow state.
- Person fields can be used as validators, dates trigger a reminder, etc.
6. You can then select several check-boxes:
"Multiple values": End-users can choose 0, 1 or several values for the same field.

"Read-only": Only administrators and scripts will be able to modify the value or the property.

"Mandatory" must have a value. It can't be empty when a user creates or edits a document.

"Hidden" will not be displayed to the contributors and readers and contributors will not be able to edit it. Hidden fields are only visible by the library administrators in a dedicated section when they edit a document.
Note: You can't choose a mandatory/read-only property or a mandatory/hidden property at the same time.
7. A description can also be assigned to a property. The description, which could go up to 100 characters, will provide tooltips on the property name for end-users.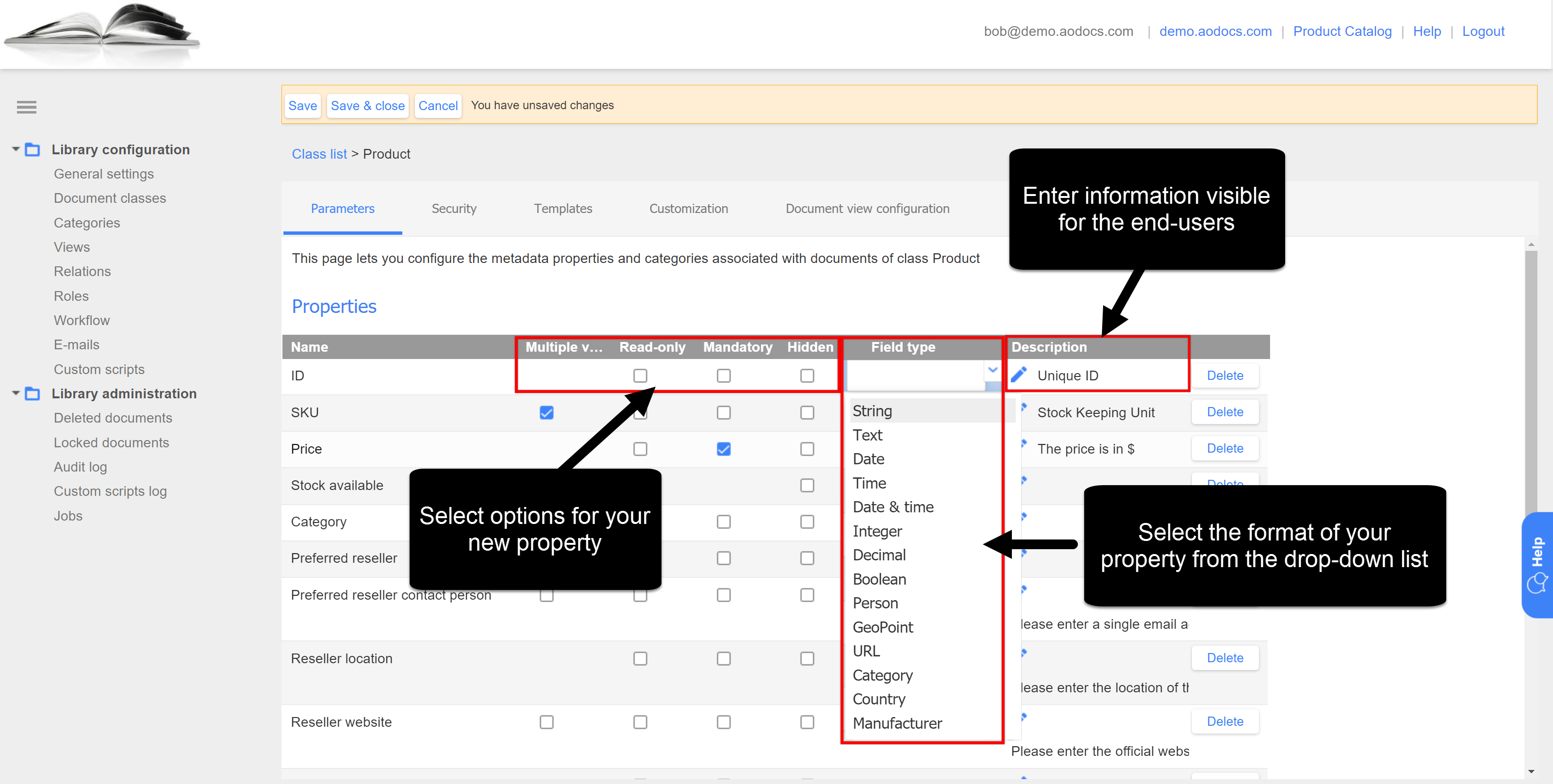 8. Click "Save" or "Save & Close".
---
Update a custom property
1. In the Parameter tab of the document class section, the custom properties list is displayed. A property can be added at any time.
2. Click on the name of a property to rename it.
Note: The renaming of a property will be effective on the existing documents.
3. The checkboxes "Multiple Values","Read-only", "Mandatory" and "Hidden" can be ticked or unticked.
Note: A property can't be both mandatory/hidden or mandatory/read-only. An error message will appear if you do so.
4. The description of the properties can be updated.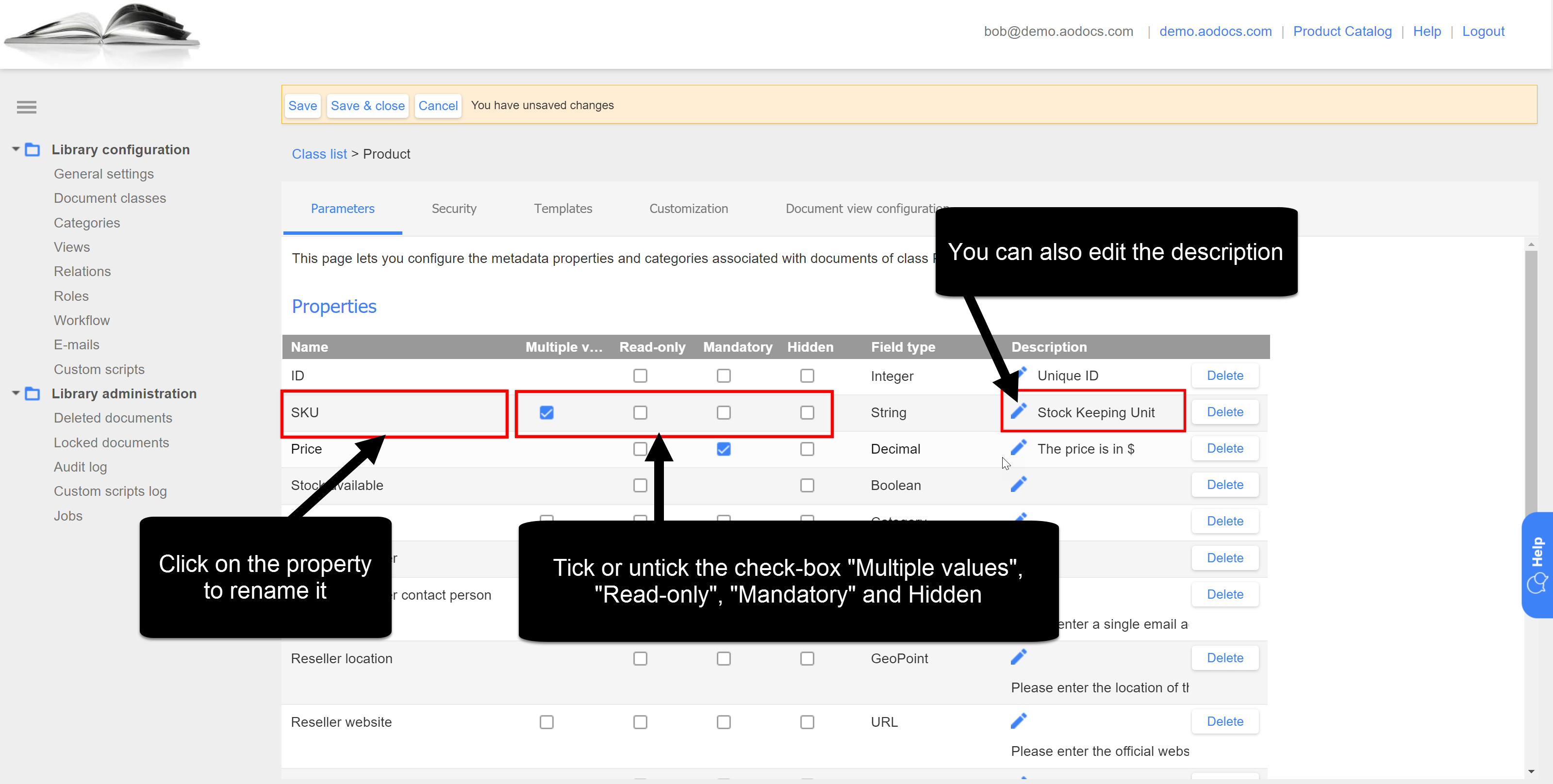 5. You can rearrange the properties' order by drag-and-drop.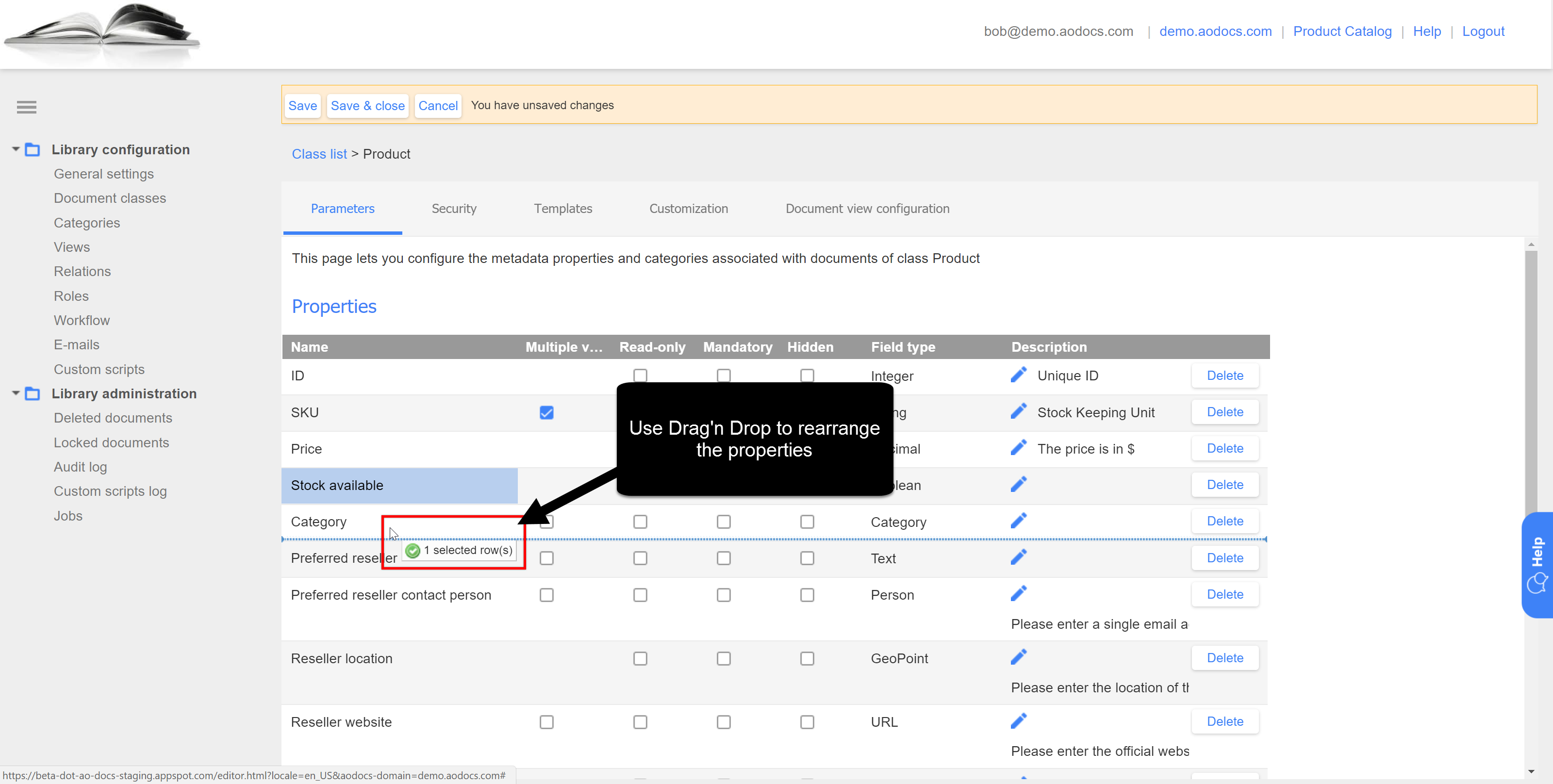 6. Click "Save" or "Save & Close".
Important: Once a field type is assigned to a property and the property is saved, you can't change the property field type.
---
Delete a custom property
1. In the Parameter tab of the document class, the custom properties list is displayed. Click on Delete.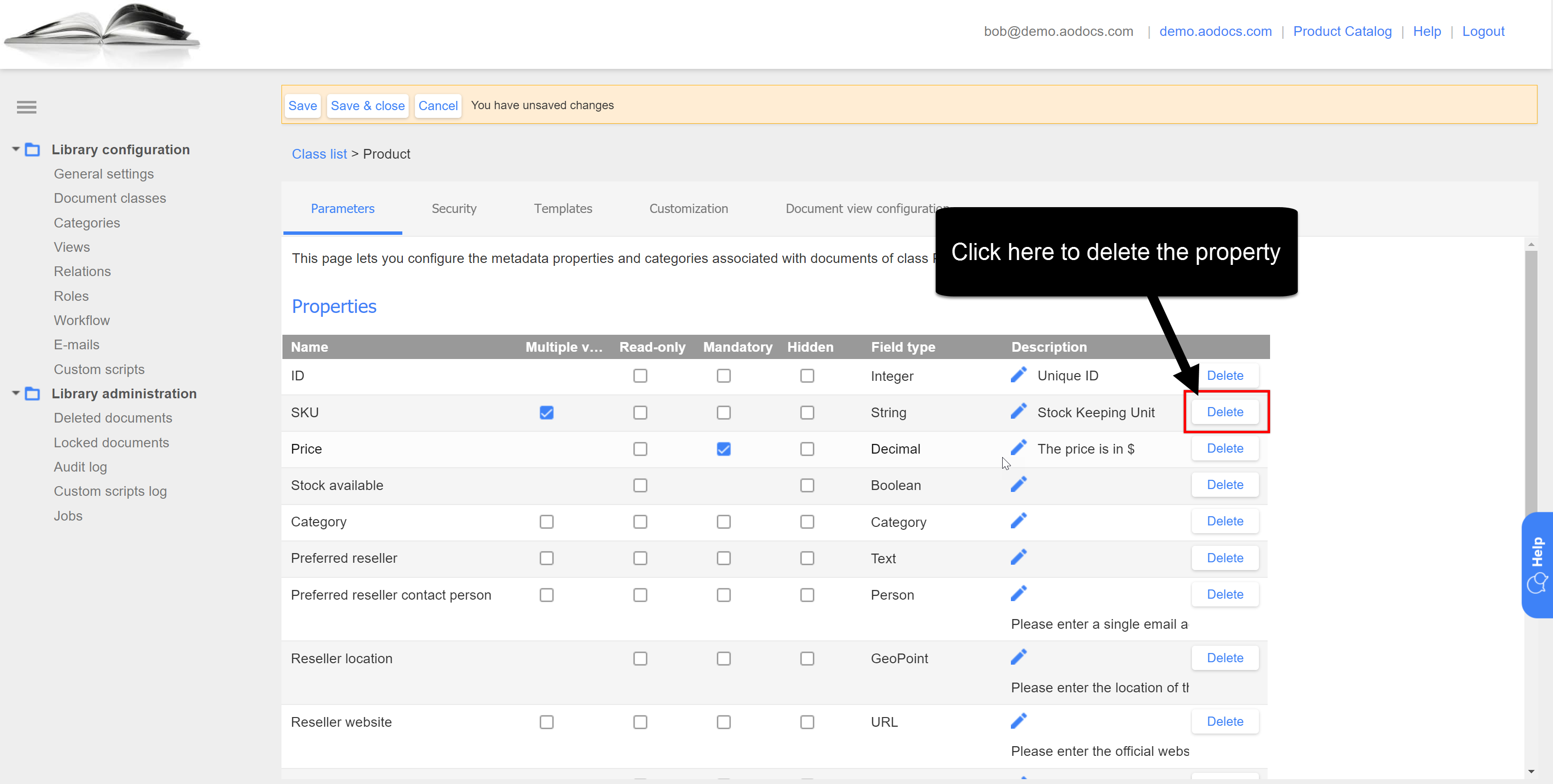 2. Confirm the deletion.
3. Click "Save" or "Save & Close".
Important:
You cannot delete a property if:
- your property is defined in the configuration of a view in the filter, display, sorting, pre-filter or browsing section..
- your property is defined in the configuration of a workflow in automatic transition based on properties.

Appropriate error messages will appear when a deletion is not allowed by AODocs. The conflict will be clearly identified in the error message.


Error message - Property "Attorney" is defined in a View configuration


Error message - Property "Attorney" is defined in a Workflow configuration