A category is a type of field you can assign to a custom property in an AODocs document.
A category is composed of a set of defined values. For example, a category named Manufacturer could have a list of predefined manufacturers. Users can select predefined values for a category in a drop-down list in the edit mode of a document.
Learn more: What are categories?
As a library administrator, you can:
---
Create and configure categories
Important: Categories are configured at the library level and can be used as a field type for several custom properties in the same document class or in different document classes.
To create a category:
1. Open the library administration interface.
2. Under Categories, select Add new value and enter the name of your new category.
You can rename your category by selecting its name.
Note: The name of the category appears in the drop-down list where you select the field type of a property.
3. Select Dynamic value if you want to allow contributors to add new values to the predefined list. New values added by contributors will then be available for all users.
If you don't select Dynamic value, the list is frozen and contributors can only select values from the predefined list.
Tip: As contributors can add new values to a dynamic category, we recommend that library administrators regularly check the list of category values for duplicate or irrelevant values.
4. Once the category is created, you can define the list of values.
5. Press the name of your category to rename it.
6. Select Delete if you don't need a category anymore.
Note: You can't delete a category if it's assigned to a property.

---
Define a list of values
1. Under Categories, select Define values for the category you want to add values to.
2. Select Add new value and enter the category values in the first column. You can add a short name for a category value in the second column.
Note: Short names are displayed in views.
3. Select the pencil icon to rename a value or its short name.
Note: The updated value will be displayed in the user interface on documents where this value is assigned.
4. You can delete a specific value.
Tip: If the value you want to delete is assigned to a document (on its current or previous versions), you won't be able to delete it. In this situation, we recommend to set the value as outdated.
5. Check the outdated checkbox to keep a specific value for history purposes but to prevent contributors from assigning this value on documents.
Note: When a value is outdated, the outdated value is still displayed on documents where the value was previously assigned.
- If a user updates the document, they must change the outdated value on a property to an available value.
- On new documents, the property field doesn't display outdated category values.
5. You can also configure hierarchical sublevels for your category values.
6. If you have a long list of values to define, you can add your list of values automatically using a CSV file.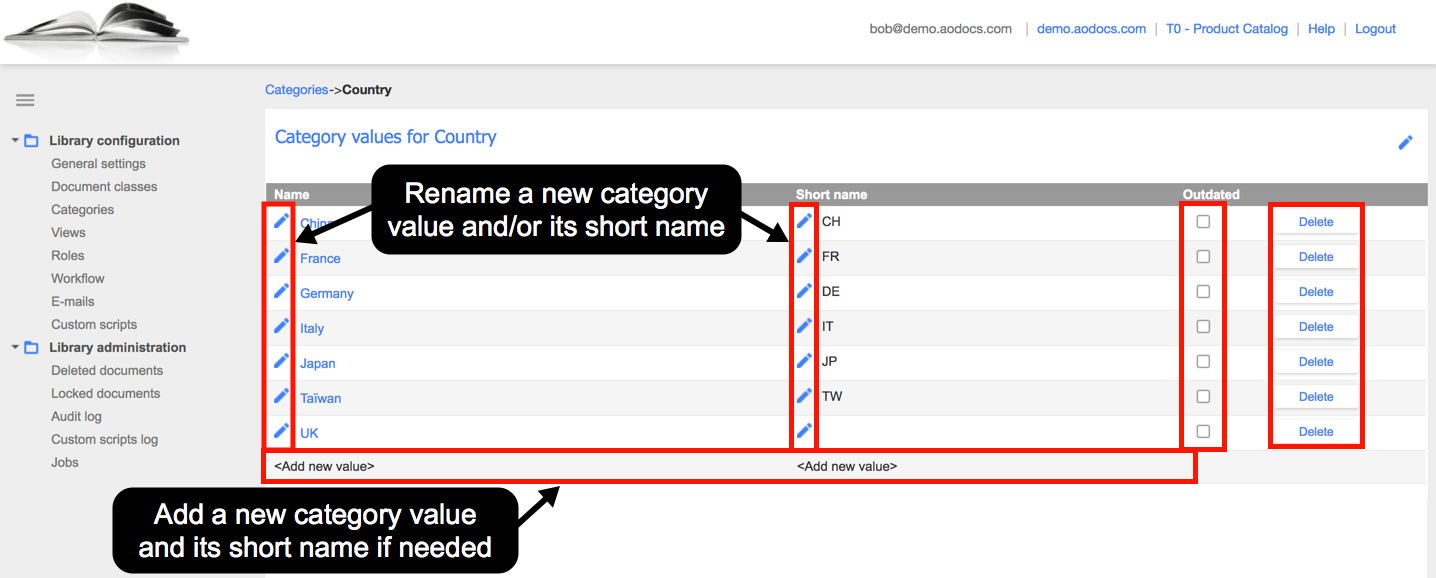 ---
Configure default categories
Configure the default Folder category
All library types have one Folder category by default.
For Team Folder libraries and Secured Folder libraries, the Folder category represents the folder structure visible in Google Drive.
For Document Management libraries, the Folder category is never visible in Google Drive.
You can define the folder structure in the AODocs user interface for all types of library. You can also manage the folder structure in the Google Drive interface depending on the library type and on the permissions given by administrators.
Note: You can't delete the Folder category. At the document class level, it is optional to have a property with the field type Folder.

Configure the default Tags category
Team Folder and Secured Folder libraries have a default Tags category.
You can add values for Tags in view mode (whereas you must be in edit mode to add values for custom categories).
Note: You can't delete the Tags category. At the document class level, it is optional to have a property with the field type Tags property.
Configuring and defining values for the Tags category is similar to custom categories.