As an administrator, you can configure document templates associated to each document class. You can configure multiple templates per document class.
A document template can have:
Default values on its properties
Default attachments (only available in the document management libraries)
A default description.
When creating a new document in the library, users can select an existing document template instead of creating an empty document. If they do so, all the property values, description and attachments of the document template are copied into the new document.
Learn more here: Create a document from a template
To configure an AODocs document template, you have to use the "Template" feature in the document class configuration.
From the library administration interface, access the Document Classes tab (1) and select the document class you want to create a template for (2).
Choosing the document class for the AODocs template
Then, open the "Template" tab (3) and click on the red button "Create template" (4).


Creating a template for the Contract class

The creation pop-up is displayed and you can enter the name of your AODocs document template (5).
Then click on the button "Save" (6).

Naming the document template

For each document class, once your templates are created, you can set one template as the default one (7). 
In a Document Management library, set a template as default has the following impacts:
In a Secured Folder library or a Team Folder library, set a template as default has the following impacts:
You can also make your templates visible to library users or hide them from library users, by changing the "Visibility" option on the right of the tab (8):
If a template is set as "visible" then it appears in the document creation menu in the AODocs user interface
If a template is set as "hidden" then it does not appear in the document creation menu and can only be used when creating documents via the AODocs API or via emails.
Learn more here: Configure emails to documents
You can also delete your template by pressing the cross next to the visibility control parameter (9).
In order to update your AODocs document template customization, click on its name (10).
Configuring document templates

The AODocs template opens.
From here, you can personalize your document template by adding properties, attachments or even a description that will be directly attached to the documents created from the template.
Using the legacy editor to create document from a template, the attachments from the template are ignored.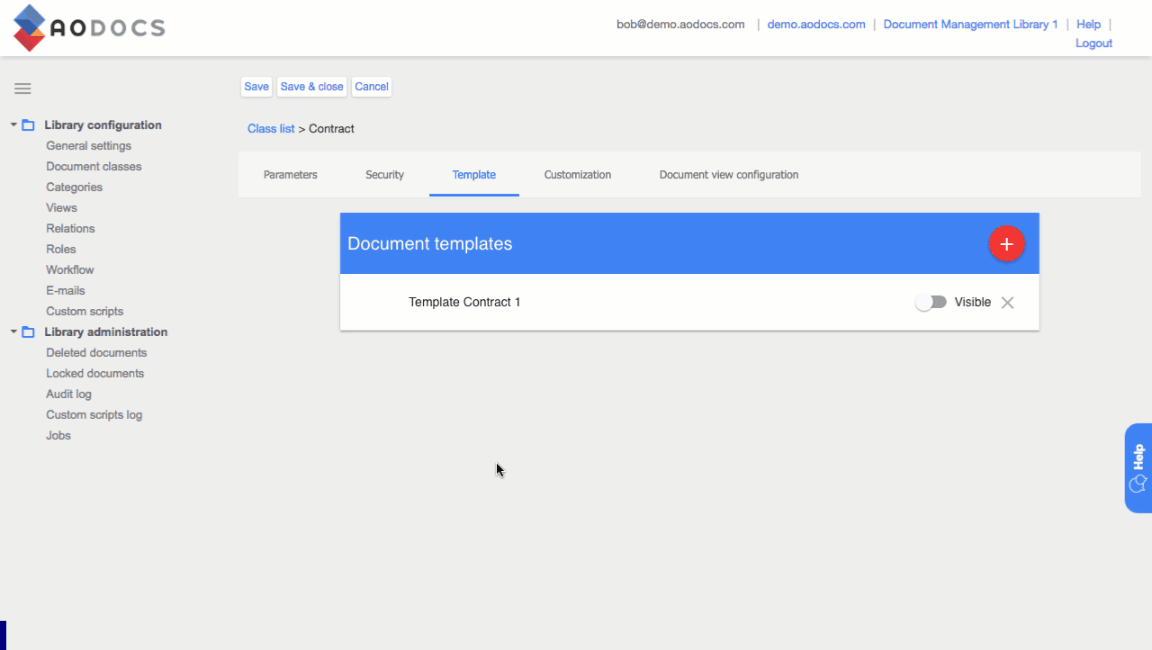 Customizing the AODocs template
To return to the template list click on the arrow at the top left of the template configuration tab (11).

Returning to the template list