To configure and manage roles in a library you need to open the library administration interface and select "Roles" (1).
Learn more: What are roles?  
The role list always contains the 4 default system roles (2): "Administrators", "Contributors", "Readers" and "Document Creator", followed by the custom roles (3).
Learn more: Permissions in AODocs overview
To define a new Role, click on "Add new value" field (4). To delete a role click on "Delete" (5).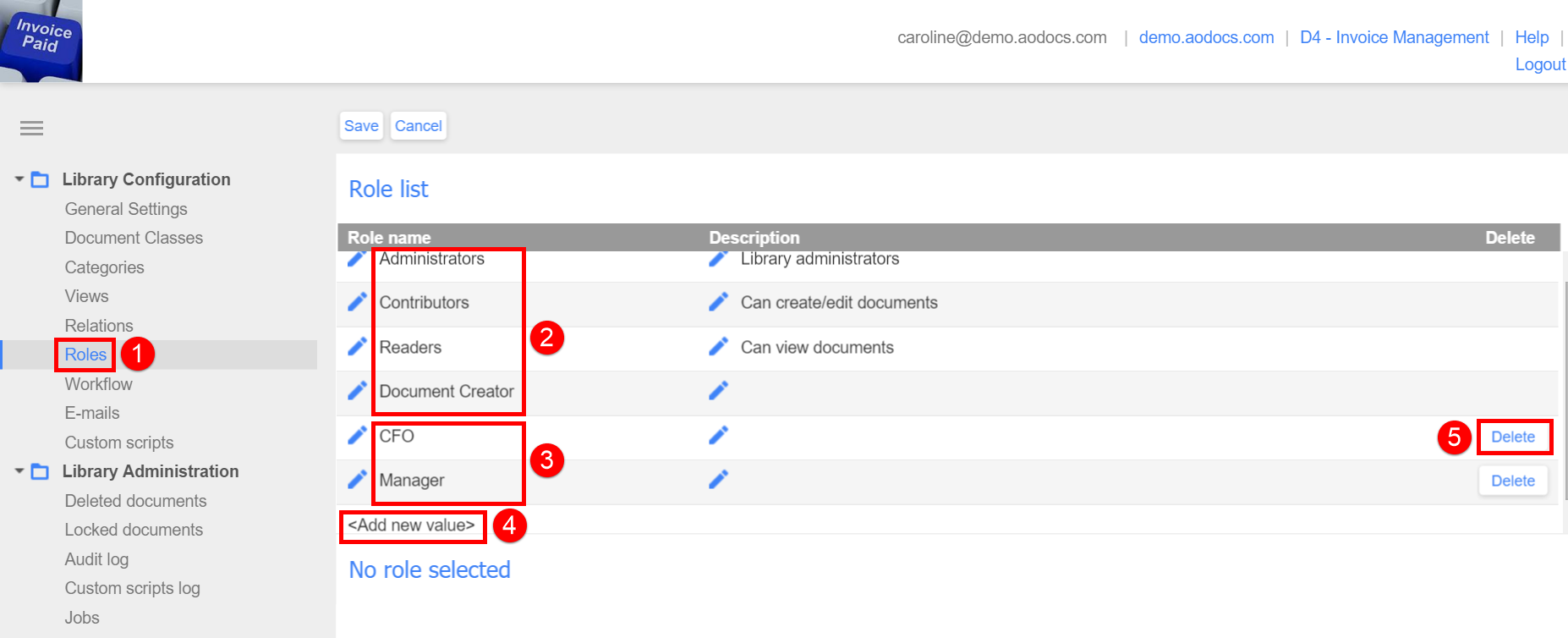 Configuring roles in AODocs
When a role is selected (6), the bottom panel displays a new section called "Access list for -the role selected-". This section shows the current members of this role (7). By clicking on "<Add new value>" (8) you can add new members to the role:
users: by names or email addresses
groups: by names or email addresses of Google Groups in the domain (note that AODocs supports nested groups, so that if a Google Group is member of the group you add here, the members of the nested group will be considered member of the AODocs role that you are configuring)
fields: all users specified in the corresponding property of the documents. This option is used when the role members need to be different for each document. More on this below.
everybody*: to include all the members of the Readers, Contributors and Administrators system roles
Note that the custom roles are specific to the library and are not visible to other libraries.
Click on the "Save" button (9) at the top of the page to save your changes.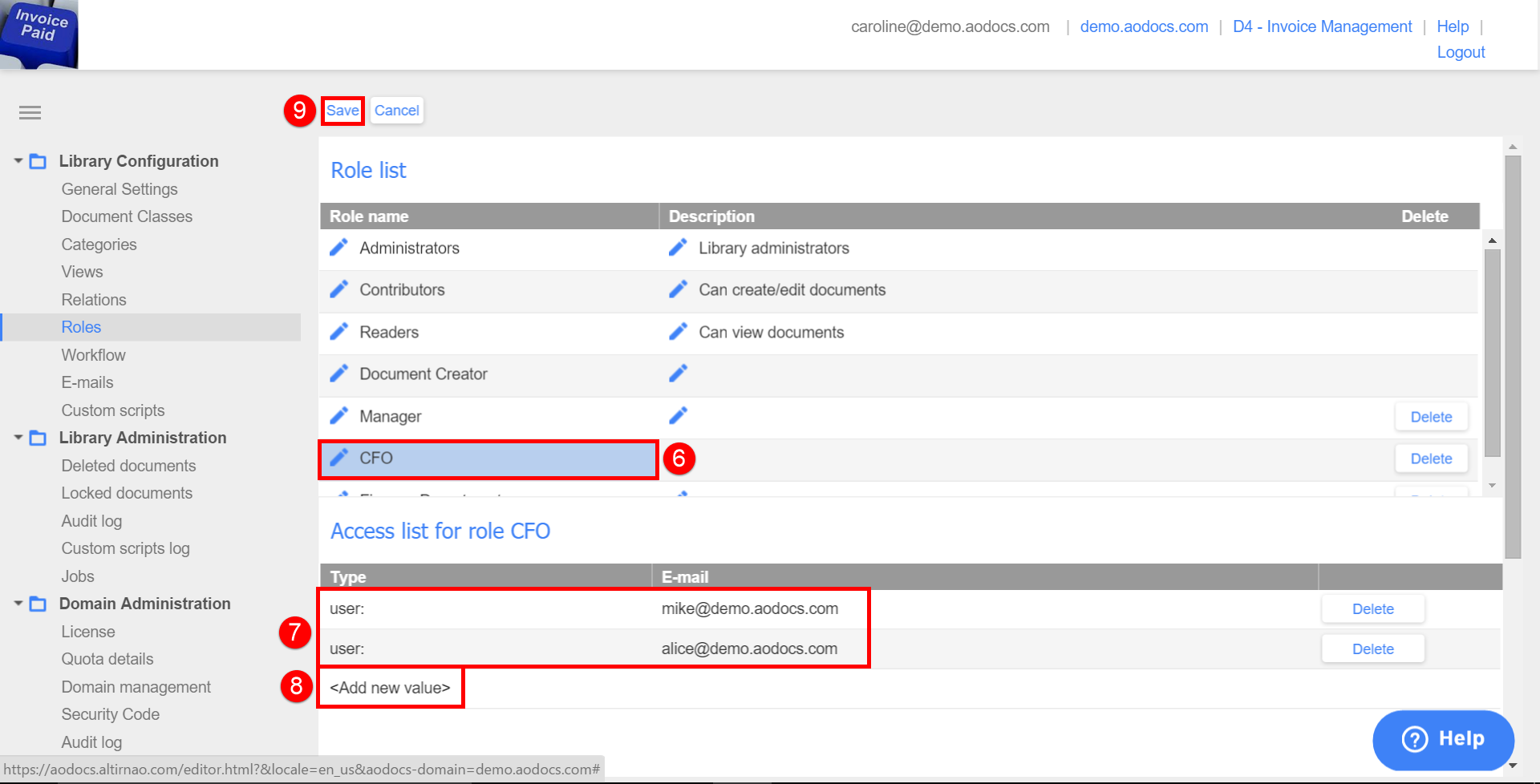 Configuring a Custom Role
When you select the "field:" type you must then select a document class in a library (9).


Selecting a document class
You then get the choice between (11):
Document creator: if you select this option, the user who created the document will be a member of the role.
Last update author: All the last users that have edited documents from the document class previously selected will belong to this role.
All the properties defined in the parameters of the document class you have selected in (10) whose field type is "Person": all of the users specified in the corresponding property of the documents will belong to this role. For example when Bob creates an invoice in this library and enters Caroline as a "Manager" that will be in charge of the invoice (12), if the role "Manager" is set on the property of invoice "Manager" then when Bob saves the document, Caroline will belong to the role "Manager".
Learn more: Edit document properties


Selecting a specific field from a document class property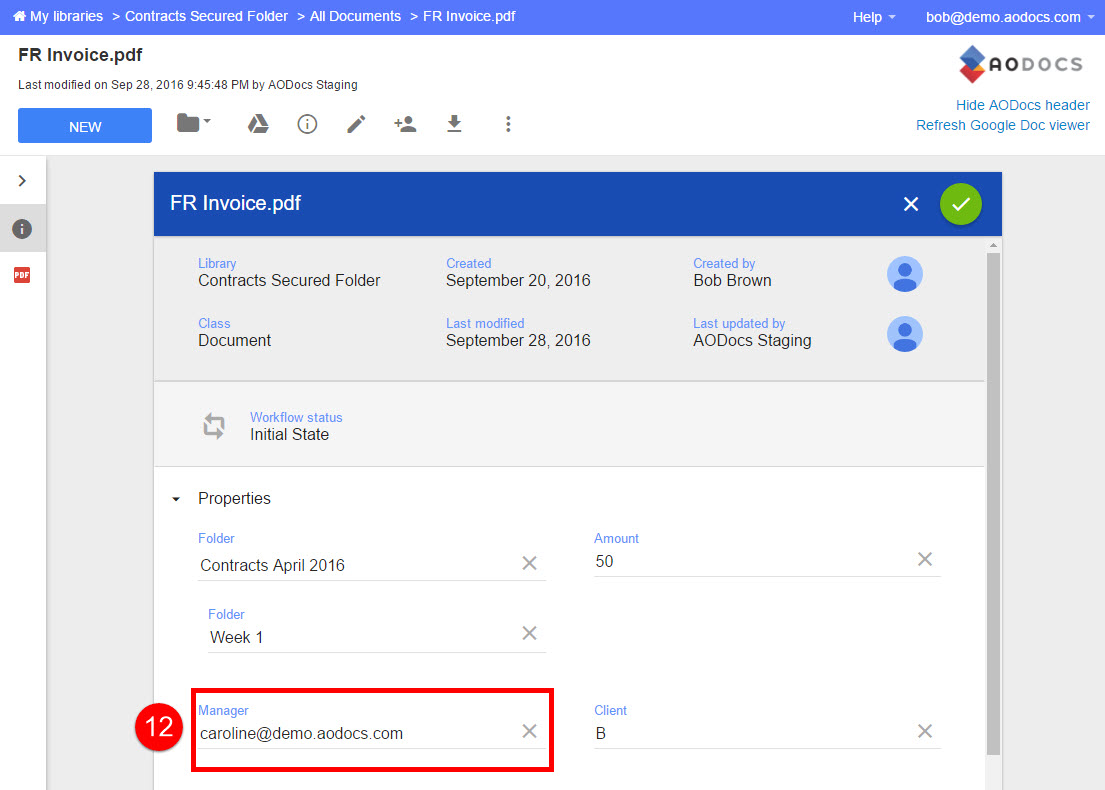 Filling a person type property of a document at the moment of the document creation  in the user interface