Libraries are document containers. Each library has its own specific configuration.
A library is associated with either:
a single

Google Drive storage account

that owns all the attachments in your library (all types of library)
one or more Google Cloud Storage (GCS) buckets where the attachments in your library are stored (Document Management libraries only)
In AODocs, you can create a library from scratch. You'll create a blank library without any pre-existing configuration.
Note: You can also:
– Create a library by copy
– Create a library from a template
Important: Who can create which type of library?
Google users can create all types of library. Microsoft users can create only Document Management libraries. In addition, you must be one of the following:
– a user defined as a library creator at the domain level; learn more: Manage library creators
– an AODocs super administrator
– an individual user or group given the right to select a storage account; learn more: Create a storage account (Only for option)

---
To create a new library from scratch:
1. Access the AODocs homepage.
2. Press the Create library button.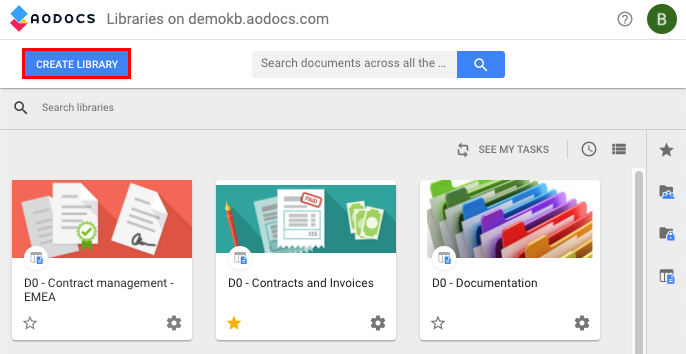 3. In the Create library panel select the type of library to create:
Google users can see boxes for the three types of AODocs library: Team Folder, Secured Folder and Document Management library
Microsoft users can see a box for the Document Management library type
Tip: Each box contains a brief description of the library type. Press Learn more to access tutorials.
4. Press Create.
5. In the library creation pop-up, enter the name of your new library.
Note: The library name can contain any kind of character (including special characters) but it must be unique. Two libraries can't have the same name.
6. Select a Google Drive storage account for your new library.
Notes:
– If only one Google Drive storage account is configured on your domain, it's selected by default.
– If several Google Drive storage accounts have been configured, select the storage account you want to assign to this library from the list. This list includes only storage accounts for which the current user is included in the availability setting.
7. Define where to store the attachments in your new library:
The Google Drive of the above storage account
All the attachments in your library will be stored in the Google Drive associated with the storage account you selected in the previous step
One or more AODocs Google Cloud Storage buckets
One bucket is created for each document class in your library. A bucket is created when you create your library and each time you create a document class.
A single custom Google Cloud Storage bucket
A single bucket that you create and manage stores all the attachments of your library. This bucket must exist already and be correctly configured, for example, AODocs must be able to create, update, get, and delete objects in the bucket. Learn more about using custom buckets.
Note:
– Microsoft users don't see the first option because they can create only Document Management libraries using Google Cloud Storage.
– You can't change the type of storage after creating your library.
Learn more: Where is my content stored? and Data localization options.
8. Press Create Library. Your library is now created.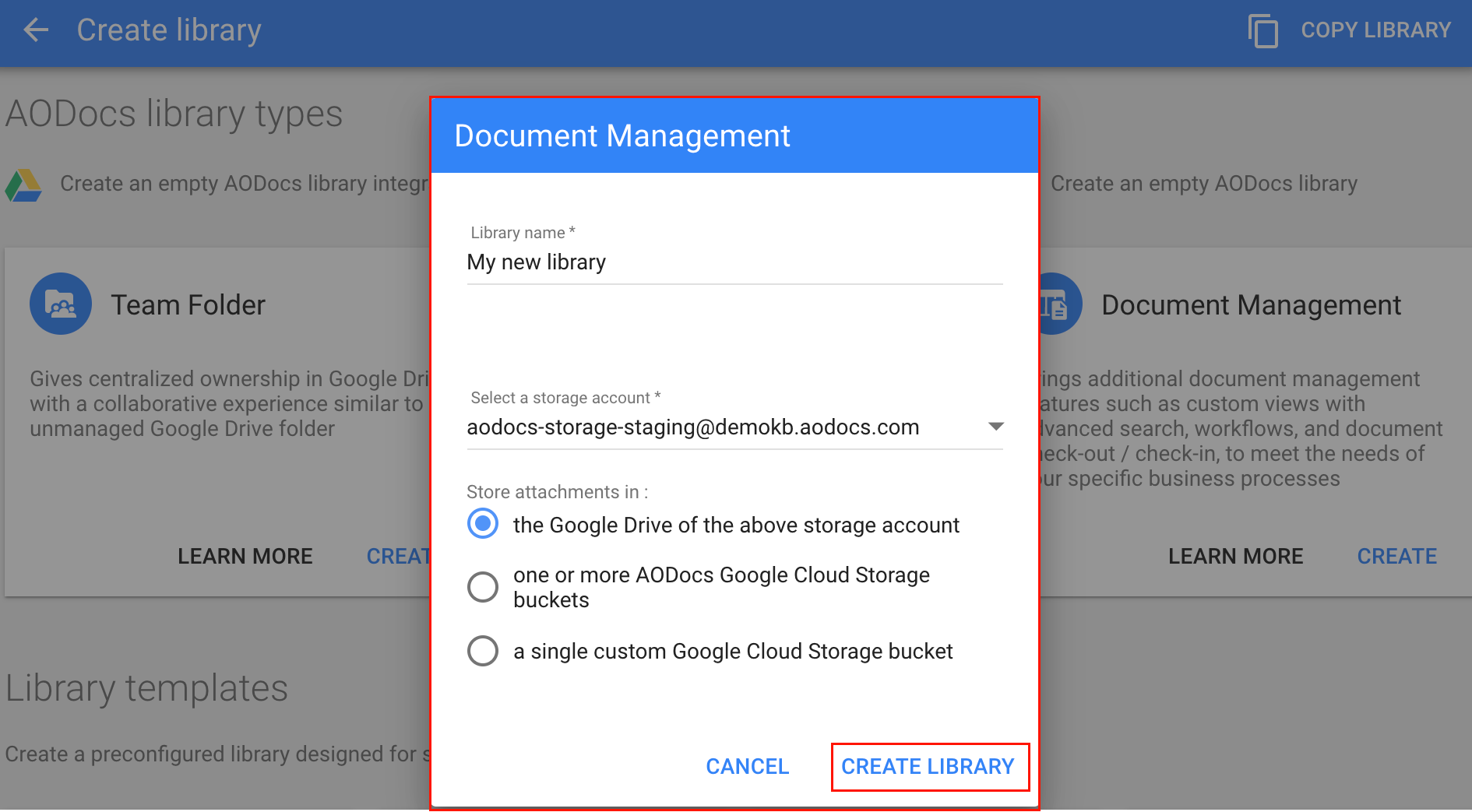 When you create:
Document Management libraries and Secured Folders, you're redirected to the library homepage in the AODocs user interface
Team Folders, you're redirected to the root folder of your library in the Google Drive interface.
Note: In Team Folders and Secured Folders, you can switch between the AODocs interface and Google Drive.
When the library has been created, the library creator receives an email to confirm that the library has been created.
9. Start configuring your library.
Learn more about how to get started and configure your library: