Dear Smartbar user,
First we want to thank you for all the feedback you've sent us about the new Smartbar features in Gmail. Your suggestions have helped us improve the Gmail integration in AODocs Smartbar Version 5.1
Below you'll find the improvements and the bug fixes in AODocs Smartbar Version 5.1.
Note: In order to provide the best experience and an even more secured extension, the Smartbar 5.1 only works with Google Chrome version 53 and above.
Learn more here: System and browser requirements
---
Improvements
Import from Gmail is now available in different display modes
The import from Gmail now supports the following scenarios:
when the Preview Pane is activated (in Gmail Lab)
when the conversation mode is disabled
when an email is opened in a separate popup window
Learn more here: Import an email into a Document Management library, Import an email into a Team Folder / Secured Folder library

New Permission page to activate or disable the Smartbar in Gmail
Some users have expressed concerns about allowing the Smartbar to access their emails.
It is now possible to disable the Gmail integration features in the Smartbar. In this case, the Smartbar is only granted permission to access Google Drive and AODocs.
Learn more here: Enable or disable the Smartbar authorization in Gmail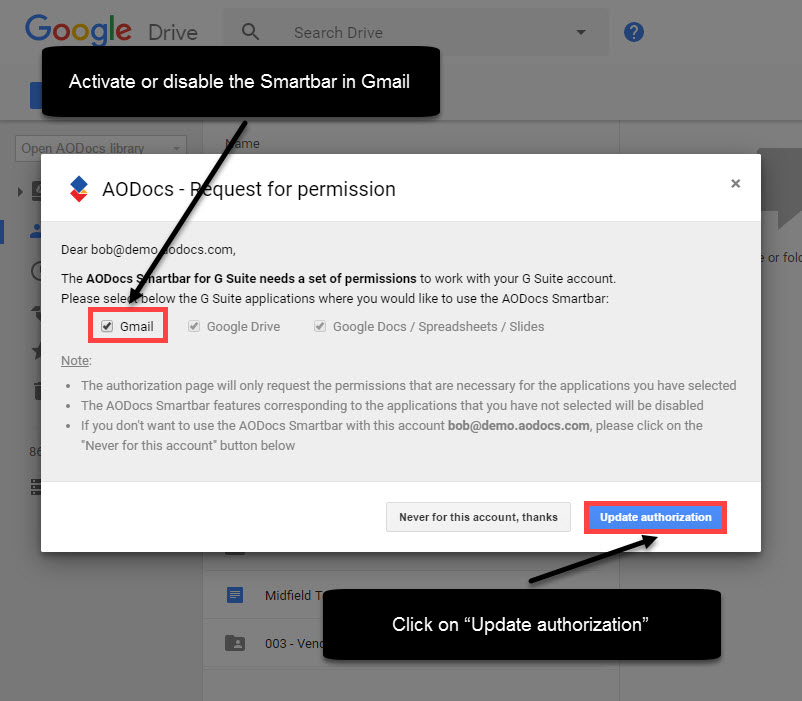 ---
Bug fixes
Compatible with Chrome 57 on Mac OS to open files directly in Microsoft Office.
The AODocs document editor is now displayed in the same language than the Google Chrome one, if the language is supported by AODocs.
Users from a subdomain can now share documents stored from a Secured Folder.
The AODocs Smartbar Welcome Tour is now well displayed from Google Chrome 56.
---
Launch Details
Rollout pace:
Full rollout from March 20th, 2017.
Impact:
All the AODocs Smartbar users.