The AODocs Smartbar is a Chrome extension that brings AODocs features directly into your Google Drive and Gmail interface.
In Google Drive, files and folders managed by AODocs are detected by the AODocs Smartbar and additional features are added to your Google Drive as additional buttons.
In Gmail, the AODocs Smartbar allows you to import emails from Gmail to an AODocs library.
Learn more here: Presentation of the AODocs Smartbar
Important:
- You need to be logged in to your Google account and have the permission to install extensions on your computer.
- You have to use Google Chrome version 53 or higher.
Learn more here: Download and install Google Chrome and System and browser requirements.
Note: Some organizations do not allow their employees to modify by themselves their Chrome browser configuration. In this case, contact your administrator to ask for the installation.
---
Install the AODocs Smartbar
1. Open AODocs Smartbar for G Suite on the Web Store of your Google Chrome Profile.
2. Click on "+ ADD TO CHROME".
    A confirmation pop-up appears.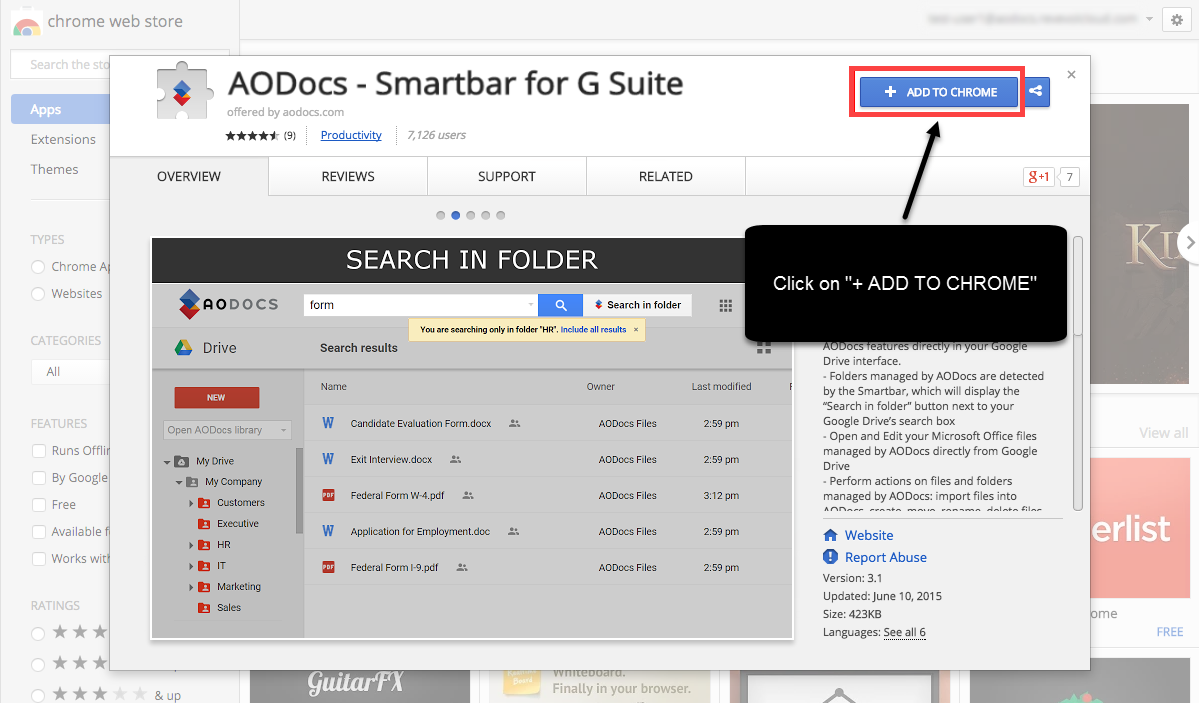 3. In the confirmation pop-up, click on the "Add extension" button.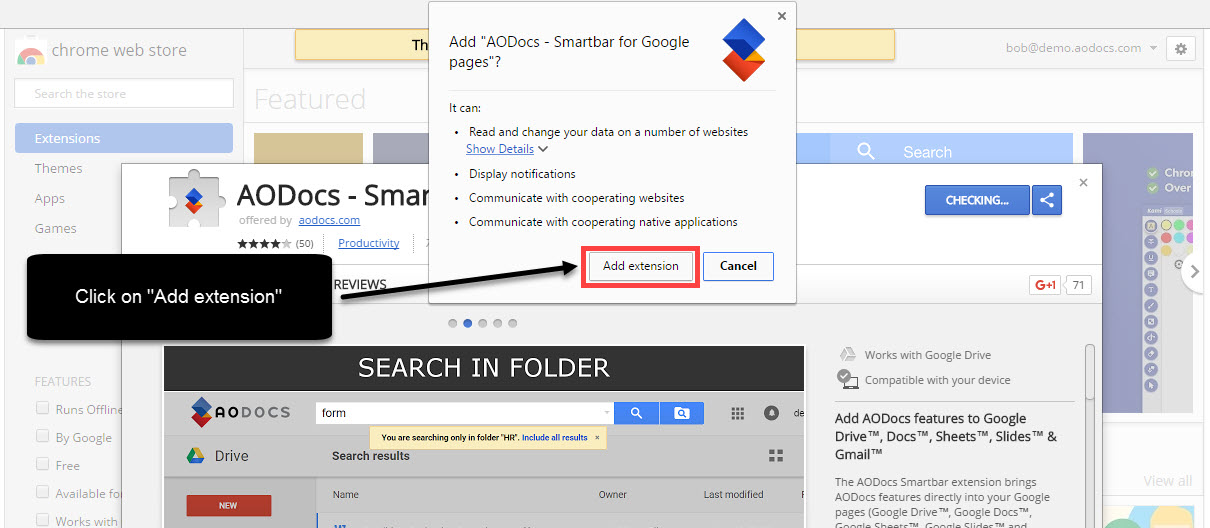 4. Wait for the installation to complete.
     In notification appears under the extension icon and confirms that the installation is over and that the extension has been successfully added.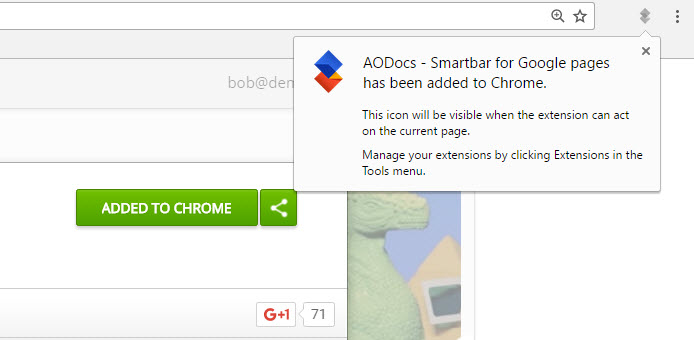 ---
Enable AODocs Smartbar features in different Google Services
The first time you access Google Drive or Gmail after the AODocs Smartbar installation, a pop-up "AODocs - Request for permission" opens.
You can then define in which interface the AODocs features can be enabled.
1. In this "AODocs - Request for permission" pop-up, check the "Gmail" option if you want to authorize the Smartbar to work on your Gmail interface.
    Uncheck the "Gmail" option to disable the AODocs Smartbar features in your Gmail interface.
Learn more here:
- Import an email into a Document Management library
- Import an email into a Team Folder / Secured Folder library
Note: The options "Google Drive" and "Google Docs / Sheets / Slides" are checked by default and can not be unchecked to be able to use AODocs from the Google Drive and Google editor pages.
2. Click on "Open the authorization page".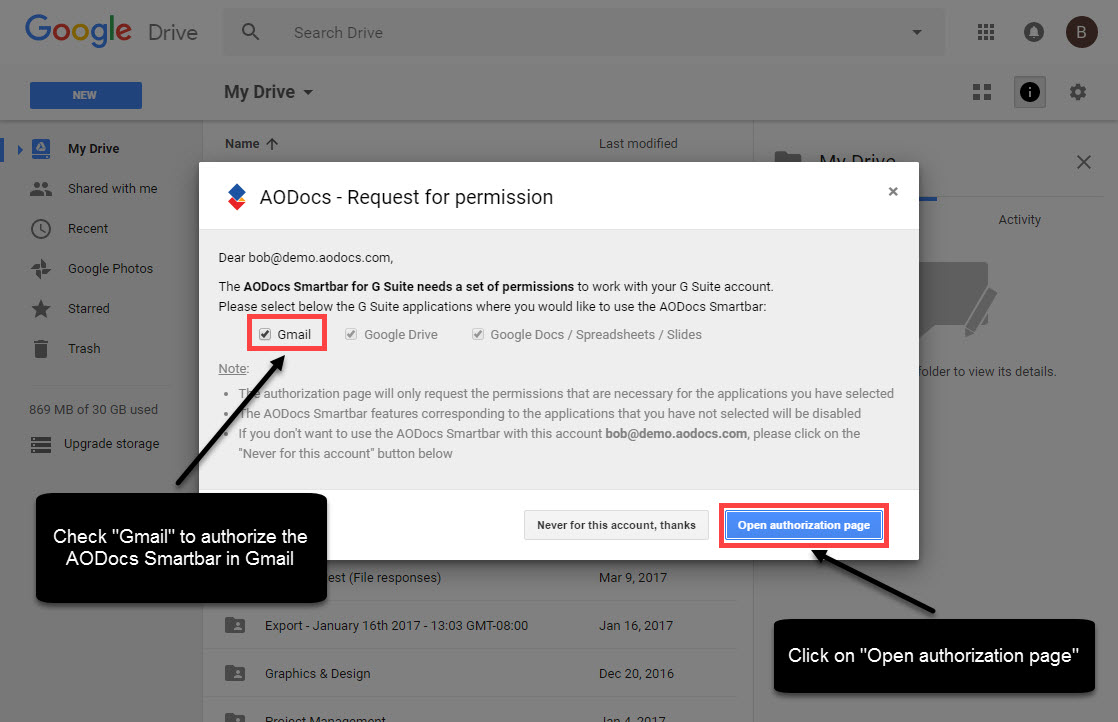 3. In the new tab, the permissions required by AODocs to interact with Google Drive (and Gmail if you checked it) are listed. Click on "Allow".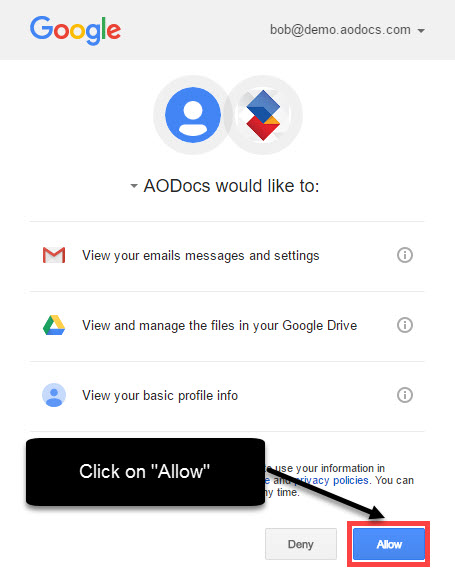 Note: If you are in Google Drive, the AODocs Smartbar will launch its discovery tour automatically.