Dear AODocs Users,
We're pleased to announce the release of AODocs version 59.
In this release, we continue to make progress on two major streams of improvement:
the user experience with the revamp of our views – release 59 brings the new views one step closer to feature parity with the standard views
support of Microsoft users in AODocs, notably with the recognition of Microsoft users who can be included in Google groups used by AODocs permissions
On top of that, you will find other improvements in security and performance.
Note: Subscribe to our announcement list to receive our Release notes.
---
Launch details
Rollout pace: From 30 March to 31 March.
---
Enjoy an enhanced search experience and other features with revamped views (beta)
We're continuing to rebuild AODocs views, and the new version includes extensive visual enhancements and additional features. With this release we're getting ever closer to completing this task.
In release 59, new views are still available in the beta version, the aim of this beta being to collect your feedback to steer the course of the final steps. With this release, you now have the possibility to activate the new views by default for your users.
Thanks to your feedback, the R59 beta version brings you the ability to:
move documents between folders
open documents locally using Microsoft Office or the UFO extension
import folders from Google Drive (for Team Folders and Secured Folders)
perform workflow actions, with a reworked user experience

create, rename, move, share and delete folders
preview attachments in a brand new Attachments side panel
navigate to another view without returning to the library homepage
log a reason when deleting several documents at once
Learn more: Use views (beta version) in your AODocs libraries.
For which users?
All users
Why it's important
Views help users organize and browse their documents, so it's important for these functionalities to be efficient. Our aim with the revamp is to:
improve the user experience
enhance performance and search capabilities with the use of new technology and features
provide end users with customization options so they no longer have to fully rely on library administrators to configure views
improve the overall display of views to fit with the revamped AODocs interface in previous releases
Additional details
All users can still switch between the standard version and the beta version of views. Your feedback is always welcome, the feedback form is still available next to the button to switch versions!
Note that the following features are not yet available in the beta version of views:

Copy a folder tree
Upload a replacement to an attachment
Availability
All AODocs customers.
Note: To activate the new views by default for your users, or to opt out of deploying the beta version of views on your domain, contact our support team at: support@aodocs.com.
---
Control wide sharing of documents
As some libraries can contain sensitive material, it is now possible to deactivate public sharing options at two levels.
In the library permissions, the public sharing options can be disabled: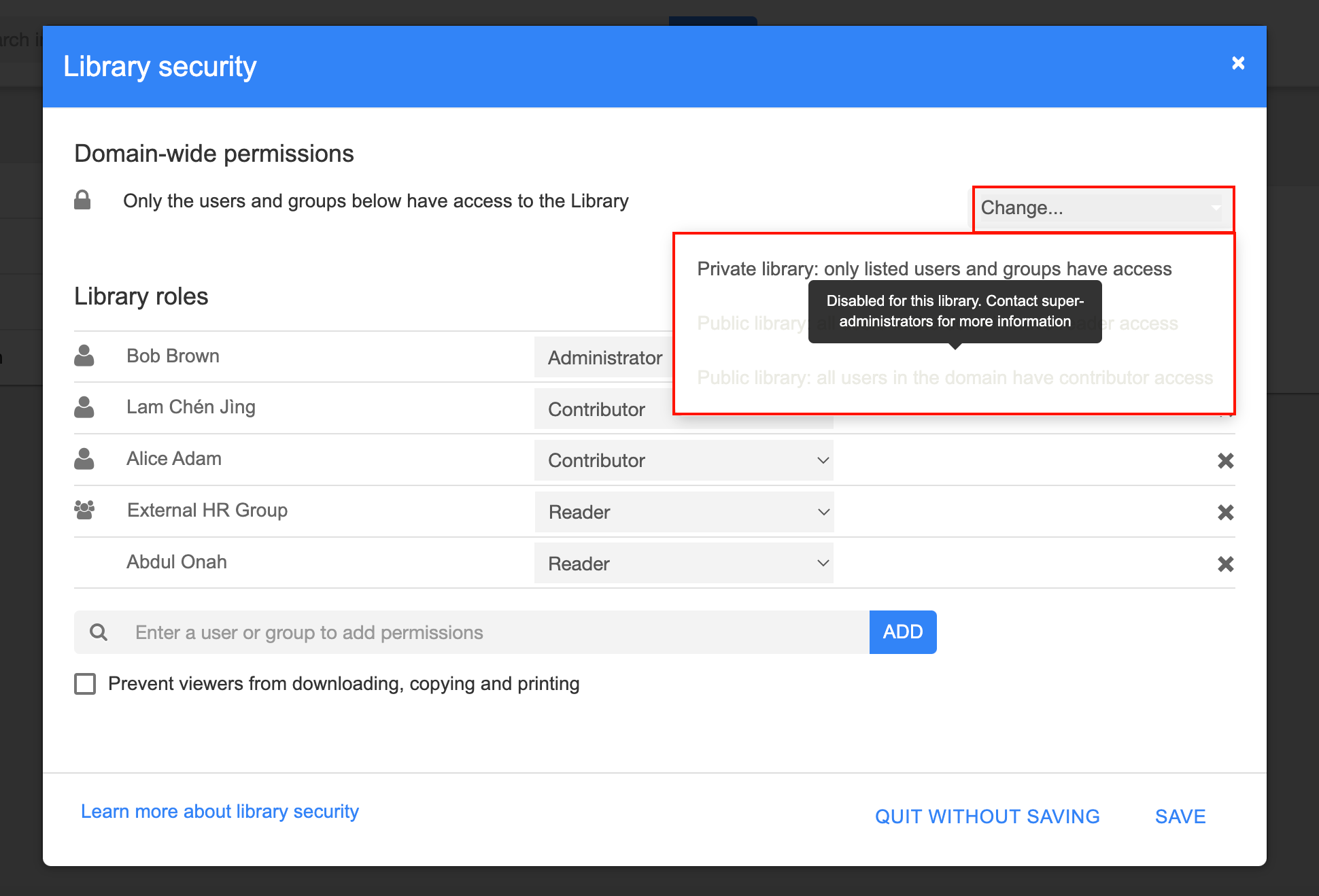 Independently, in the workflow state permissions, the public sharing options can be disabled: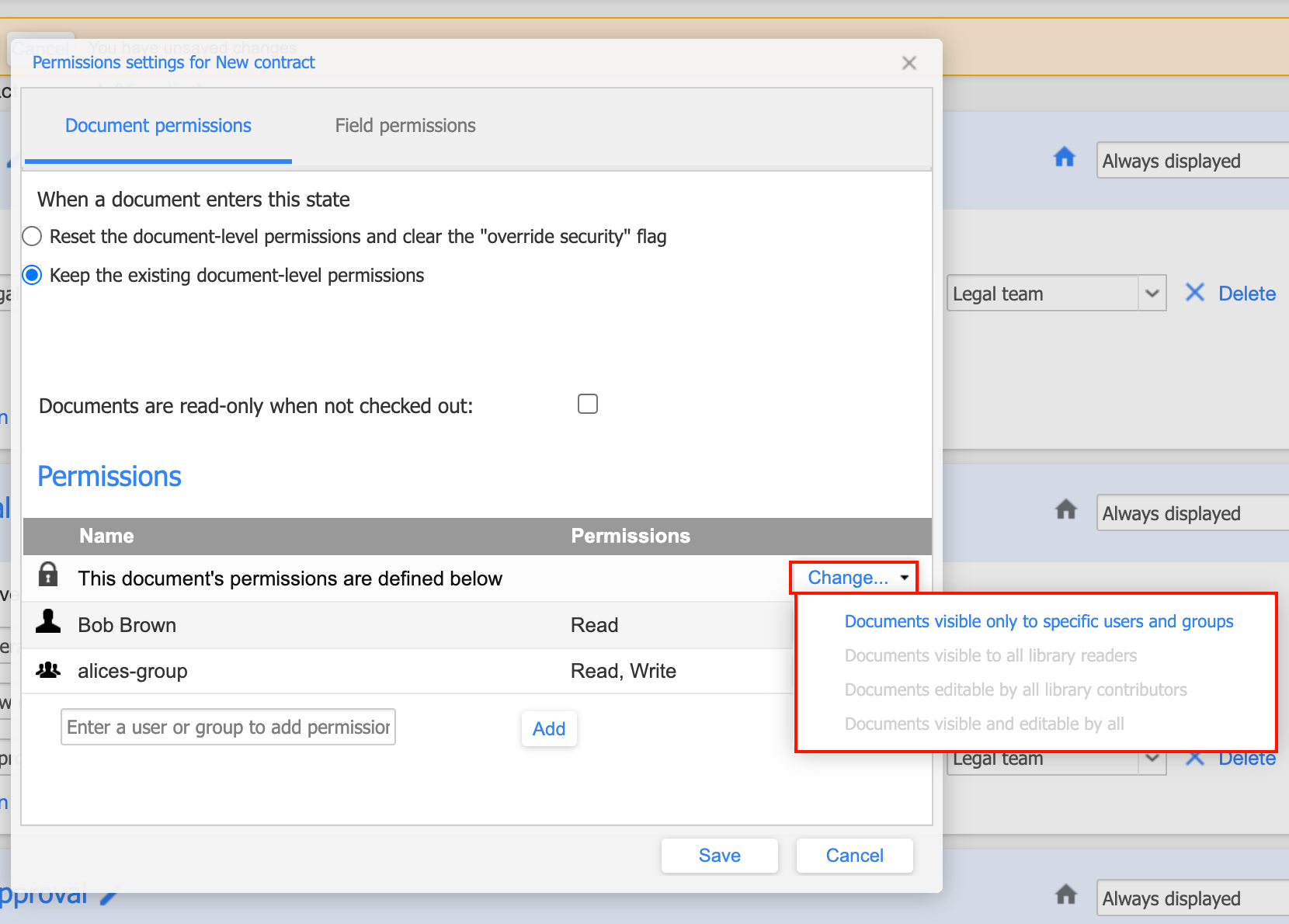 Additionally, confirmation is now required from the administrator who wants to apply these global permissions: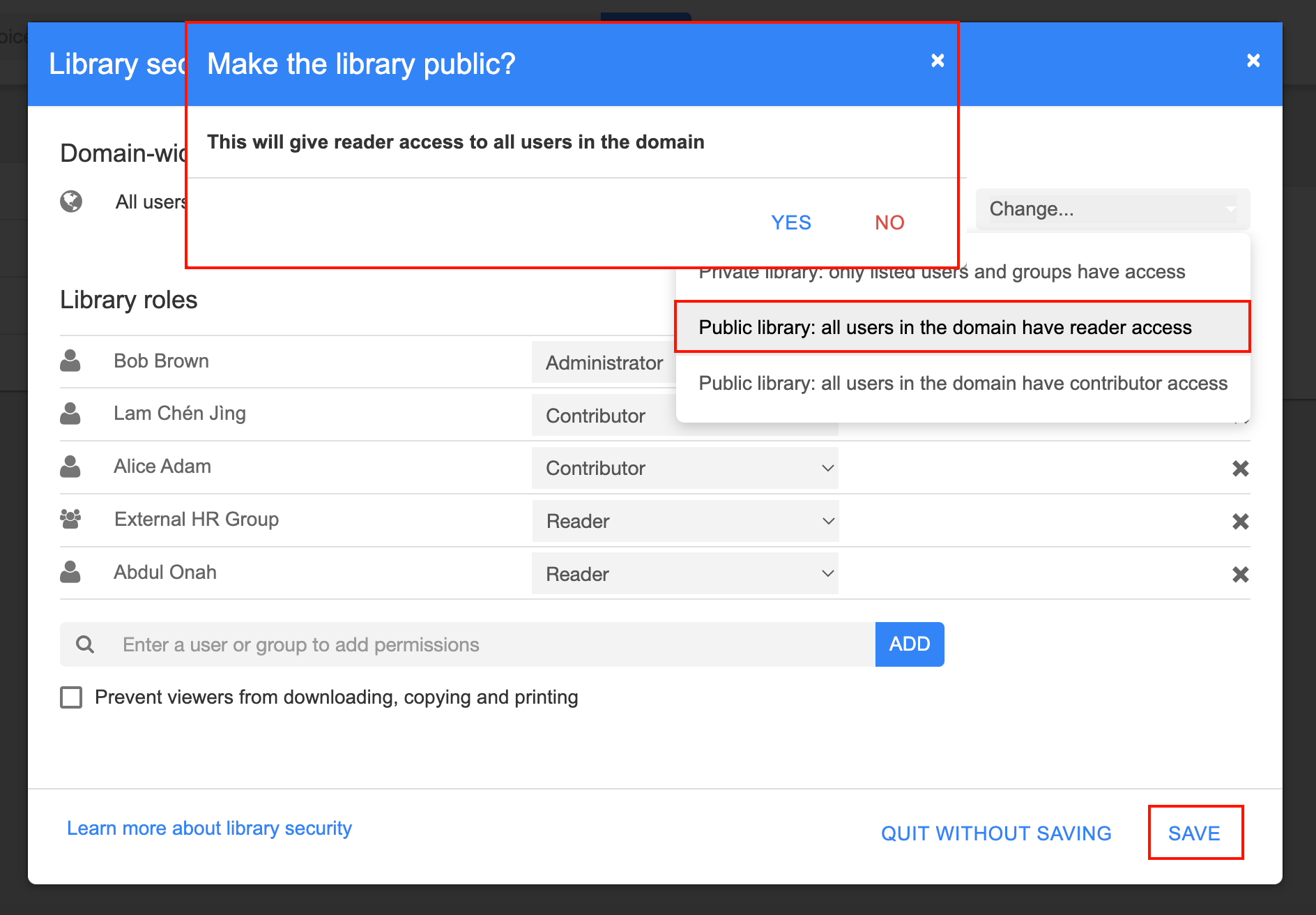 Learn more:
For which users?
Library administrators
Why it's important
This feature provides an additional layer of control for library and document sharing, which can only be modified by super administrators of the domain.
Availability
All AODocs customers.
Note: For now, these options can only be disabled by API.
---
Recognize Microsoft users in Google Groups
Since release 58, in domains with an active AODocs Content Services subscription, users with either a personal Microsoft account or an Azure Active Directory account can log into AODocs and use all its features in full. They can also be added individually in library, document and workflow state permissions.
In addition, it is now possible to include any user with any email address to a Google group and they will inherit the permissions of the group just like Google users. This applies to:
library permissions
document class permissions
workflow state permissions
document permissions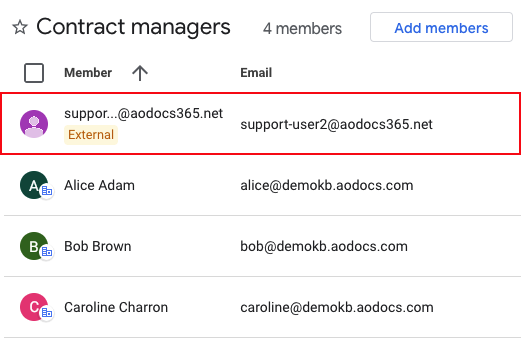 Learn more: Manage permissions with Google Groups.
For which users?
All users
Why it's important
Groups greatly simplify the management of permissions, especially when users join or leave the groups, as there is no need to update each set of permissions separately.
Groups are also the standard way to manage the permissions of a large number of users, for example when a whole department needs to have access to a library.
Additional details
The feature is backward-compatible for existing Google groups that already contain Microsoft users.
Availability
All AODocs customers with an active AODocs Content Services subscription. For more information, contact our sales team: sales@aodocs.com.
---
Improvements and bug fixes
End user interface
When you fill in a Category property on a document page, the autocomplete feature is no longer sensitive to accents. This means that when you type in your entry in plain Latin alphabet, all the relevant suggestions appear, regardless of the accents they might contain.
This can prove very useful when working with foreign names and nouns, and you're not using the appropriate keyboard (or don't know the exact spelling):


When a document property is made conditionally hidden, its value is displayed to the document readers and contributors only if the formula allows it.

We have applied this behavior in two additional places:

standard views
workflow emails (such as notifications)
Hence, end users have access to the property values in a much more consistent way, controlled by library administrators.
The ability to embed a standard view from an external web page (such as a Google Site) is a long-standing feature for Google users.
In this release, we extended this to Microsoft users, in domains with an active AODocs Content Services subscription: they can now browse their documents from an external website in the same way as Google users.
If a Microsoft user is not currently signed into AODocs, a sign in prompt appears without being redirected to the AODocs interface. This means they can access AODocs content seamlessly and transparently.
Administration interface
When we opened AODocs to Microsoft users in R58, these users were given the ability to be library administrators. However, they weren't able to upload a library logo from the administration page. This regression is fixed, and Microsoft administrators can now use this library customization option.
When accessing the AODocs domain administration page, Microsoft super administrators no longer get a misleading warning banner mentioning issues on the domain. This behavior was not appropriate and has been fixed accordingly.

These two improvements in the library and domain administration interfaces apply to domains with an active AODocs Content Services subscription.
---
And there's so much more brewing…
The scope of features for the new views continues to expand! The next release should see the migration of the final missing features from standard views:
copy folder tree
upload attachments
scan Drive folder content for missing files
preview thumbnails of attachments
browse folders directly from the list in the left panel
copy attachments to another document
Would you like to meet our product team to discuss your needs? Join the AODocs research group! Join the AODocs research group!