"Google Drive for your Mac/PC" or Drive Sync client can synchronize Google Drive files and folders from your My Drive to a local folder on your computer.
If a file or a folder belonging to an AODocs library is added to the My Drive of a user, it is possible for him/her to use the Drive Sync client and synchronize the file locally on his/her computer. Keep in mind that all the files and folders managed by AODocs are owned by the storage account of the library.
AODocs does not support the use of "Google Drive for your Mac/PC" (Drive Sync) and strongly recommends to disable it for the following reasons:
Local files subjected to virus infection (cryptovirus/ransomware type) can synchronise corrupted files back to Google Drive if the user has edit rights on these files

The behavior of the synchronized files locally is not trivial and can cause misunderstanding with the End Users, especially when the user is not the owner of the document. It generally leads to:

Documents duplicates

Document subscription cancellation (user does not see the document from Google Drive)

Managing incidents related to Drive Sync requires to retrieve logs from the user's computer

In large organization, the use of Drive Sync Client can have an important impact on the internet bandwidth
AODocs recommends to disable the "Google Drive for your Mac/PC" (Drive Sync) for the users at your domain level.
As a G Suite super administrator:
(1) Go to admin.google.com
(2) Go to Apps > G Suite > Drive
(3) In Google Drive, go to Data access > Drive
(4) Select the option "Do not allow Google Drive for Mac/PC in your organization"
(5) Click on Save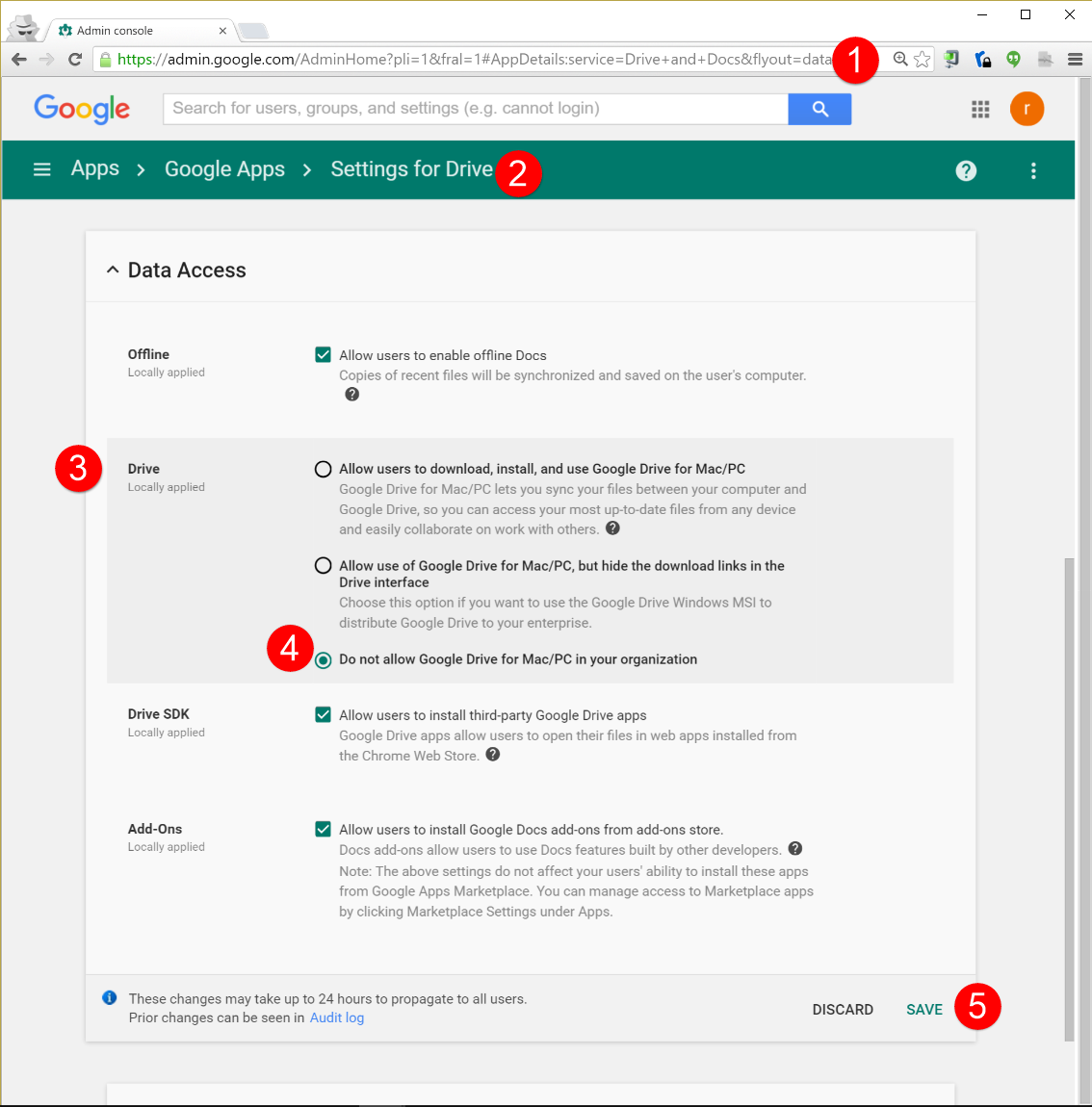 G Suite admin console - Disabling the "Google Drive for your Mac/PC" (Drive Sync) for users at a domain level.
Note: If you are G Suite Business customer, you can disable this feature by Google organization.