Dear AODocs users,
Please find below a list of the major new features and improvements in AODocs version 48.
Launch details
Rollout pace: From 10 to 12 September 2018
Impact: All end-users
---
New features
Related items
Similarly to what was done for Document Management libraries in AODocs V47, contributors can now create a related item (as a blank document or using a document template) directly from the Related items section in Team Folders and Secured Folders.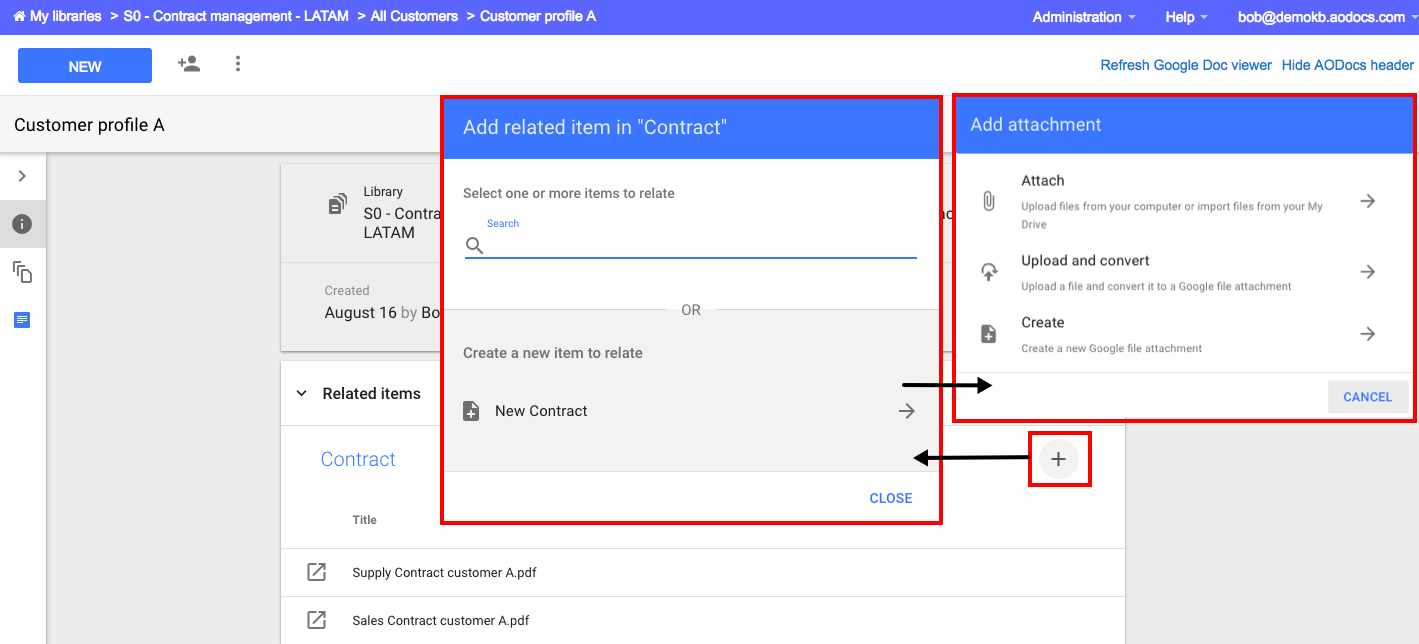 Learn more: Use related items.
Category values
We've completely visually revamped the way users select category values, for improved usability and to prepare for future graphical improvements. If the category is set as dynamic, users can create a new value at any of the defined levels in the category tree.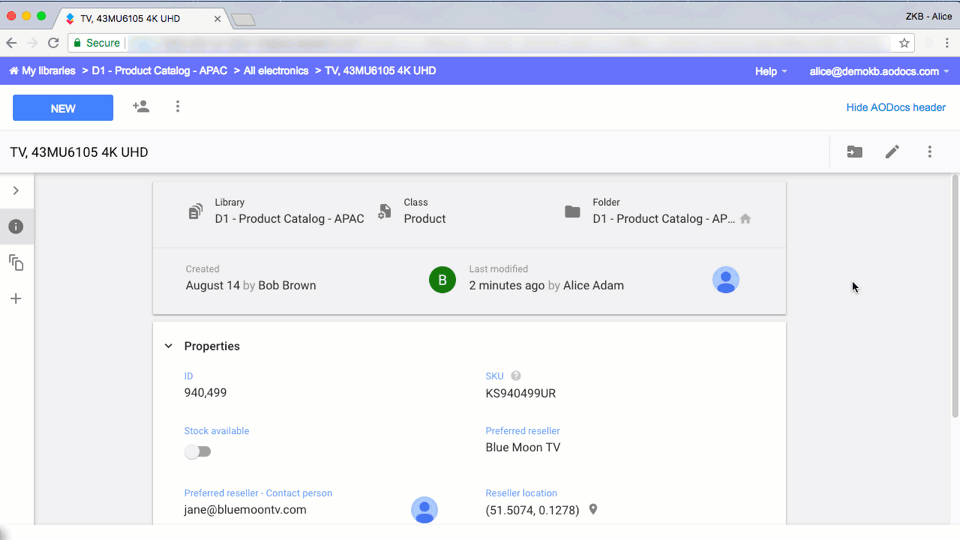 Learn more: Edit custom properties.
Folders
Users can select a folder when creating a document. They no longer have to create the document and then move it.
The folder selection pop-up provides a simple filter on the folders displayed.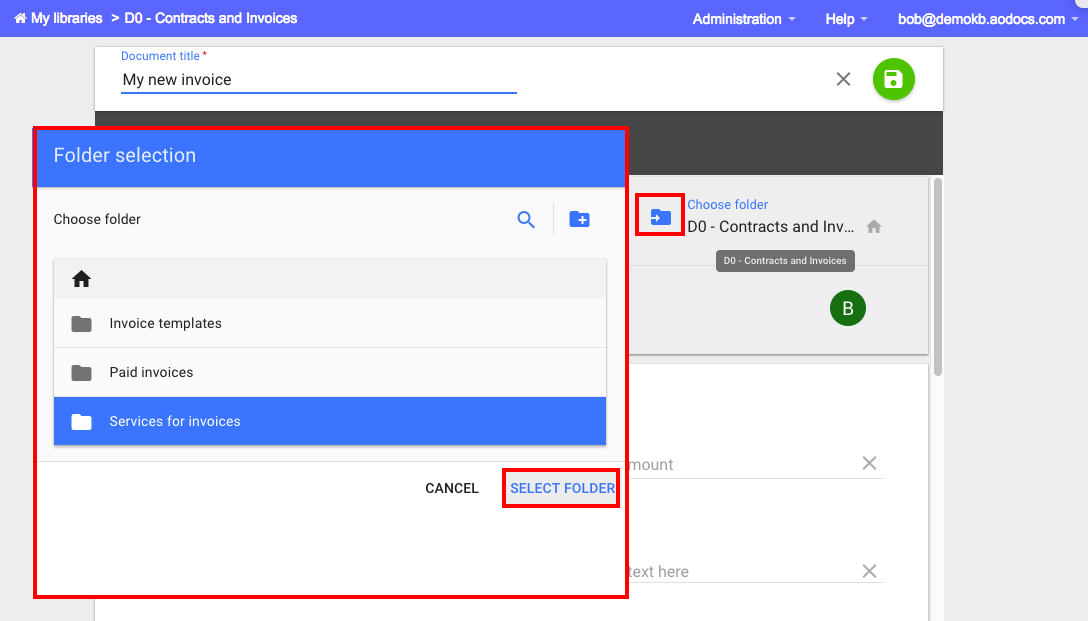 Learn more:
---
Feature improvements
Document page
Right sidebar
There is now a toggle button to show/hide the Comments and Transitions tabs.
The Comments and Transitions tabs are available in the Properties panel and now also in attachment panels.
In the Transitions tab all viewers can see:
the status of current parallel transitions (where at least one person has validated the transition) - previously, only the detailed status of complete parallel transitions was available (introduced in AODocs V47)
the name of the administrator who forced a parallel transition
In the Comments tab, the comments are now grouped by time period (similarly to the last access time of libraries on the AODocs homepage).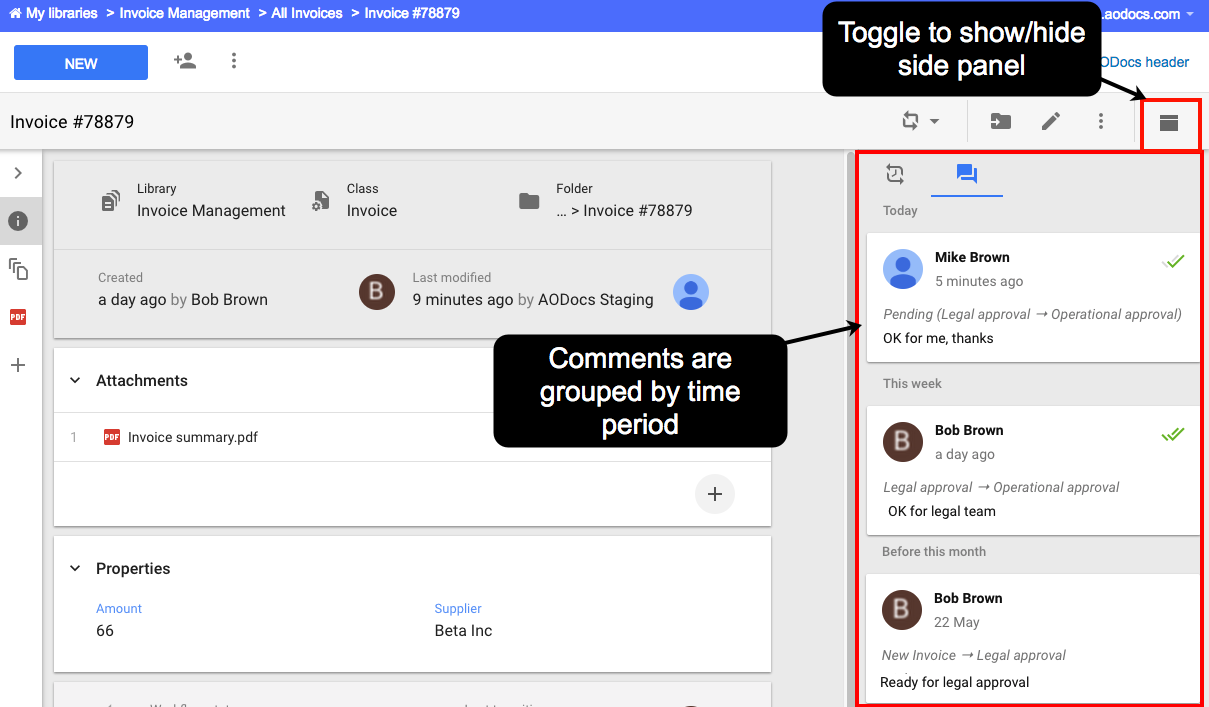 Learn more: Perform workflow actions.
Views
The pop-up for transitioning multiple documents in one go from views has been visually improved.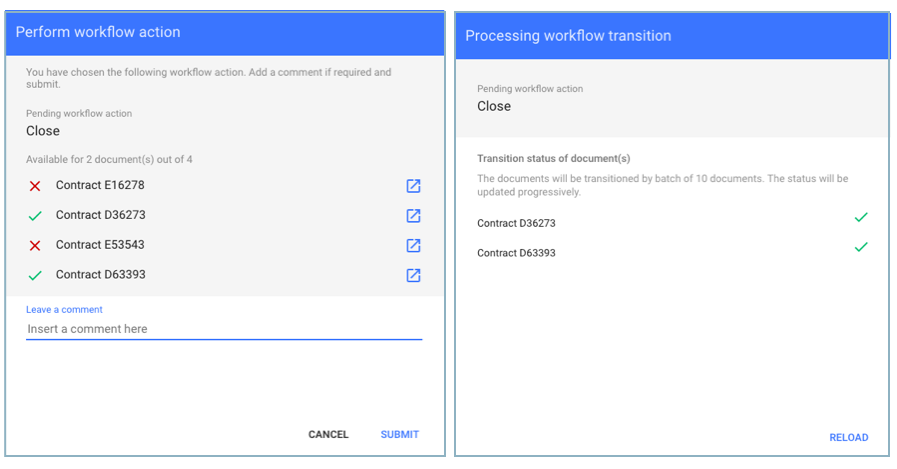 Learn more: Perform workflow actions.
The count of documents in views with a large number of documents (over 1000) was incorrect, and therefore misleading. The count is now indicated as approximative.
In a view, when UFO users select a single document with only one attachment and then select Edit/view attachments, the attachment opens directly. Learn more: What is the Universal File Opener (UFO)?
Library administration
Views:

Previously, outdated category values were displayed in views (in the Browse by panel and the Filters panel). There is a new setting in the view configuration to choose to ignore outdated category values in the end-user interface.
Administrators can now apply a filter Is empty or Is not empty on the fields Checked out at and Checked out by in the view configuration

Workflow user actions: Administrators can customize the help text that appears in the comment field when end-users perform a workflow transition. The standard text is "Enter a comment here". Learn more: Step 3: Configuration - Add workflow transitions.
Categories: An error message appears if you try to delete a category that's referenced in field definitions.
Relations: Due to possible inconsistencies (and to match the possible future re-design of the relation configuration screen), we removed the ability to change the classes involved in a relation once links have been set up between documents.
Domain administration
The number of subscriptions per library is now displayed in the Library management page. Learn more: Manage your libraries.
From the Help & Support page, super administrators can customize the Knowledge Base and Support links, to manage whether users contact your organization's internal documentation and support or the AODocs Knowledge Base and Support.
These links are now displayed as separate options in the Help menu on end-user pages and on library administration pages:
Documentation - by default the AODocs Knowledge Base
Support - by default the AODocs Support pages
Learn more: Customize your documentation and support URLs.
---
Visual improvements
Document page
For all users, the Hidden properties panel has been merged with the list of custom properties.
For administrators:

a switch is available to hide the hidden properties from the current display
new icons identify hidden fields and read-only fields (which can be edited only by administrators)

Learn more: Edit custom properties.
Improvements to the export feature:

Administrators can now export documents (not folders) from Team Folder and Secured Folder libraries to Document Management libraries.
The Export feature in views for Team Folders and Secured Folders (documents and/or folders) has been revamped.
Note: The Export feature in the document page was revamped in AODocs V47. Learn more: Export documents or folders to other libraries.
Administrators can add a comment when they force a pending parallel transition.
Learn more: Force workflow actions.
There's a new banner that appears for contributors when a document was checked out by another contributor.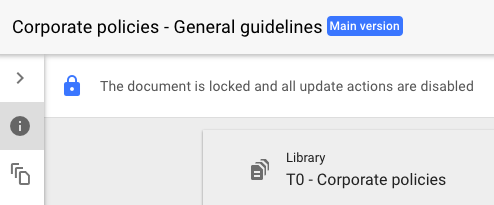 Text fields (custom properties) can now be edited on several rows.
Library administration
Jobs
Administrators can appreciate a revamped Jobs page in the library administration, to track jobs executed in a library.

Learn more: Manage jobs.
Document classes
In the list of templates for a document class a thumbnail is displayed for each attachment, indicating the file type.
Before R48, a checkmark (for Team Folders and Secured Folders) or the number of attachments (for Document Management libraries) was shown.
---
Changes / Fixes
Improved Version information panel when viewing a previous version.
Improved accessibility for screen readers on the document page.
You can set a column to display Folders in the Related items section on the document page.
It is no longer possible to delete a role if it's used in workflow transitions or email recipients.
---
Miscellaneous
When you create an AODocs document from an email:

a new setting allows you to parse the inbound email as plain text
you can choose to remove the thread history from the email you import
if you make any changes to the email settings, the value (and token) change in the Emails list - learn more: Configure emails to documents.

Multi-valued Person fields now can't take the same value (email) twice.
Audit logs: small improvements
Two events have been added to the audit log, to track:
the usage of the "notify users" feature
when emails are actually sent (they may be sent immediately or queued if the quota limit is reached).
---
And there's so much more brewing
Display grouped properties (in sections) in the document page
New validation rule to enforce the choice of a category value down to the last level and other UX improvements on the category value picker
Display a properties panel side-by-side with the attachment frames
Ability to add comments in documents without triggering a workflow transition
Revamped document creation flow (especially in Secured Folders)
Configurable user preferences (locale, timezone to override the library settings)
And more…!