This article is for Microsoft tenant administrators. It describes how to authorize AODocs on Microsoft tenants that have restricted their users access to SaaS applications unless they are specifically authorized.
Learn more: Restrict access to a tenant.
Important: Use a tenant administrator account with sufficient rights. Don't use an incognito browser session.
1. Go to the domain AODocs URL:
https://aodocs.altirnao.com/?locale=en_US&aodocs-domain=<your-AODocs-domain.com>
where: <your-AODocs-domain.com> is the name of your AODocs domain.
2. Select Sign in with Microsoft.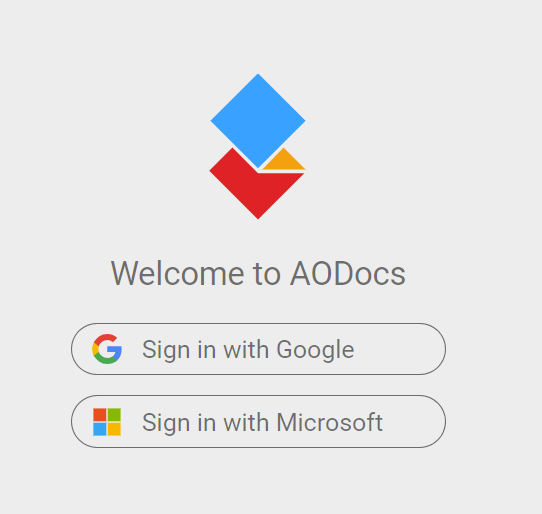 3. Follow your organization's sign in process. In the Permissions requested dialog, select the checkbox Consent on behalf of your organization then select Accept to grant permissions to the application.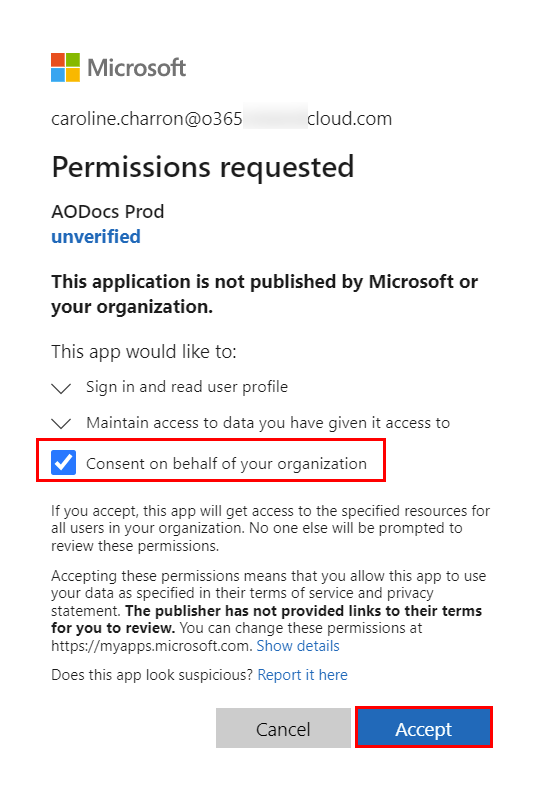 3. Go to the Azure portal and navigate to the Enterprise applications section of the Azure Active Directory. Search for the AODocs Prod application.
Note: It may take a few minutes for the application to be displayed in the list.
4. Click to follow the link to the AODocs Production application.

5. In the left panel, select Permissions in the Security section.
6. If you didn't select Accept in the Permissions requested dialog, click the blue button Grant admin consent for....

7. In the Permissions requested dialog, click Accept.
Learn more: Permissions and consent in the Microsoft identity platform.