The AODocs Jira Connector lets you run Jira queries from your AODocs document and import the Jira data into a spreadsheet attached to your document.
This action is possible if your library administrator has created a rule in the AODocs Jira Connector.
Note: The AODocs Jira Connector is available only:
– for Google users
– in Document Management libraries using Google Drive
– as an US instance; there is currently no EU instance - learn more: What are AODocs instances?
Important: You must access the AODocs Jira Connector and generate a token before you can run a Jira query from AODocs. You only need to do this once.
This article explains how to:
Automatically generated table of contents
---
Access the AODocs Jira Connector
1. Follow this link: jira-connector.us.aodocs.app
2. Enter your domain and click Sign in with Google.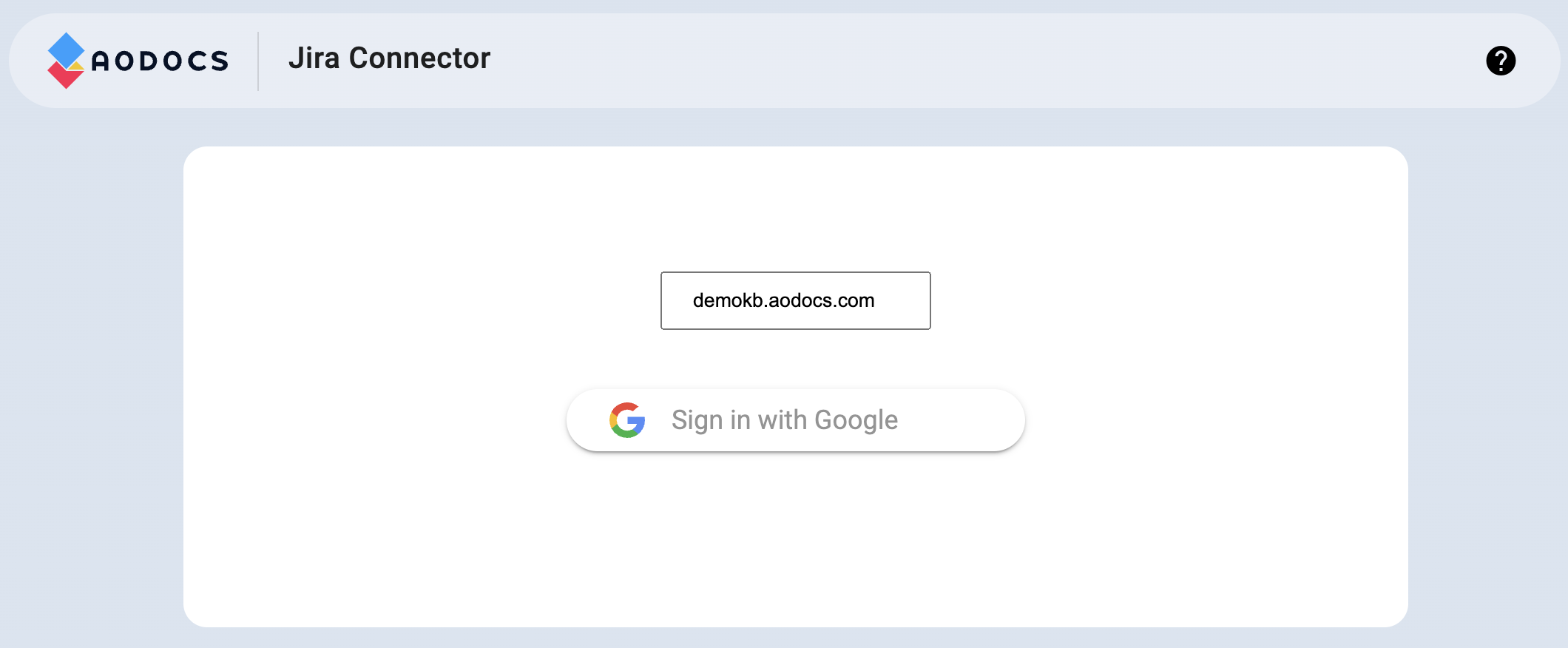 3. The first time you sign in to the AODocs Jira Connector, a dialog opens requesting your Jira credentials:
enter your email address
create a token and paste it into the dialog
Learn about how to create a Jira token from the Jira documentation: Manage API tokens for your Atlassian account (scroll down to "Create an API token")
Note: You only need to do this the first time you access the AODocs Jira connector.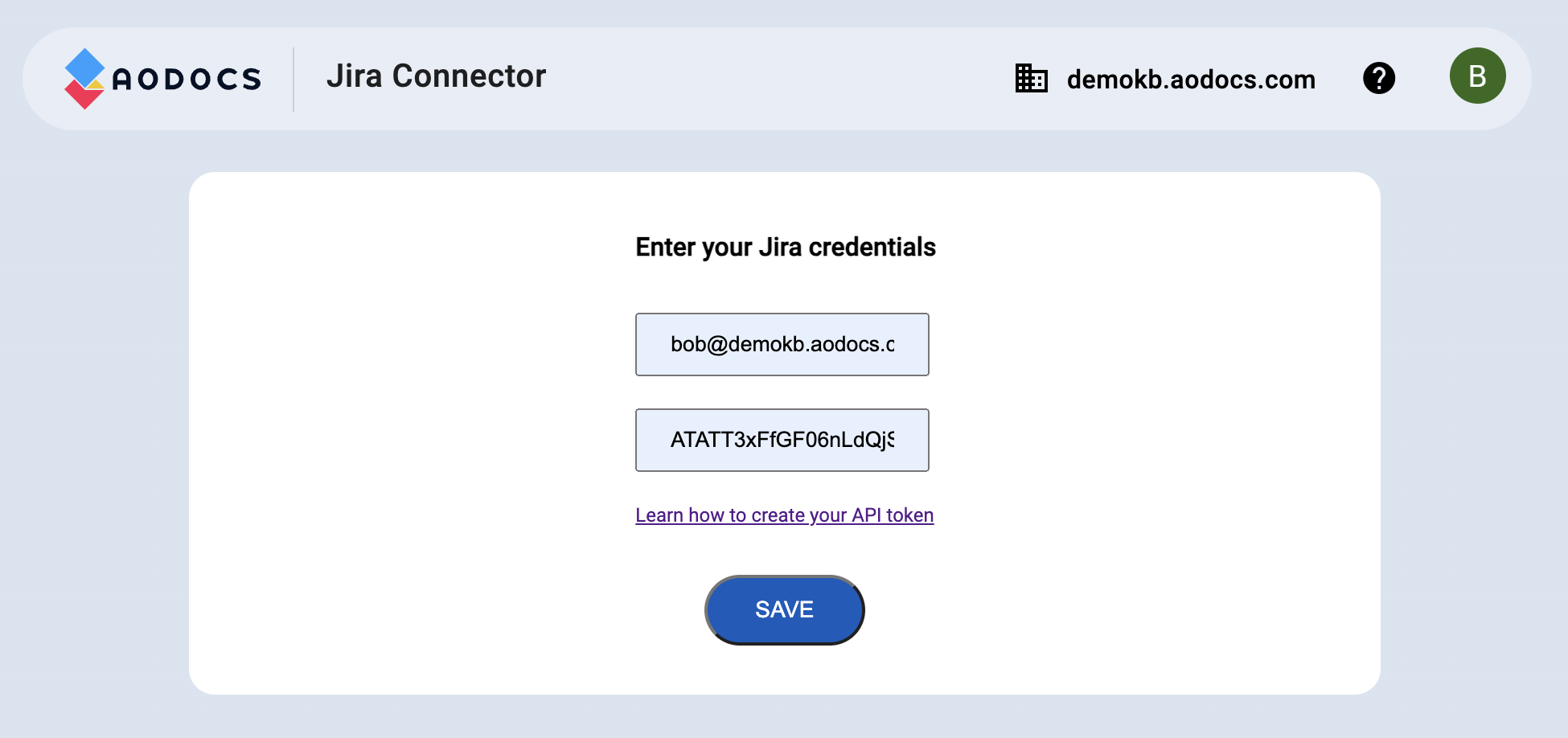 You can now run Jira queries from your AODocs document and import the Jira data into the attached spreadsheet.
If you don't have permissions to create rules, a dialog opens indicating that you can now use the AODocs Jira Connector to run Jira queries.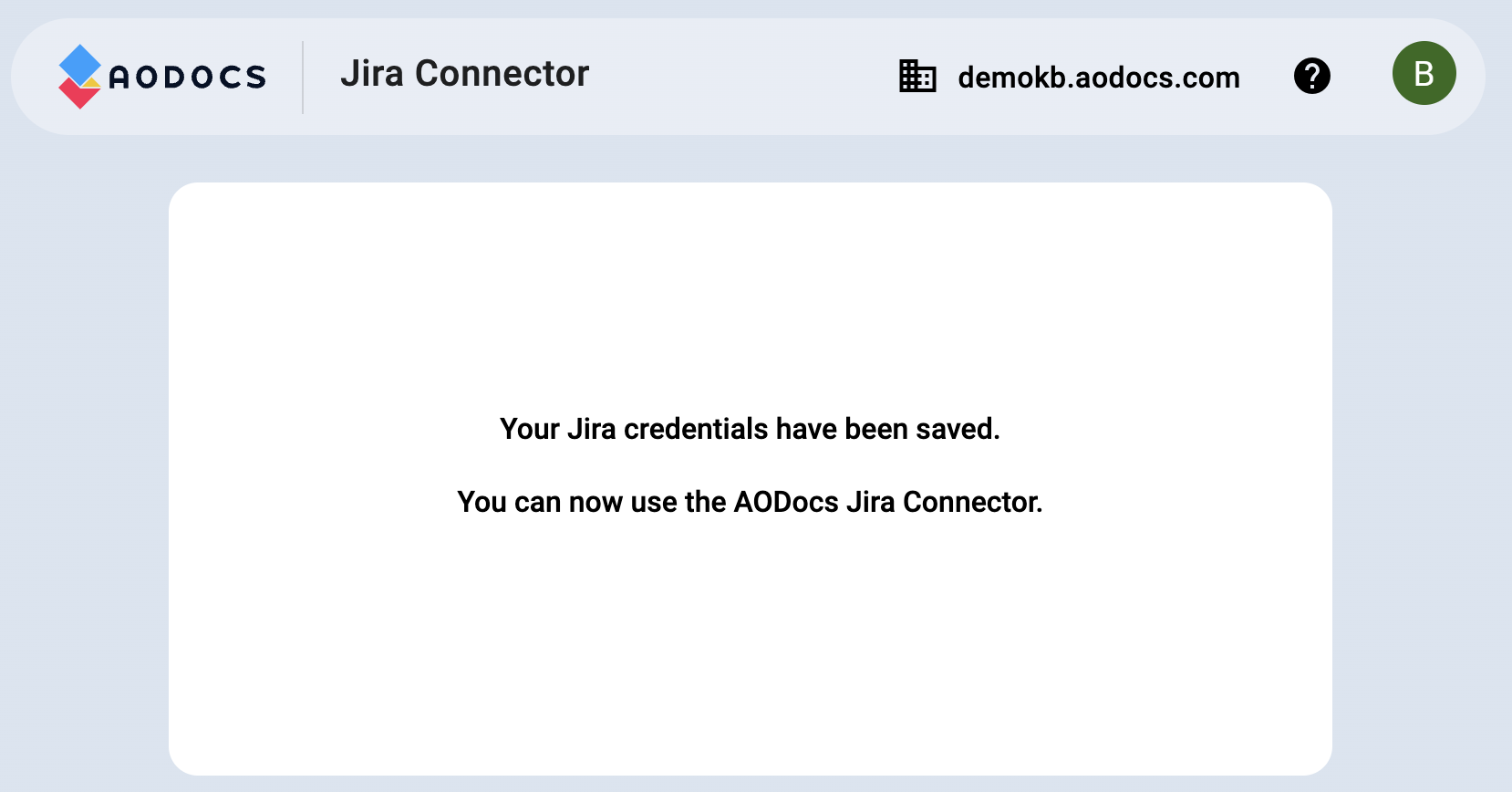 If you have permissions to create rules, the AODocs Jira Connector dashboard opens. If any rules have already been created they are listed here.

---
Run a Jira query from your AODocs document
1. Open the document that you want to use to run a Jira query.
Important:
– You must have at least contributor access to the document.
– Your document must contain an attached Google spreadsheet.
2. Transition the workflow to run the Jira query.
Note: If your workflow transition creates a draft document, the Google spreadsheet in the draft document is updated.
In our example, the workflow action is called "Trigger Jira query". Your workflow is configured according to your business case.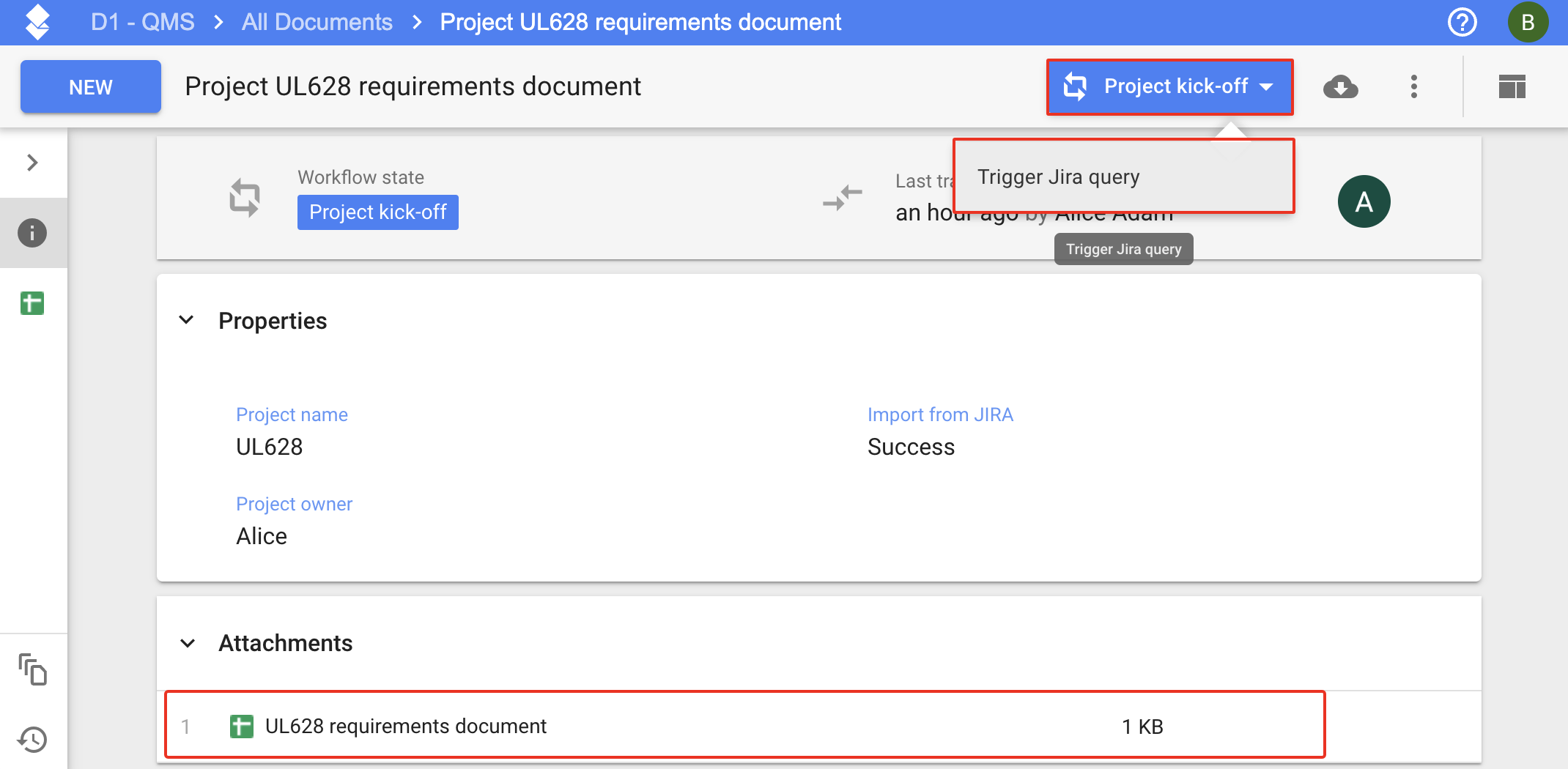 3. When the workflow transition is complete, open your Google spreadsheet. It contains data imported from the Jira tickets that correspond to the query defined by your administrator.
Tip: If your library administrator created the property "Import from JIRA" you can check the status of the operation: Success or Fail.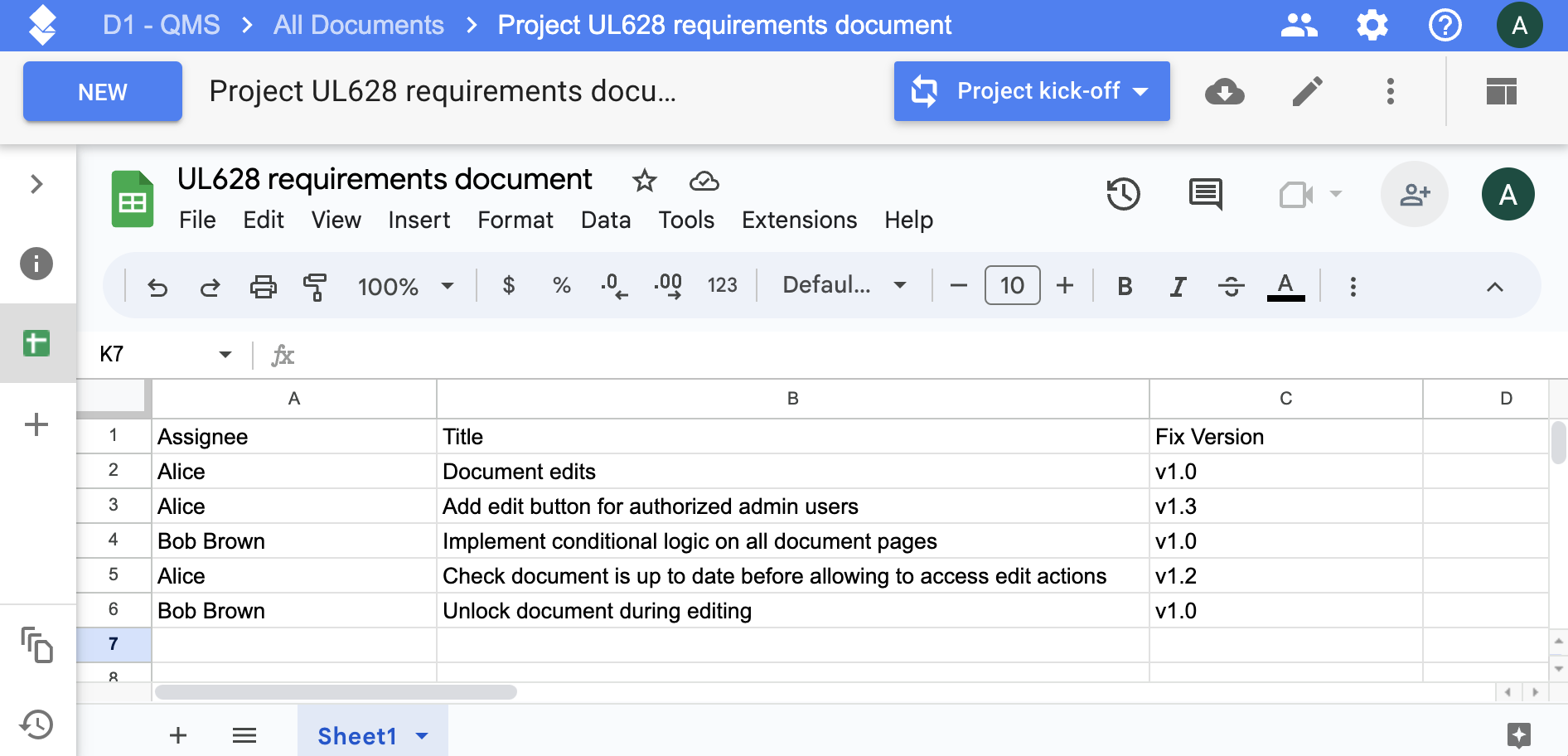 Note: If you re-run the Jira query from the same document, the data in the spreadsheet are overwritten.