Dear AODocs users,
Please find below a list of the major new features, new improvements and bug fixes in AODocs version 43.
---
New Features
Advanced Workflow Configuration
To build more complex and flexible workflows, additional settings of the workflow configuration are now available.
1. You can set your custom properties and description field as mandatory and/or hidden and/or read-only according to the document's current workflow state.
Note: An empty mandatory property will prevent the workflow validator from triggering a transition from the current state of the document.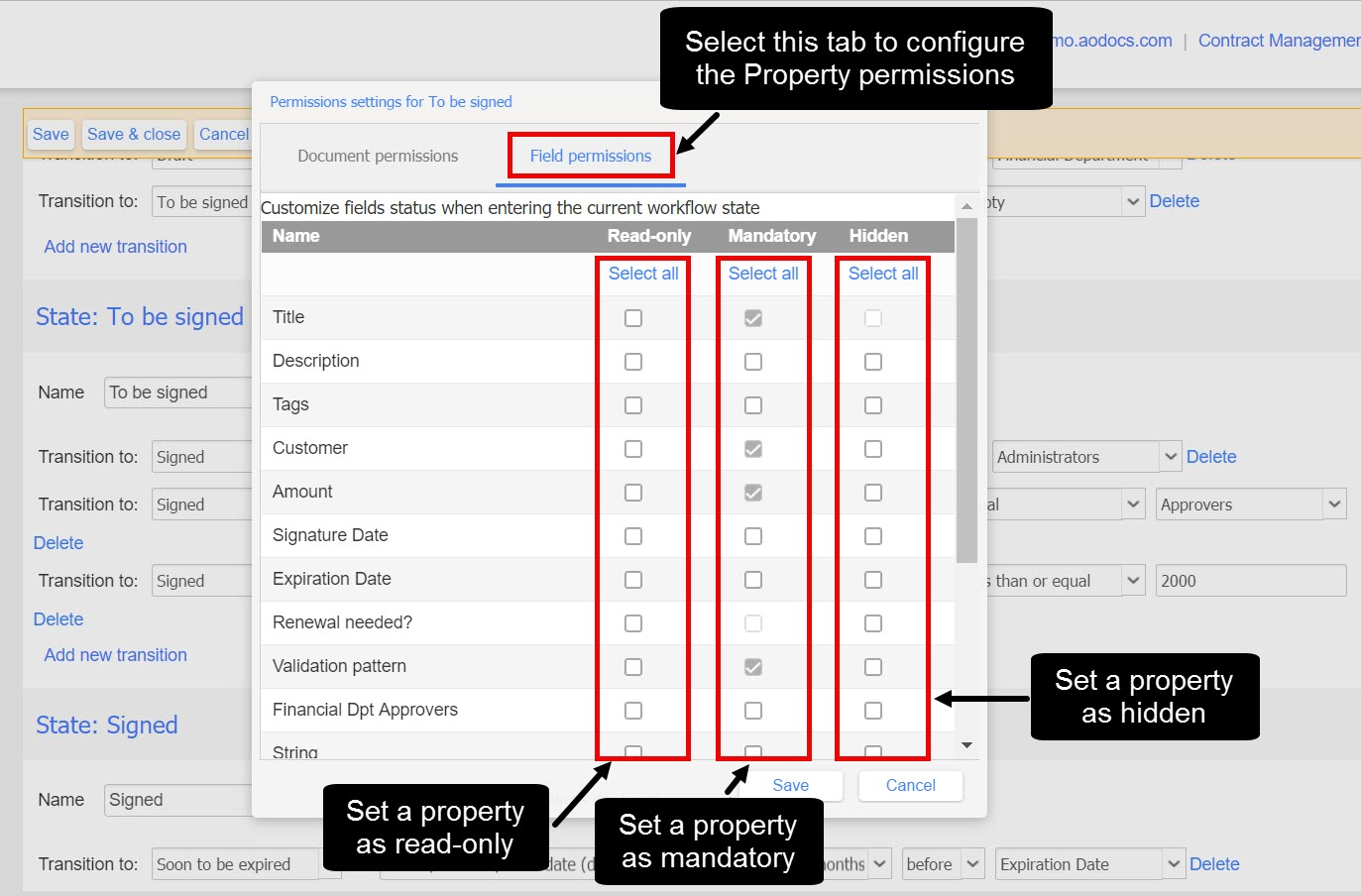 2. You can force the workflow validator to leave a comment when executing a manual transition in the workflow.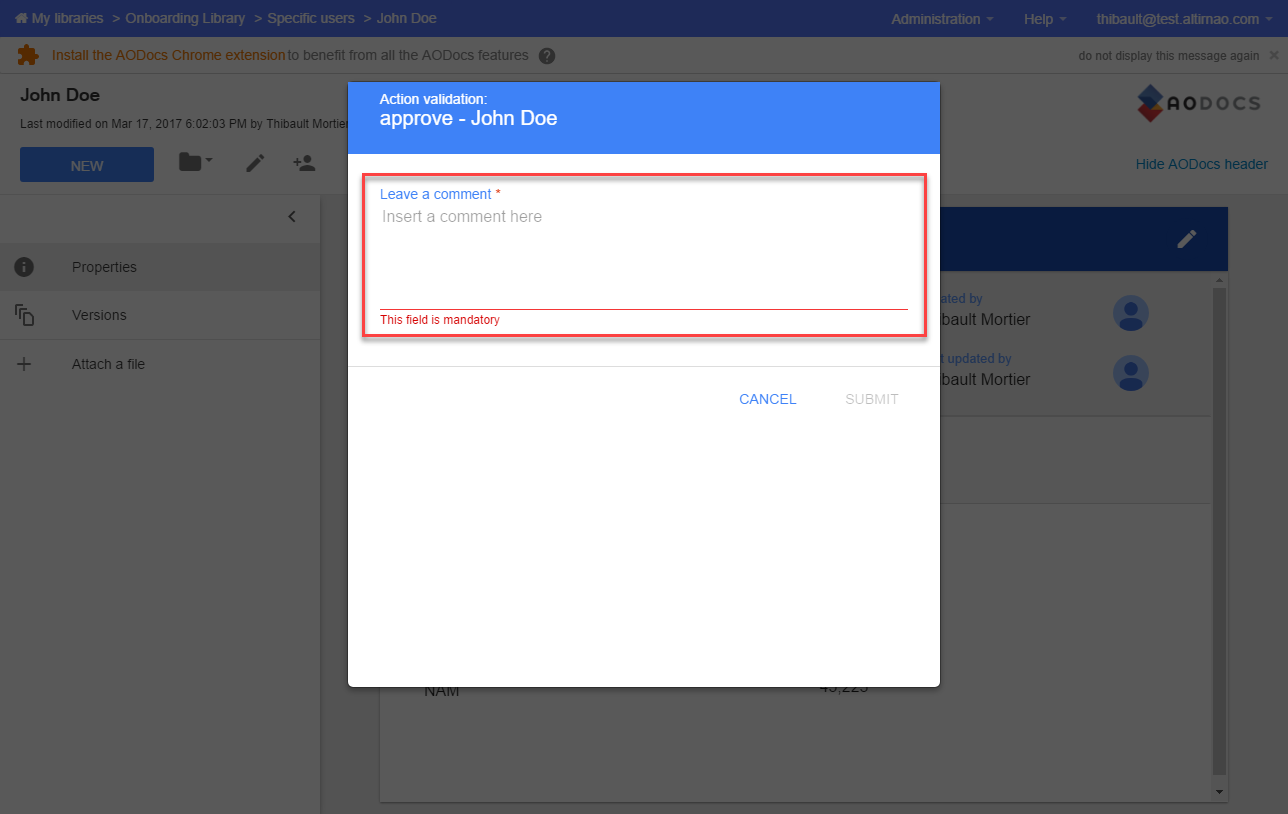 3. Workflow validators can leave a comment when performing a manual workflow action. Workflow comments are displayed in the properties tab.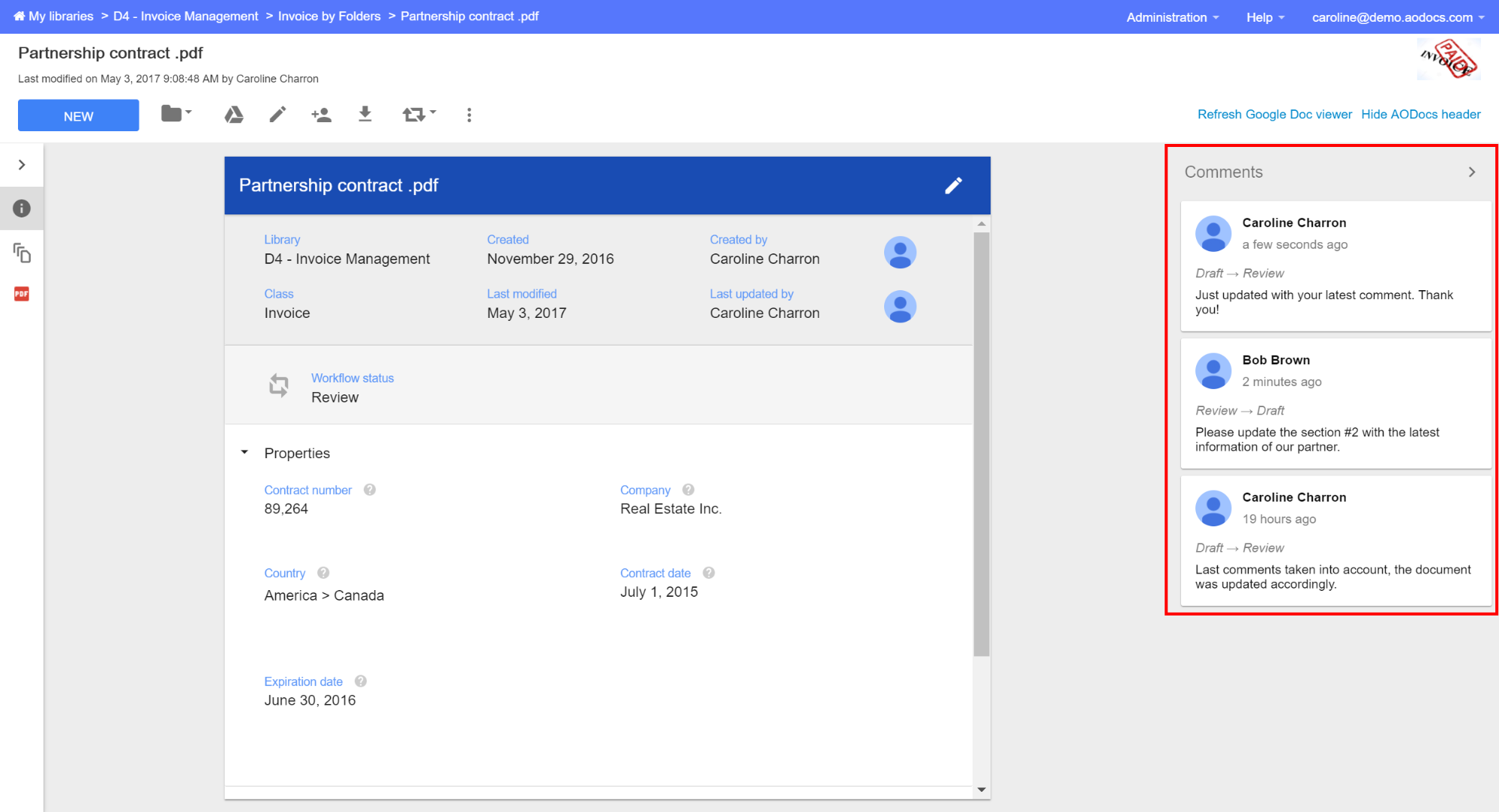 4. You can hide workflow states from "browse by" and filter panel of a view. It will help you manage your technical workflow states.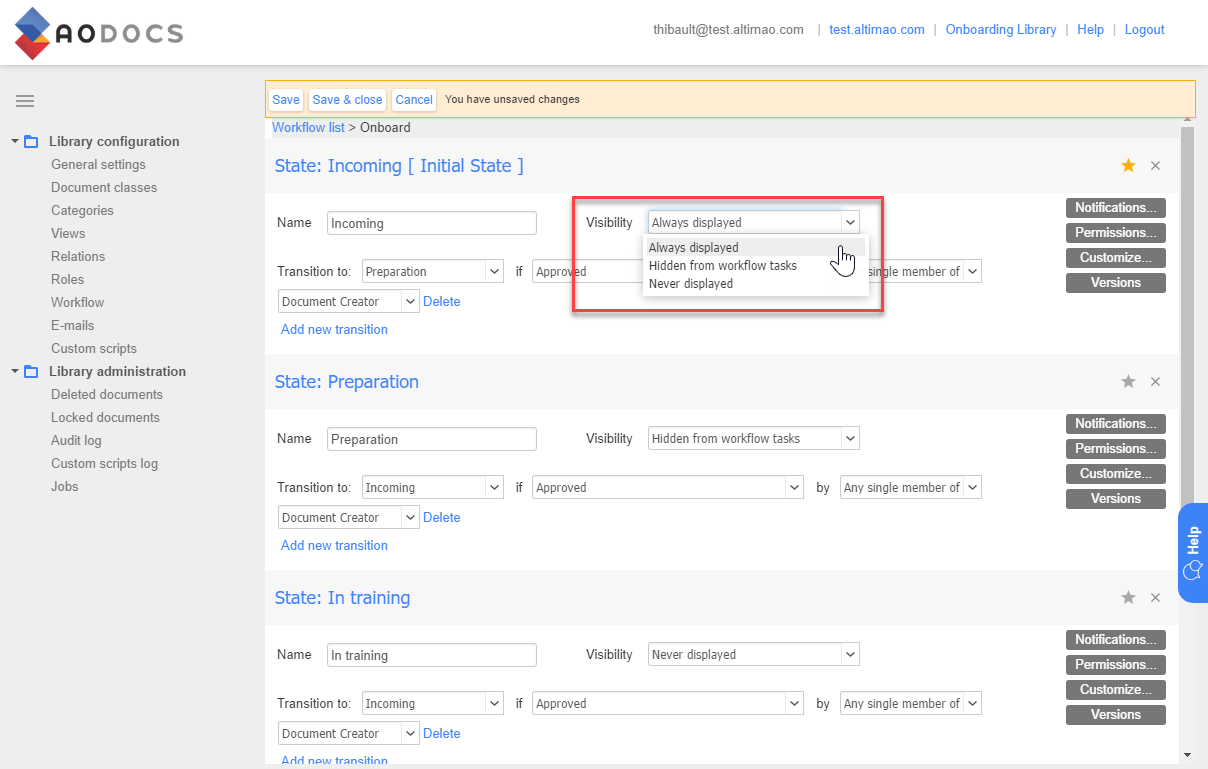 Learn more here about workflow for end-users: Perform workflow actions
Learn more here about workflow configuration:
- What are workflows?
- Step 1: Assessment of your business need
- Step 2: Configuration - Create Workflow States
- Step 3: Configuration - Add Workflow Transitions
- Step 4: Configuration - Configure Workflow Notifications
- Step 5: Configuration - Set Workflow Permissions
Attach files to a document in view mode
With this new feature, attaching a file as a contributor of a Document Management library is simpler and quicker.
From the sidebar of the document, you can now attach one or several files from your Drive or from your computer or create a new Google file.
Coming soon: In next release, you will even be able to drag and drop files to attach them to your document!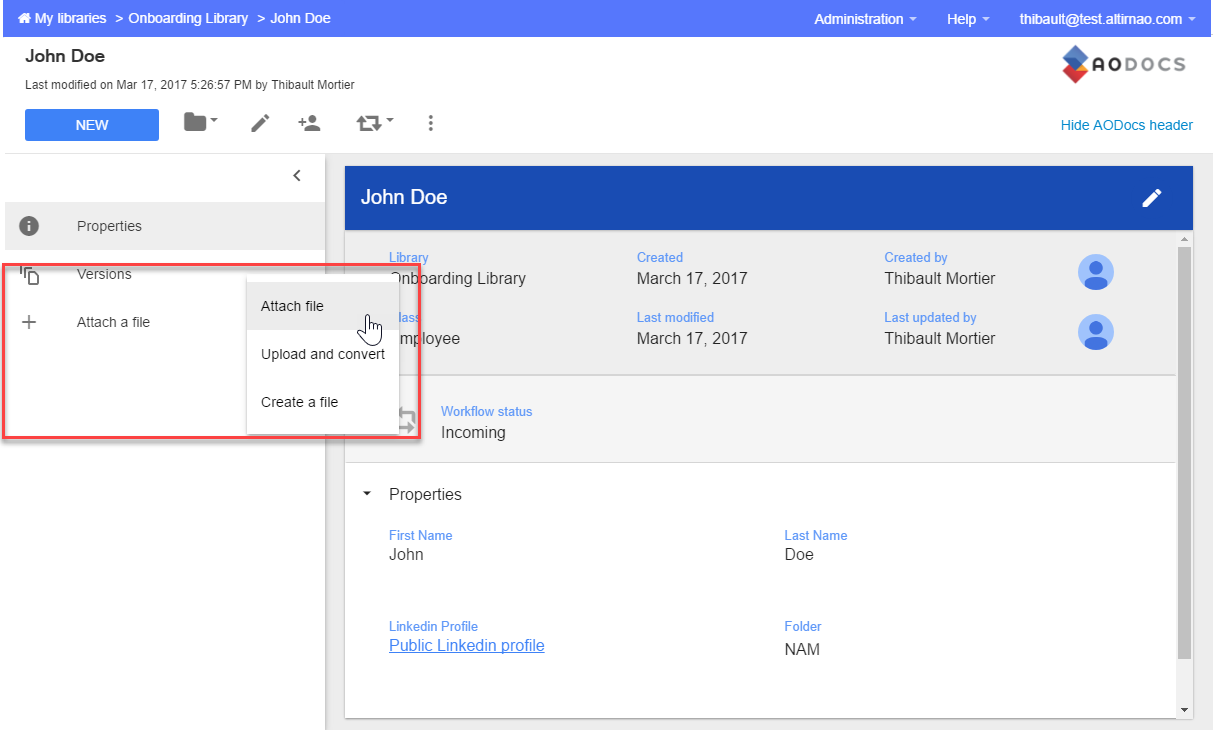 Learn more here: Manage document attachments > Attach a file
---
Improvements
Edit your AODocs document
1. The design of the "Save" button has changed.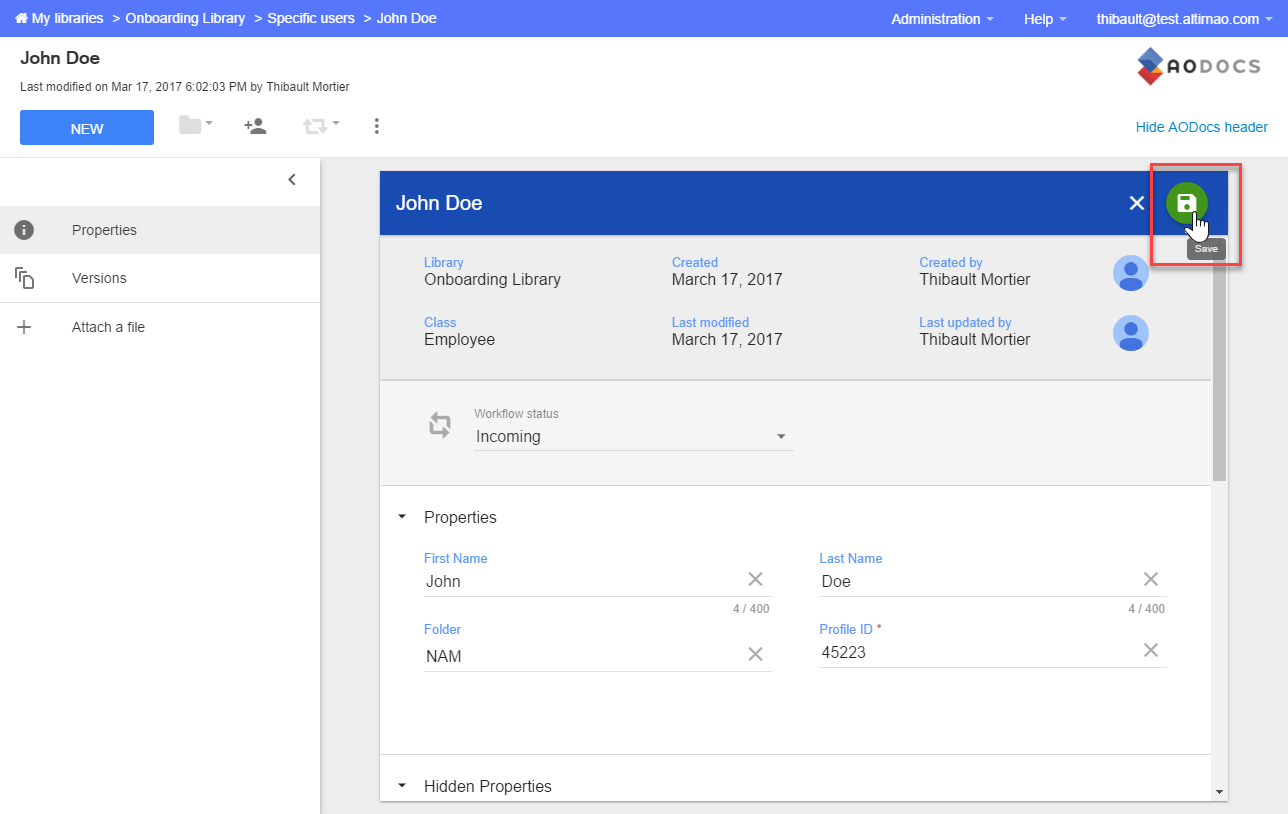 2. When choosing a date from the calendar picker, you can find the right date by choosing the month and year without navigating month by month in the calendar.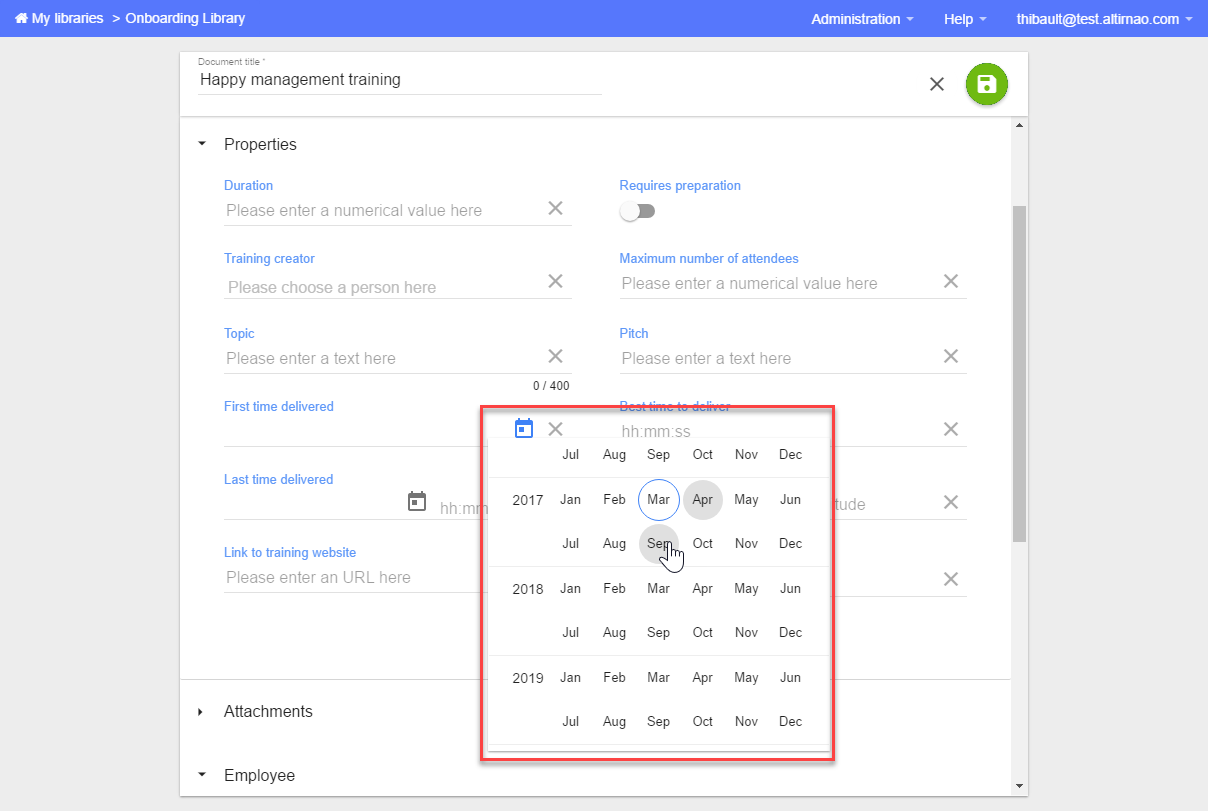 3. You can add a display text for URL fields.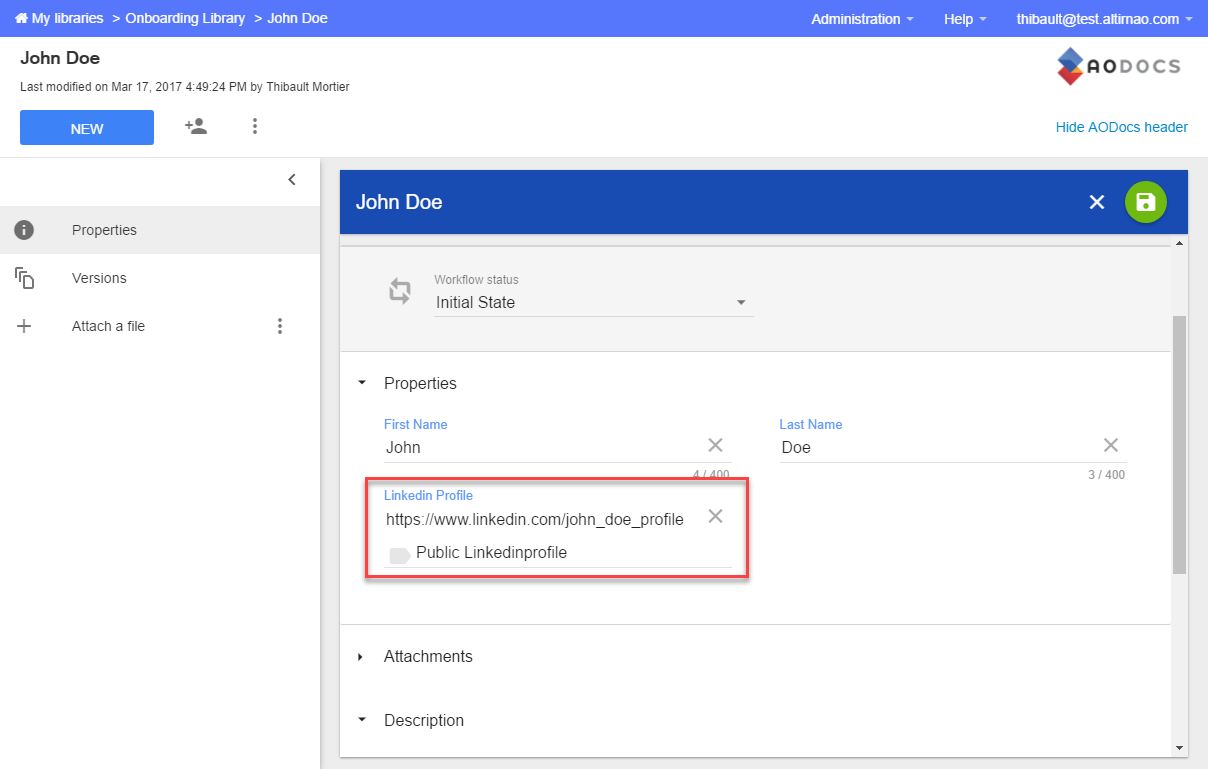 4. When filling the properties of a document, you can quickly identify the type of value you need to type.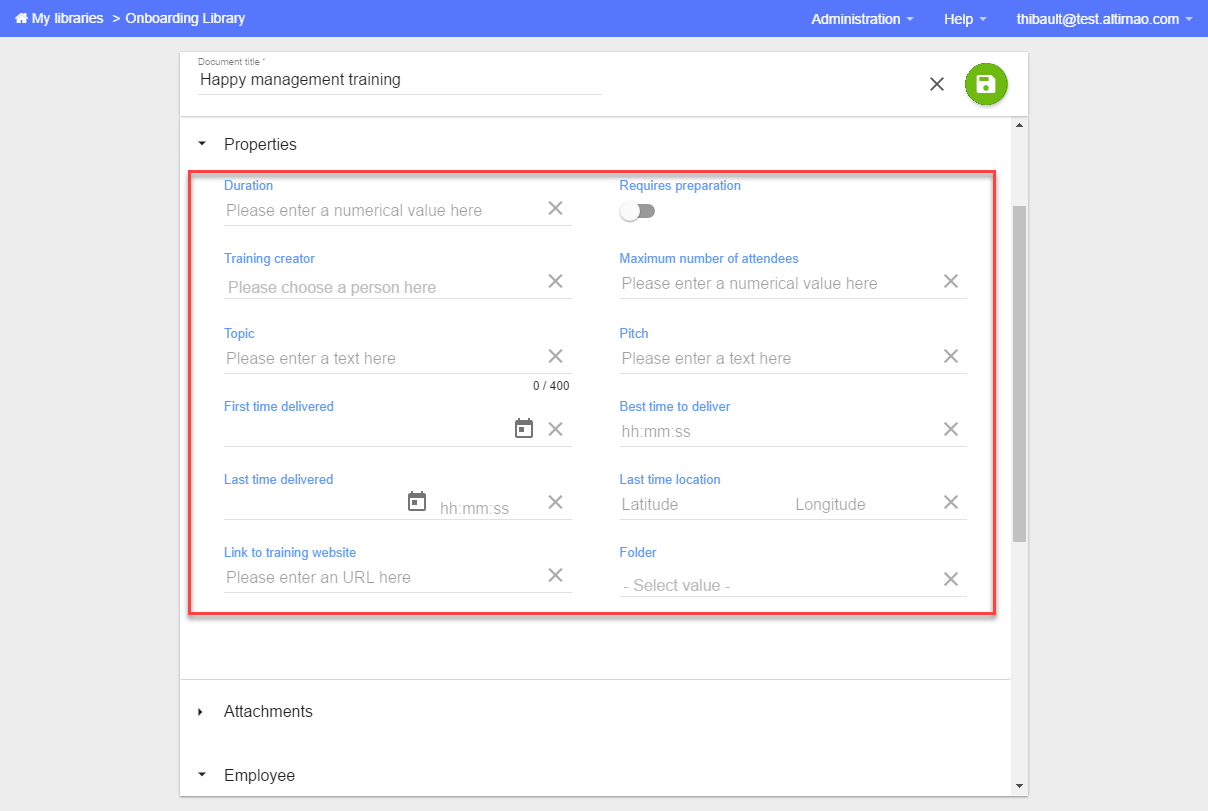 Learn more here: Edit Custom Properties
Metrics per library in Domain administration screen
As a super administrator on AODocs, additional metrics about the number of documents and attachments are available for the "Library Management" section.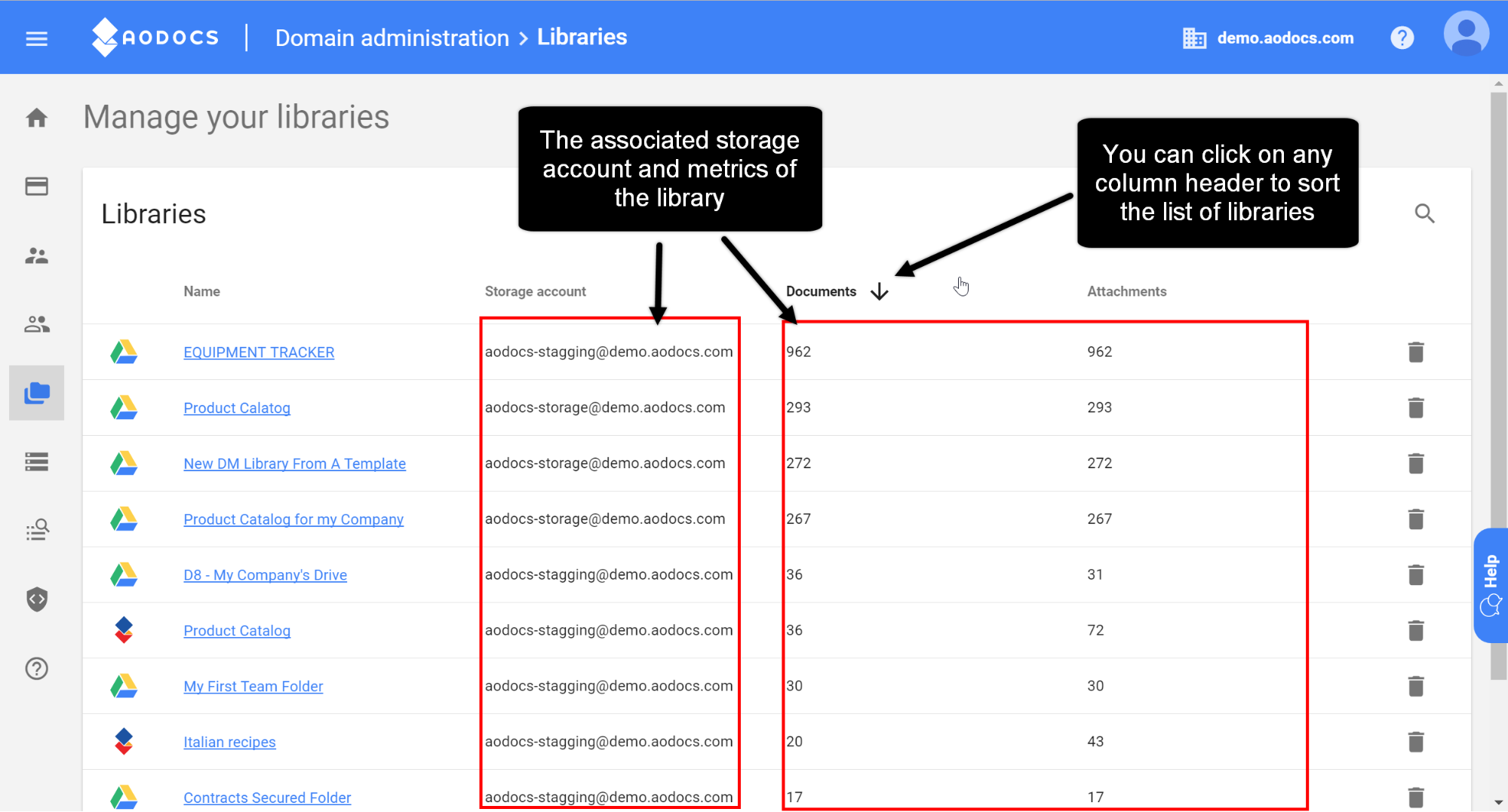 Learn more here: Manage your Libraries
Exporting documents from Team Folder
When exporting documents from Team Folder to someone's My Drive, the explicit permissions applied to the document in the library are kept.
Learn more here: Export documents to an user's My Drive

Miscellaneous
The document template name is now unique across the entire library.
In Team Folder or Secured Folder libraries, it is now possible to create a document template with one attachment.
Hidden properties displayed in the view will no longer be displayed to non-administrator users. As an administrator of the library, the value of the hidden properties will be displayed without editing the document.
Views can now be configured to display a "browse by" document class when the view displays several document classes.
Graphical changes
Along with the previous items, there had been a few minor changes in the UI:
The "Create" tab in the AODocs homepage has been remodeled.
The list of storage accounts available to create a new library is now sorted alphabetically as well.
The name of the standard roles (Administrators, Contributors, Readers) in library administration screen are no longer customizable. In addition "Document creator" is no longer listed there.
The action "revert to this version" is no longer available when previewing a previous version of the document.
Following customer's feedback on the "No value" wording for read-only and empty fields for contributor when editing a document has been removed. As in release 41, the field will disappear when editing the document.
---
Deprecation
With this release, the AODocs Legacy editor will be unavailable for selection in the class Editor.
Existing classes with Legacy editor will still work. After manually switching to Configurable editor, there will no coming back to the Legacy editor.
Please raise urgently any gaps you may find.
The Configurable editor will be forced on the document classes:
of Team Folder libraries.
containing no custom properties defined (except Folder and Tags).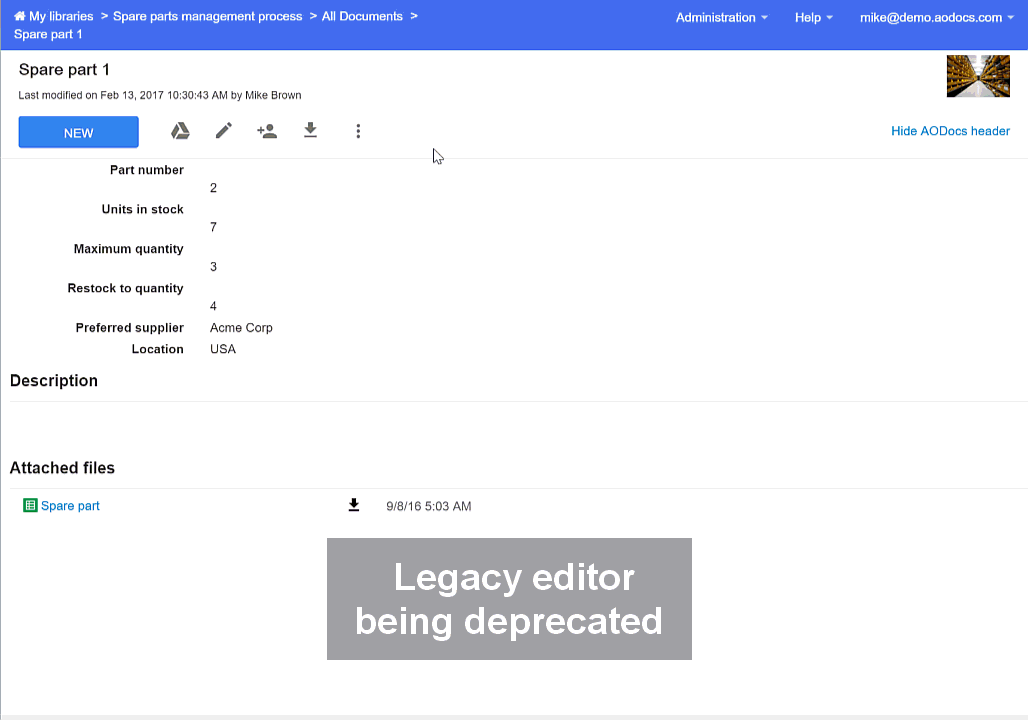 ---
Bug Fixes
Minor fixes in documents view (short title, sort of by "creation date")

Minor fix on the links in document's description

Fix text filter in views configuration

Fix on forwarding rules (accepts email from secondary domains)

Fix breadcrumb navigation

Various security fixes

Fix rename attachment in SF libraries

Fix in domain administration console (update storage account availability)

Storage accounts list is now sorted alphabetically in the library creation dialog

Fix edit library labels (homepage, super admin)
---
Launch Details
Rollout pace:
Full rollout (domain per domain) over a few days from the 17th May 2017
Impact:
All end users