Dear AODocs Users,
We're pleased to announce the release of AODocs version 58.
In this release, users and administrators will find new capabilities aimed at improving end user efficiency.
Note: Subscribe to our announcement list to receive our Release notes.
---
Launch details
Rollout pace: from 3 January to 4 January 2022.
---
Enjoy an enhanced search experience and other features with revamped views (beta)
We're continuing to rebuild AODocs views from the ground up, which includes extensive visual enhancements and additional features. With this release we're getting ever closer to completing this task.
In release 58, new views are still available in the beta version. The aim of this beta is to collect your feedback to steer the course of the final steps.
Thanks to your feedback, the R58 beta version brings you the ability to:
create new documents from the view
open documents in edit mode
delete documents one by one or in bulk
edit document permissions
edit specific attachment permissions
rename documents
check out, check in documents and discard drafts
notify users by email
force workflow transitions (for library administrators)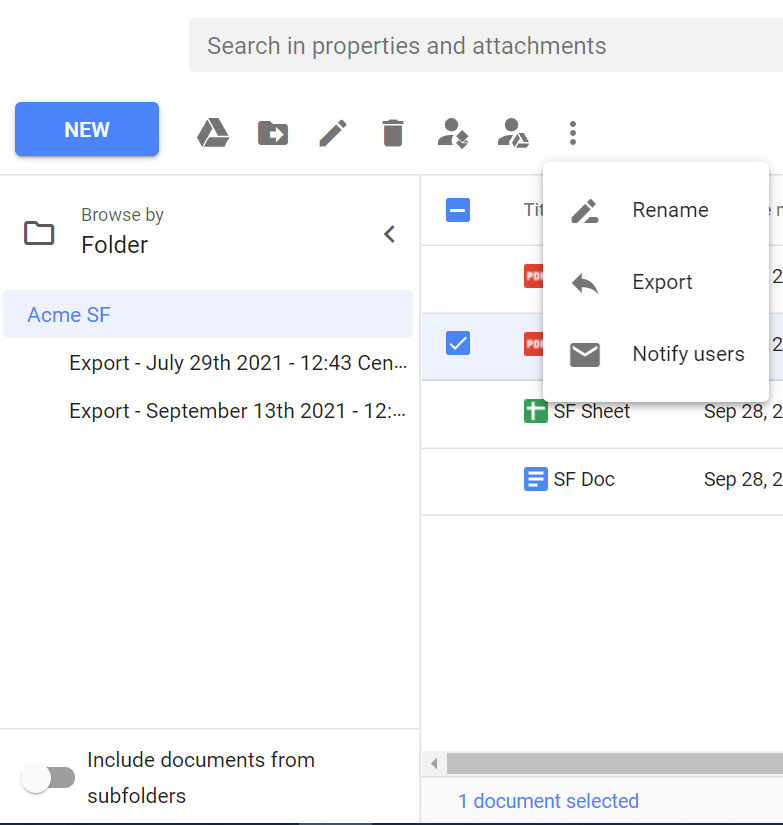 Learn more: Use views (beta version) in your AODocs libraries.
For which users?
All users
Why it's important
Views help users organize and browse their documents, so it's important for these functionalities to be efficient. Our aim with the revamp is to:
improve the user experience
enhance performance and search capabilities with the use of new technology and features
provide end users with customization options so they no longer have to fully rely on library administrators to configure views
improve the overall display of views to fit with the revamped AODocs interface in previous releases
Additional details
All users can still switch between the standard version and the beta version of views. Your feedback is always welcome, the feedback form is still available next to the button to switch versions!
Note that the following features are not yet available in the beta version of views:
perform standard workflow transitions (for end users)
list and open attachments directly from the view
switch to another view without returning to the homepage
Availability
All AODocs customers.
Note: To opt out of deploying the beta version of views on your domain, contact our support team at: support@aodocs.com.
---
Enhanced comparison between two versions of a Word attachment
We improved the ability to compare two versions of a Microsoft Word attachment. You can:
preview the differences and save the comparison file as an attachment in a new version of your AODocs document (made available in release 57)
save this comparison file as a new PDF attachment (to keep track of the change history)
perform both of the above operations at the same time, in no more than a couple of clicks!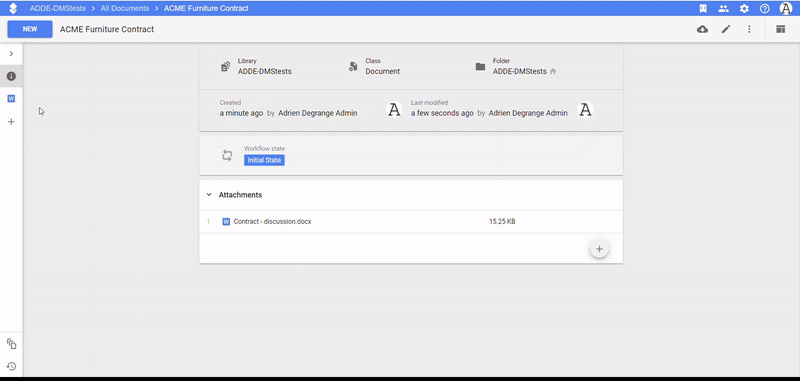 Availability
Contact your account manager or sales@aodocs.com to discuss your licensing options.
---
Improvements and bug fixes
End user interface
Users can no longer close important dialogs by clicking outside them: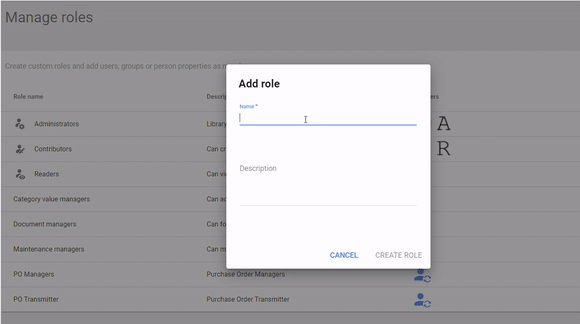 Timezone discrepancies between a view and the document page have been fixed.

Email addresses now work properly when displayed in a library description.
Administration interface
The list of document classes provides a shortcut to edit templates (if defined):

With infinite scroll, a job can list many more tasks than before.
Invalid email addresses can no longer be added to the group and user allowlist.
In a conditional logic formula, some special characters can now be escaped.
---
And there's so much more brewing…
The new views are reaching completion as we're implementing the last bits and pieces that are still missing.
The introduction of Table sections will let you handle table metadata in documents.
Give us your feedback!
We'd love to get your thoughts on the topics we are exploring!
We're currently gathering feedback regarding the following topics:
Integration of Google Drive Labels:


Do you plan on using Google Drive labels on your Google Workspace domain?
If yes, how? which label do you intend to create? which "filling-in" and creation policy do you plan on enforcing?

Company branding in the AODocs User Interface: Would you like to have more opportunities to brand your user interface with your company colors? If yes, how?
Would you like to meet our product team to discuss your needs? Join the AODocs research group! Join the AODocs research group!