Migrate for AODocs is a tool that allows you to migrate files and folders into your AODocs libraries.
Important: Migrate for AODocs is currently available for our service teams only. For EAP access, contact dev-migration@altirnao.com.
This article explains the simplest use case for Migrate for AODocs: import (move) the contents of a Google Drive folder to AODocs. There's no need to install Gateway. You can just select a folder to import, an AODocs library and a document class. You don't have to edit your import before running it (but you can if you want to!)
---
Access the Google Drive to AODocs feature
When you've got started with Migrate to AODocs, you're ready to use the Google Drive to AODocs feature.
1. Select the blue button in the main screen.

2. Press Choose a Drive folder.

3. Select the folder you want to import into AODocs and press Select.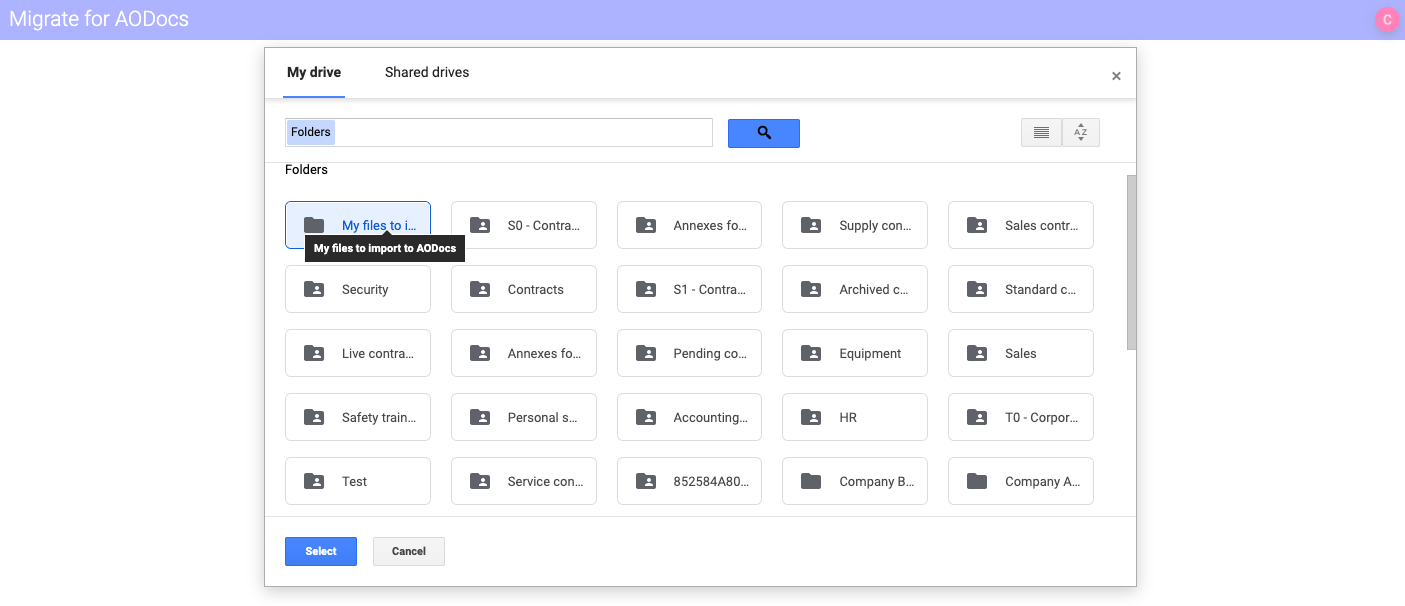 4. Enter the following information:
your domain
the library into which you want to import the folder: when you

enter three or more digits, a drop-down menu appears with all the matching libraries in which you're a contributor

the document class
5. Press one of the following: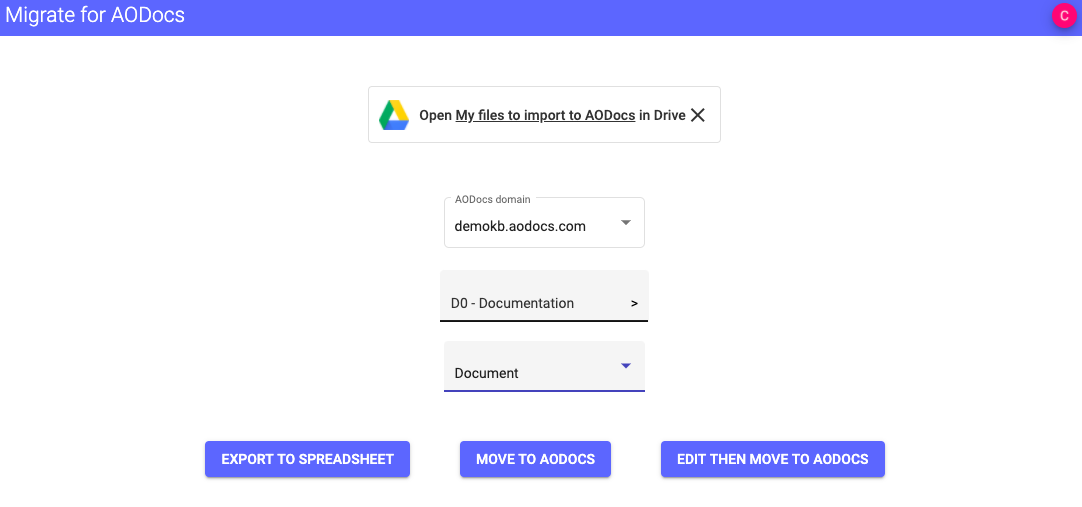 ---
Create an extraction spreadsheet
Learn more:
If you selected Export to spreadsheet in step 5, an extraction spreadsheet is created.
Press the Open in new tab button to open the extraction spreadsheet.
Note: You can't run imports from extraction spreadsheets. To run your import, select Move to AODocs or Edit then move to AODocs.

---
Import directly into AODocs
If you selected Move to AODocs in step 5, the contents of your folder are imported directly into your library. There is no confirmation at each stage of the migration process. The migration spreadsheet is not available to edit before the import.
Tip: You can follow the progress of your migration. The Progress column shows the number of files imported and the total number of files to import.

Note: The subfolder structure within the folder you selected is created in the AODocs library. The files are moved from Google Drive to your library; they are no longer available in Google Drive.
---
Edit your import before moving your files to AODocs
If you selected Edit then move to AODocs in step 5, a migration spreadsheet is generated.
1. Press the Open in new tab button to edit your migration spreadsheet.
2. Press the continue button to proceed with your import and at each stage of the import.