DocuSign offers an electronic signature system for digital files.
The AODocs-DocuSign connector allows you to use DocuSign electronic signature features directly from an AODocs workflow.
To integrate DocuSign in AODocs, you must: 
---
Configure your DocuSign account
The AODocs-DocuSign integration services use a master DocuSign account. This centralizes the e-signature requests and avoids your users having to login to DocuSign each time they want to send an AODocs document for signature.
Note: This master DocuSign account doesn't need to be the main DocuSign account of your DocuSign subscription. You can add users to your DocuSign account later.
1. Connect to DocuSign with your email address.
2. Select Permission Sets in the left side menu.
A pop-up appears to set up the permissions for the master DocuSign account.
3. Select the Actions menu, then Edit and select the following permissions:
Can send envelope
Allow send on behalf of other users through API
Allow view and manage envelope rights through API
Note:
- If you want to limit this account's permissions to a minimum, you can create a custom permission set with only the three permissions listed above.
- If you created a new account as your master DocuSign account, make sure you activate the account and set a password. It will be of use in the next step.
---
Activate the DocuSign connector
Your domain must be authorized to use the connector by the AODocs sales team.
Contact your AODocs Sales Representative or send an email to sales@aodocs.com to activate your AODocs-Docusign connector licenses.
Important note on licenses:
- DocuSign integration is available for AODocs Document Management and AODocs Application Platform licenses.
- You must purchase AODocs-Docusign connector licenses from AODocs.
- You must also purchase DocuSign licenses from DocuSign.
---
Install the DocuSign connector
1. As a G Suite super administrator of your domain, open the AODocs-DocuSign connector application listed on the G Suite Marketplace, and press the Install app button.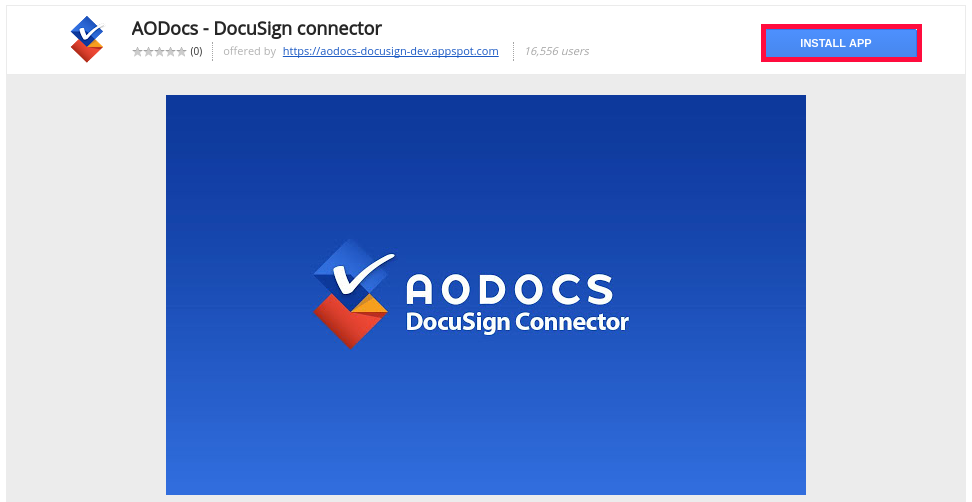 2. A list of permissions needed for the application appears.
Review them and select the checkbox I agree to the application's Term of Services and G Suite Marketplace Terms of Services and press Accept.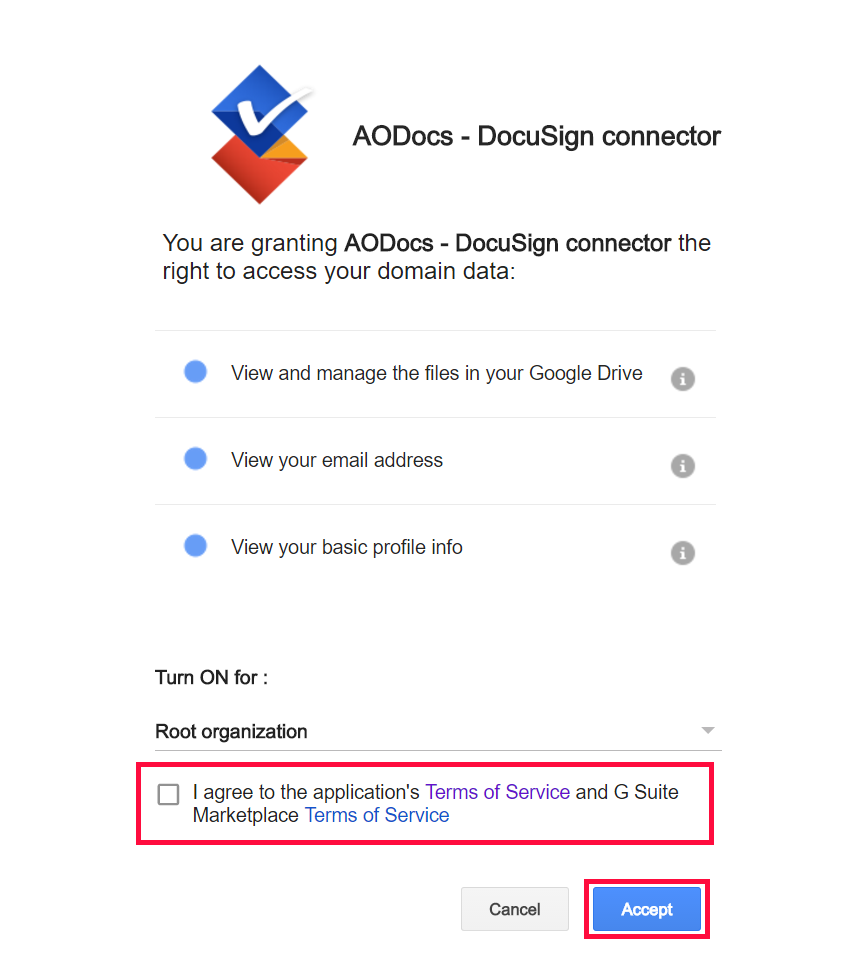 3. Turn ON or OFF the notification switch to notify your users about the availability of this new application. We recommend to turn the notification OFF.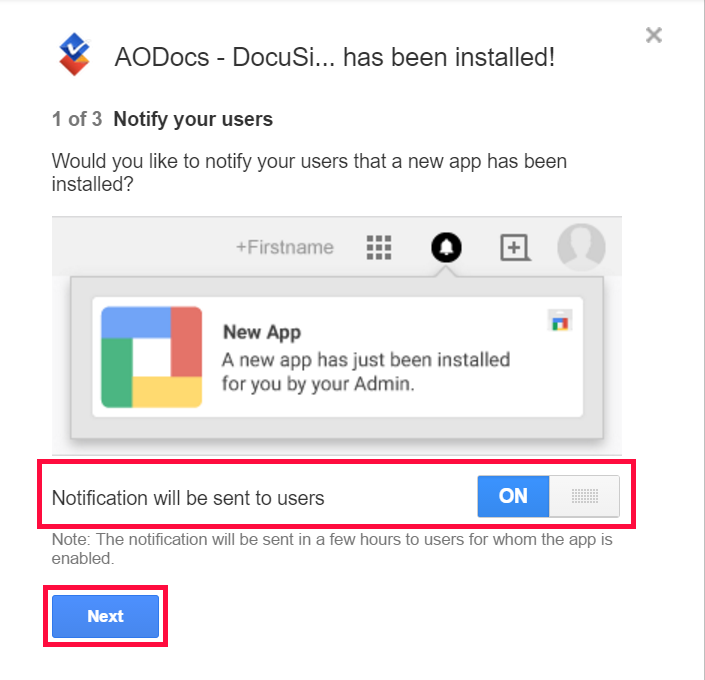 ---
Configure the AODocs-DocuSign connector services
1. Create and configure an AODocs security code. You can enter "AODocs-Docusign connector" in the description of the security code.
2. Open the AODocs DocuSign Domain configuration interface.
3. In the field Security code, enter the AODocs security code you have created for the AODocs-DocuSign connector.
4. Fill in the fields DocuSign account and DocuSign password for the master DocuSign account.
Note: To ensure the confidentiality of your DocuSign credentials and AODocs security code, all the information entered is encrypted before being stored.
5. Press Submit.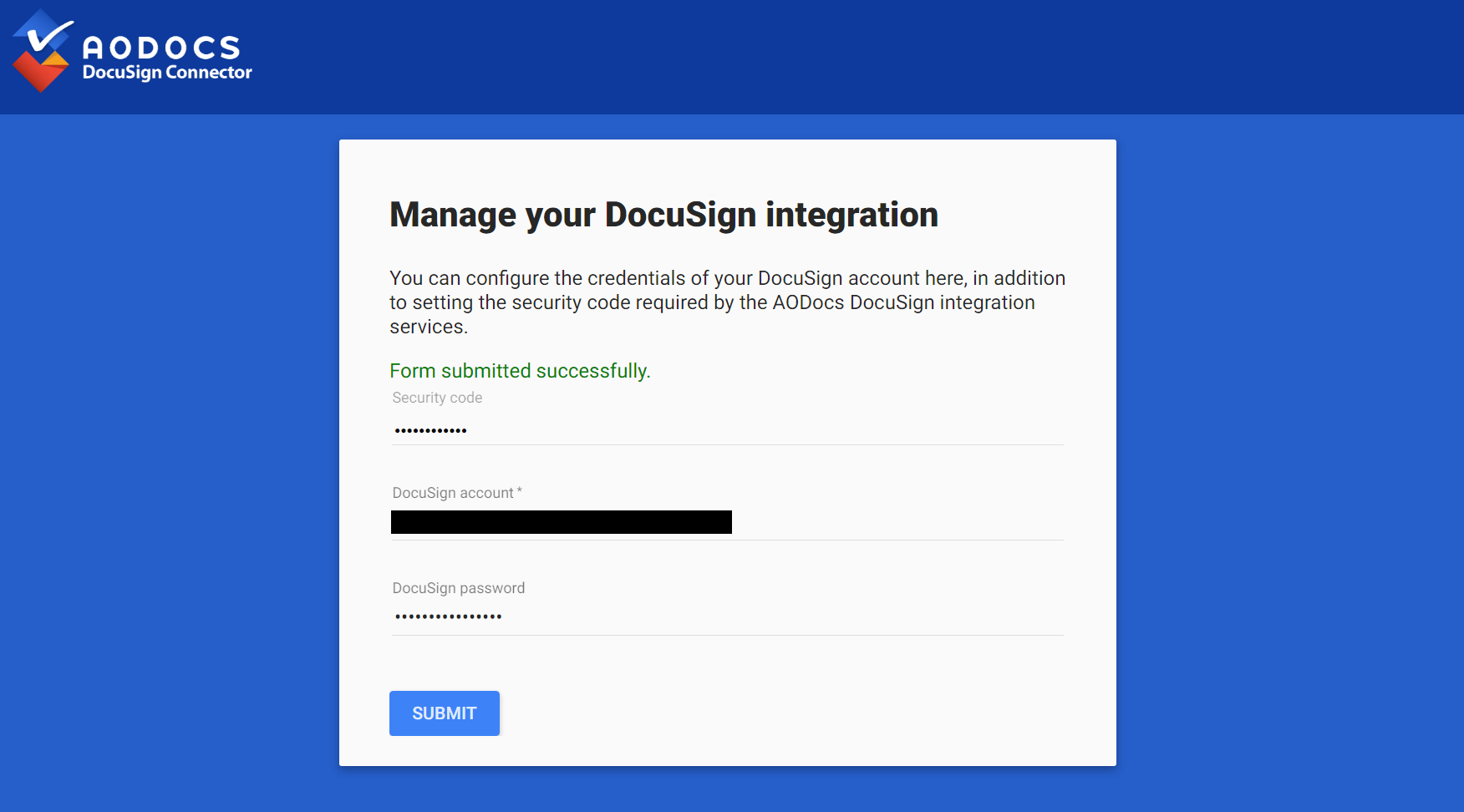 ---
Add users to your DocuSign account
All AODocs users sending documents for signature from AODocs need to have a valid DocuSign account associated with your master DocuSign account.
Note: The email addresses and usernames of each user defined in DocuSign must be the same as the primary email address of the user's Google account.
To create a DocuSign account for an AODocs user:
1. Connect as an administrator to your master DocuSign account.
2. Follow the DocuSign documentation to add a user.
3. For each user added, check that the following permissions are selected in the Permissions Sets:
Can send envelope
Allow sequential signing
Allow recipient viewed notifications
Note: These permissions can be granted by giving the users the "DS Sender" or the "DS Admin" Permission Sets, or by creating a custom permission set containing these permissions.