When using Google Drive with the AODocs Smartbar extension, a library picker allows you to easily access the AODocs libraries you have access to.

1. In Google Drive, open the library picker drop-down menu.
2. Select an AODocs library to open it in Google Drive. You can see your current location in the path at the top of the page.
Tip: You can use the library picker like a search field to find a library by its name.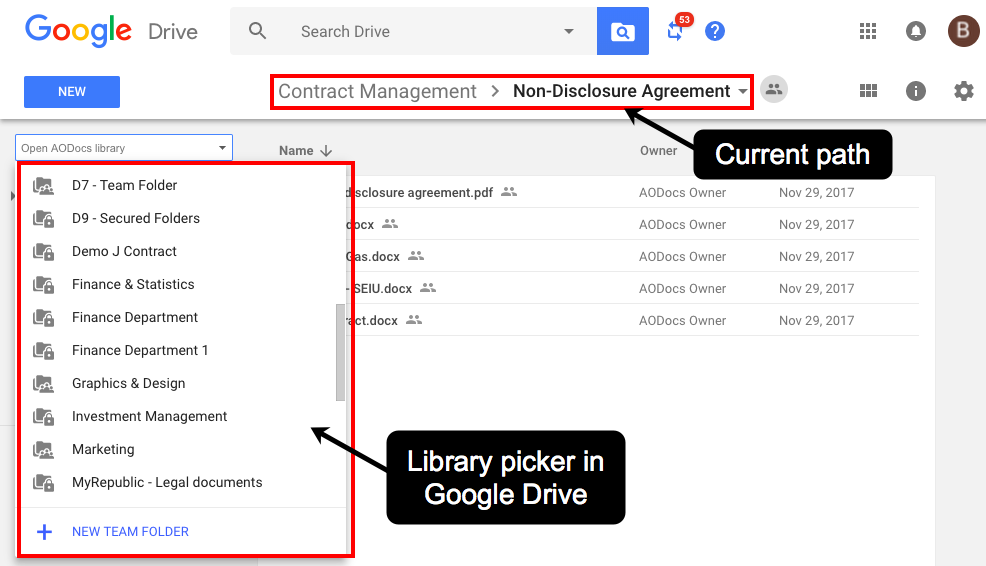 In the drop-down menu, the icons on the left indicate the types of library:

The icon symbolises a Secured Folder library.
The icon represents a Team Folder library.
If you are allowed to create new libraries, the New Team Folder button is displayed at the bottom of the list of libraries. Learn more: Create a new Team Folder from Google Drive
Note: The library picker isn't displayed for users who don't have access to any libraries or users who can't create a new library. In this case, users can only create documents in Drive.
Note: If your library has been pushed to your My Drive, you can access you library directly from your My Drive tree without using the library picker.