Edit document properties
Last update :
Document properties are defined at the document class level by the library administrator.
To edit a document's properties, open the document and select the "Properties" tab (1).
Then click on the "Edit" button (2). 
Note: When you are editing the properties of a document, the document is locked and other users cannot edit it simultaneously. The document stays locked for 15 mins by default.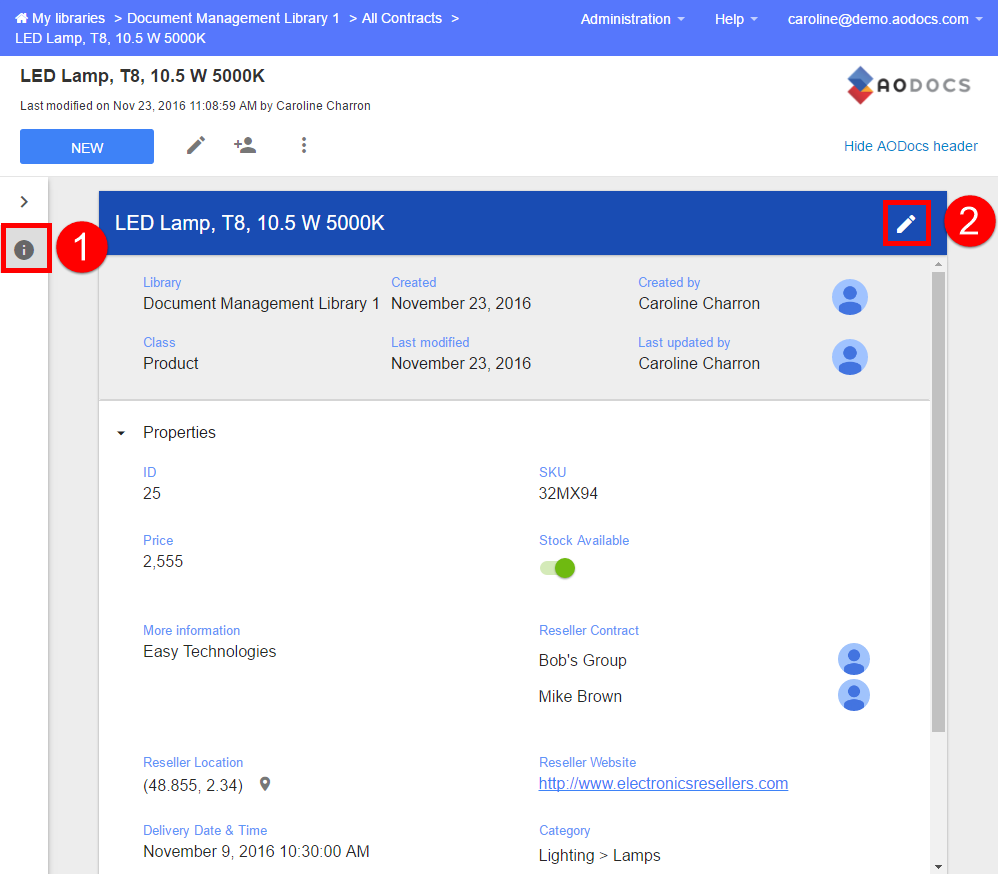 Opening the document editor
You will see the list of properties that you can edit. Properties are set by administrators who configure the type of field and the name of the properties. AODocs provides you the following types of properties:
Integer (3): for integer values (0, 1, 2, -1,..)
Decimal (4): for decimal values (0.1, -5.1, ..)
Text (5): for a text field (where newline work)
Geopoint (6): to enter a location in latitudes and longitudes
Date/Time/"Date & Time" (7): for date and time fields
String (8): for a string of alphabets, numbers and special characters limited to 400 characters
Boolean (True/False) (9): for a boolean field. Materialized by a switch: right-green for True and left-grey for False.
Person (10): to enter the name of a person or a Google Group (AODocs will autocomplete email addresses available in your G Suite domain global address list)
URL (11): to add a link to the document
Custom properties (12): custom values defined by categories like "Company", "Country" in our example. End users will be able to select values from a drop-down list in the End Users interface.
Learn more here: Categories
Administrators can also configure custom fields called "Categories" with predefined values:
Lighting is a category and "Lamps" is a subcategory of Lighting (12)
Manufacturer is also a category (13)
When editing a document as an administrator, properties set as hidden in the document class configuration are in a dedicated section, "Hidden properties" (14). AODocs contributors do not see the hidden properties.
Note: For fields person (10), it is possible to use Google Groups. A person field accepts Google Groups only if the administrator has set the field as a multi-valued field in the document class configuration.
Learn more here: Configure properties for AODocs documents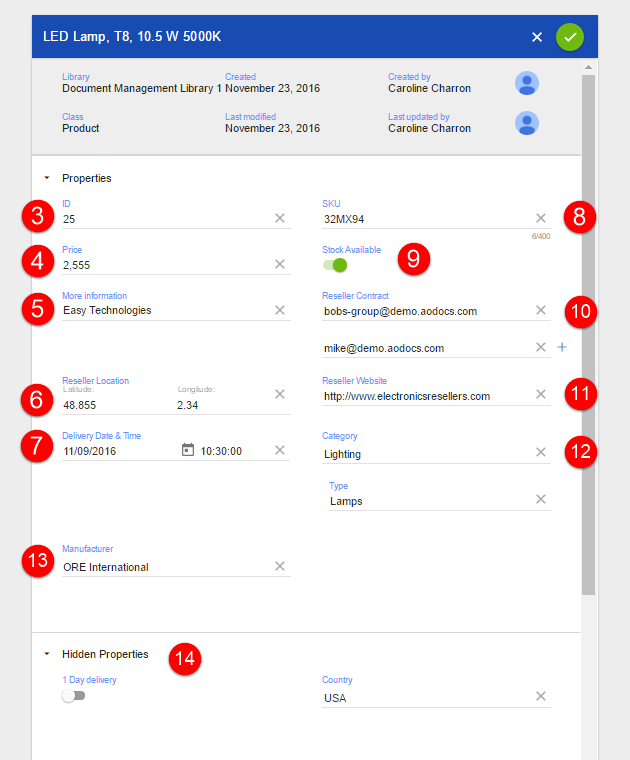 Editing the properties of a document
After editing the properties of the document click on "Save" to save the changes and close the document editor or click on "Cancel to discard your changes" (15).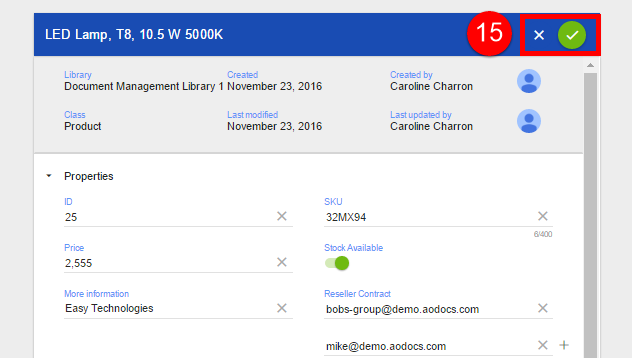 Closing the document editor