Dear AODocs Users,
We're pleased to announce the release of AODocs version 62.
This release focuses on user experience improvement and heralds further integration with Google Workspace:
Improvements to the sign-in flow
Possibility to download attached files in bulk
Notifications in Google Chat
New features in Beta views
Find out about the new release: 
Automatically generated table of contents
---
Launch details
Rollout pace: From 2 to 4 October 2023.
---
Improved sign-in experience
The security pop-ups that appeared periodically and when performing some actions have been removed.
For which users?
All users, either with a Google or a Microsoft account.
Why it's important
We got a lot of feedback about how unsettling these pop-ups were. You have been heard!
Availability
All AODocs customers
---
Download attached files in bulk
From new views, it is now possible to select several documents and download all their attached files at once.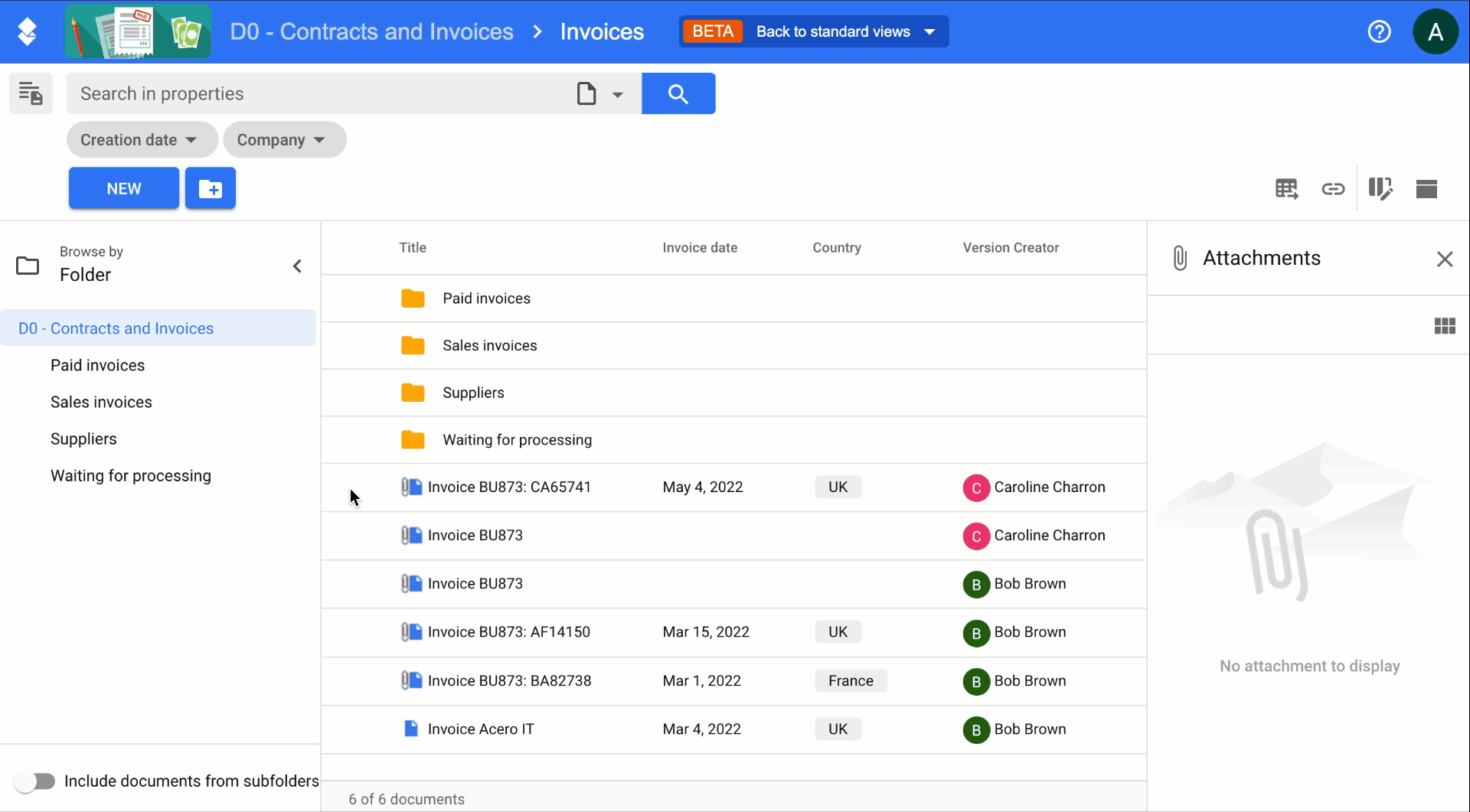 Learn more: Download attachments
For which users?
All users, either with a Google or a Microsoft account.
Why it's important
This feature has been requested by many customers. An alternative was available in the form of the Batch Actions bookmarklet, but the new feature is built-in, doesn't require any setup, has higher thresholds in terms of file number and size, and is available for all storage platforms (Google Drive, Google Cloud Storage, and Azure Blob storage).
Availability
All AODocs customers
---
Receive notifications in Google Chat spaces
AODocs can notify any of your Google Chat spaces each time an AODocs document needs attention – for example, when an offer needs to be reviewed, a contract has been signed, or even when you want to send a notification on demand.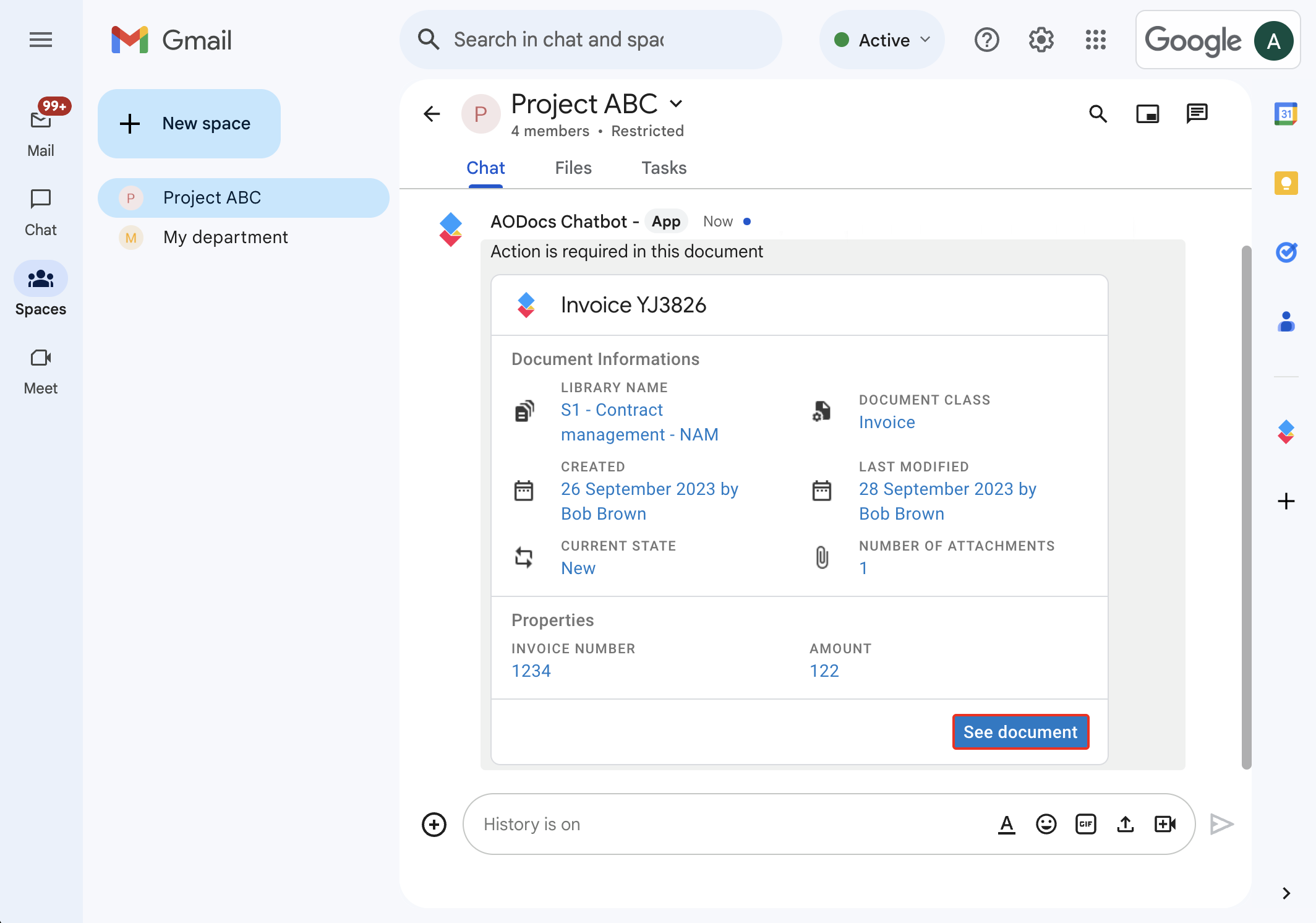 For which users?
Users with a Google Account.
Why it's important
Some business documents might require special attention at some point in their life cycle. AODocs can send important and time-sensitive notifications directly to Google spaces to make sure users don't forget when an action is required.
AODocs has been able to send notification emails for a long time. We're taking the feature to the next level, by bringing notifications to your Google Chat spaces, where business teams can receive notifications about pending actions, then access the document and trigger a validation. 
Availability
A specific subscription is required.
For more information, contact our sales team: sales@aodocs.com.
---
Enjoy an enhanced search experience and other features with revamped views (beta)
We're continuing to rebuild AODocs views, and the new version includes extensive visual enhancements and additional features. In release 62, new views now sport:
the possibility to act on folders from the main action bar, some actions being available in bulk: Rename, Edit permissions, Move, Export, Delete
filter by Geopoint – all filter types are now available
preservation of a selected folder or category in the Browse by panel when switching between views
With release 63 (the next after this one), the new view page will be complete and set as default for everyone. Users will still be able to switch back to the legacy view page for at least one more release.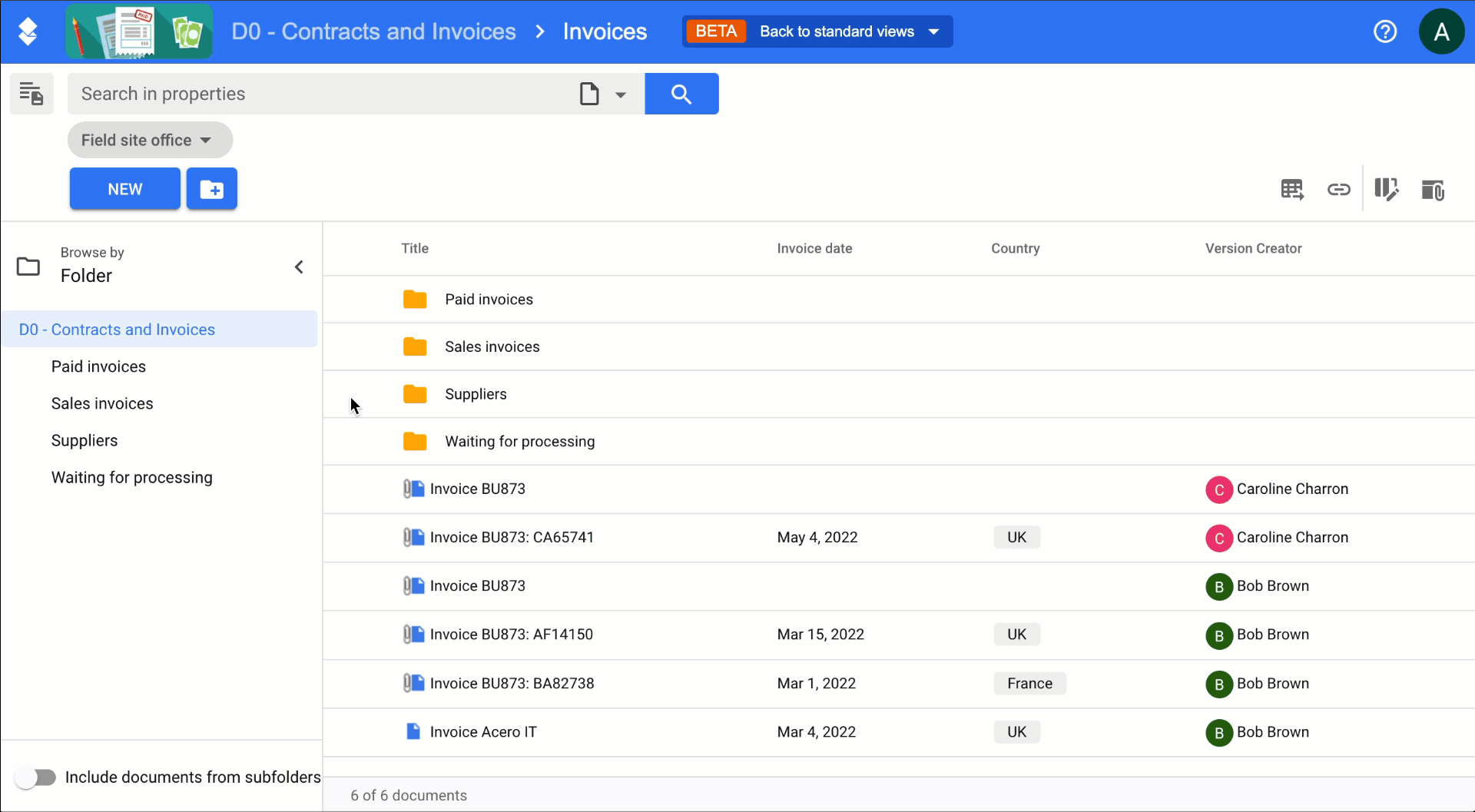 Learn more: Use views (beta version) in your AODocs libraries
For which users?
All users
Why it's important
Views help users organize and browse their documents, so it's important for these functionalities to be efficient. Our aim with the revamp is to:
improve the user experience
enhance performance and search capabilities
provide end users with customization options so they no longer have to fully rely on library administrators to configure views
improve the overall display of views to fit with the previously revamped AODocs interface
Additional details
Each user can switch between the legacy and beta versions of views. Your feedback is still welcome, the feedback form is still available next to the button to switch versions!
Availability
All AODocs customers.
Note: To activate new views by default for your users, or to opt out of deploying the beta version of views on your domain, contact our support team at: support@aodocs.com.
---
Visualize your data as organizational charts
A new feature, AODocs Charts, lets you display charts based on the relations between your documents.
The use cases are many: entity ownership organizational charts, HR management charts, structure of product components, etc.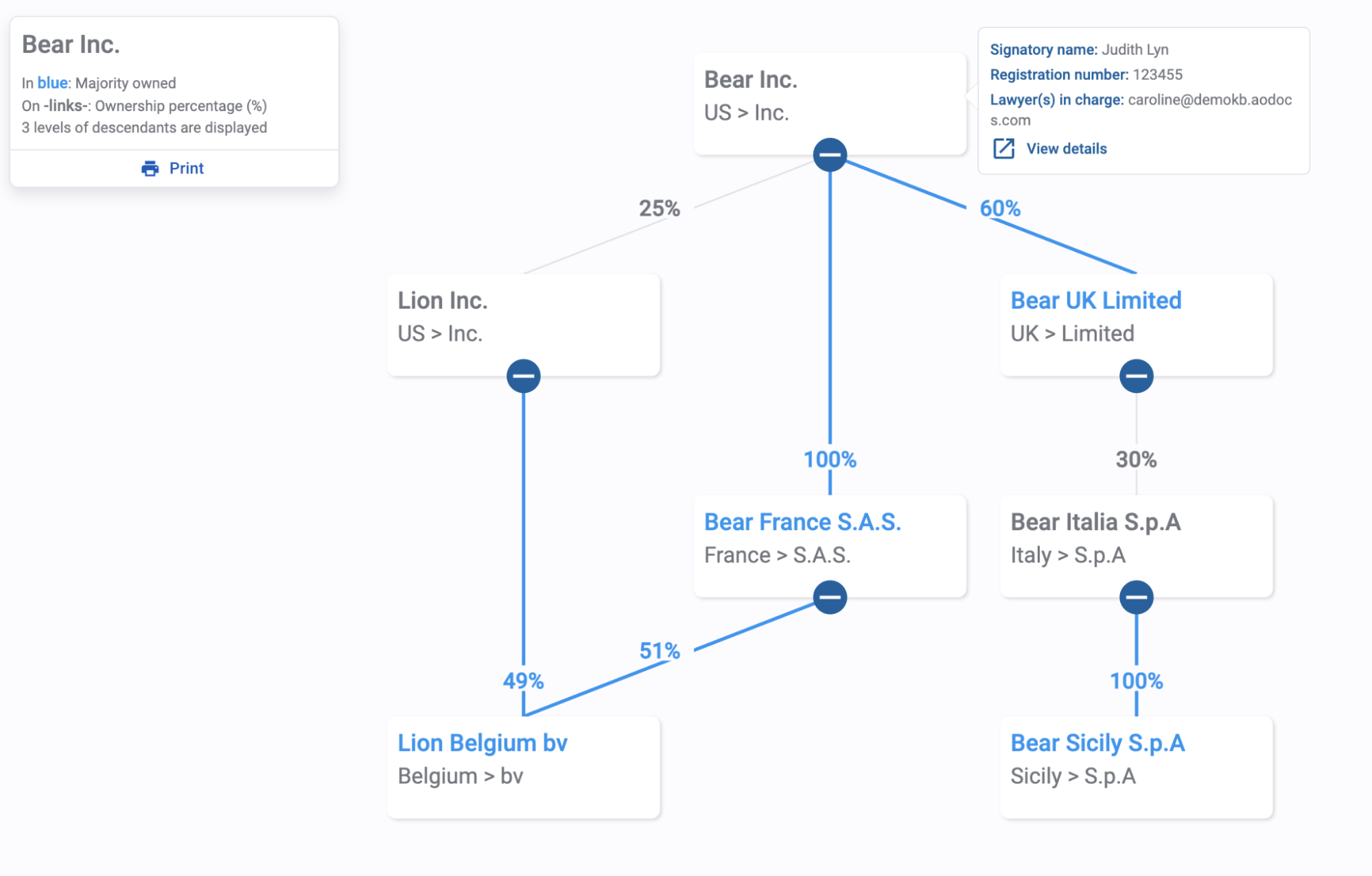 Learn more: View a structural chart with AODocs Charts
For which users?
All AODocs users.
Availability
A specific subscription is required.
For more information, contact our sales team: sales@aodocs.com.
---
Improvements and bug fixes
---
And there's more brewing…
We're working on a new search engine that will improve responsiveness and relevance of results, as well as allowing for new ways of searching for documents and attachments.
We're adding user-friendly support in AODocs for Google attachments which are Client-Side Encrypted, so the user experience is smoother when working with these sensitive files.
---
Would you like to meet our product team to discuss your needs? Join the AODocs research group!