The Bulk Updater is a web application that allows you to update in bulk the properties (also called metadata) of your AODocs documents.
Learn more here: Bulk Updater - User Guide
---
Permissions required
AODocs Bulk Updater requires two sets of permissions from the user.
When accessing the Bulk Updater the first time, AODocs requests the offline access to the user to be able to synchronize the page with AODocs.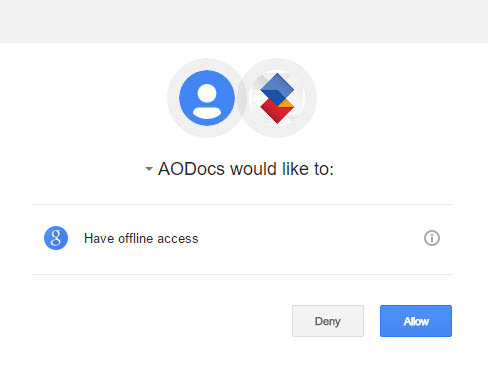 When the user runs the application from the "Bulk Updater" custom menu of the exported Google spreadsheet, end users are asked to grant permissions the following permissions:
| | |
| --- | --- |
| View and manage spreadsheets that this application has been installed in | The script needs to read information from the spreadsheet. Note that only the current spreadsheet can be accessed by the app script. |
| Allow this application to run when you are not present | The app script needs to communicate with the Bulk Updater, even when the spreadsheet is no longer opened in a tab. |
| Connect to an external service | It allows the app script to reach to AODocs and to update the documents. |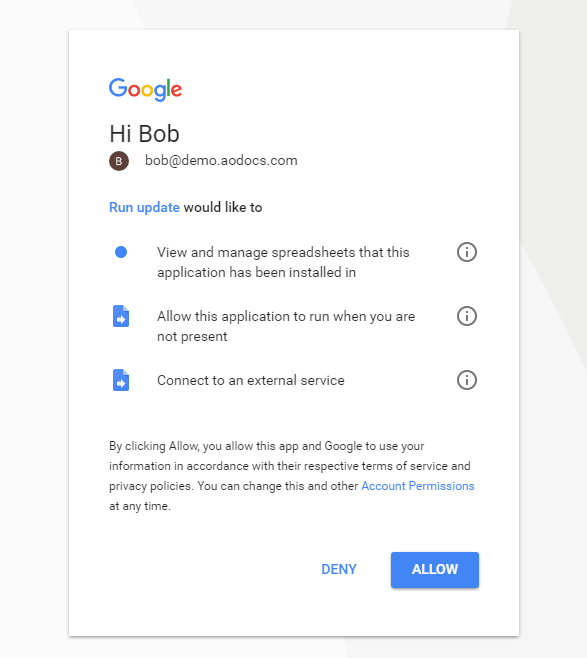 ---
Best Practices
Export containing multiple document classes
If you export an entire library with multiple document classes or if you export a view containing the other document classes, the spreadsheet generated at the end of the Export process will contain:
All the documents from both documents classes
The system and custom properties from all the document classes
For each document, the cells referring to the property configured for another document class are blank after the Export Process but are not greyed and can be edited. During the Update Process, as the property is not configured, the document will not be updated but the status column will still indicate "UPDATED".
Important: For each document, only the properties configured in its own document class are updated.